>
Tourist Information
>
Khao Lak
Khao Lak Travel Information
Similan Islands Stop Over
Located in Phang Nga province just 1 hour's drive north of Phuket, on the western coast of Thailand's southern peninsula, Khao Lak Beach is the latest buzz word for in-the-know tourists searching for a slice of nature.
With its 12 km coastline of quiet, glorious beaches bordered by palm trees and casuarinas, its nearby national park of waterfalls and dense, tropical forest covered hills, and rivers and swamps permeating its valleys, Khao Lak is an unspoilt and beautiful natural wonder just waiting for you to explore.
Allied to this, Khao Lak lies right opposite the Similan Islands, Thailand's premiere diving destination, and nearby Tap Lamu Pier is the closest departure point for the Similans' scuba and snorkelling adventures.
No wonder then, that Khaolak is now on the map with tourists beating a path here away from the other more hectic, commercial destinations.
• Watch our Khao Lak diving video
The rest of this page contains information about:
How to Get There
Khao Lak is about 70 km north from Phuket International Airport, in the south of Thailand on the Andaman Sea coast, and can be reached by car in about 1 hour. Taxis charge US$ 43 in Thai baht fixed price from the airport to Khao Lak. The winding tarred road is in good condition.
Krabi International Airport is about 2 hours and 120 km south. Since the volume of tourism in Phuket is so much higher than Krabi, getting flights to Phuket is a lot easier.
Direct air-conditioned and VIP buses leave Bangkok's southern terminal between 18:30 hrs and 20:30 hrs every day, or you can catch the train from Bangkok to Surat Thani and then pick up a bus to Khao Lak, though there is little to be gained in comfort or speed.
Phuket Airport is the nearest airport to Khaolak and has direct flights to/from Kuala Lumpur - Malaysia, Singapore, Hong Kong, Australia, and Bangkok - Thailand.
Where to Stay
Our affiliated hotel reservation agents hotelscombined.com have a wide variety of diver-friendly accommodations in Khao Lak. Browse their website choices, use their on-line chat to ask your questions, and then simply use your credit card to make your booking:
Take your pick from dozens of options, from international beach and boutique-style resorts to 2-star hotels, and everything in between. And you can be sure that whatever option that you select, it will be backed up with their 'Low Price Guarantee' to ensure you get top-dollar value for money.
Lam Roo National Park
Khao Lak is surrounded by rice fields and rubber, palm and coconut plantations. The interior is covered in magnificent natural jungle and rises to meet high hills, cut by streams and cascading waterfalls such as Saeng Thong, Lam Roo and Chong Fa. Here you can try jungle trekking, rafting, jeep safaris and elephant trekking or simply cool off in the waterfalls' plunge pools.
As an alternative, take a boat cruise or sea kayak through Phang Nga Bay with its unique limestone rock formations and sea gypsy village. Or venture further north to Khao Sok in neighbouring Surat Thani, southern Thailand's oldest and largest national park, and canoe through the awesome scenery with lakeside wildlife viewing, trekking and camping.
Khao Lak is the ideal Thai tourist destination for couples, nature lovers, scuba divers and families alike.
Khao Lak's Climate
Khao Lak's climate is tropical and warm throughout the year.
The northeast monsoon from November into March is wonderful, with breezy clear days and fragrant cool nights. From November to April, Khao Lak has an average 26 sunny days per month.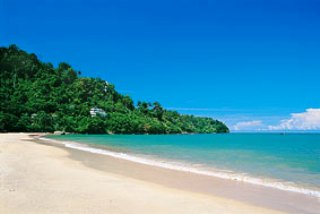 The southwest monsoon, from late May to October, brings rain and winds to the west coast of southern Thailand, but there are still 20 sunny days per month. Most often it's only a cooling, late afternoon shower, but there are rainy days too. The verdant national park jungle is evidence of frequent rainfall.
The Andaman Sea can be quite rough with high waves during this season, and often day trips by boat will be cancelled. For this reason, we do not offer Similan diving packages during this time. Swimmers should be careful, and this is one of the reasons why most hotels have swimming pools.
There are 2 very hot periods of weather in Khaolak, the first between April and May when the average temperatures range from 30 to 36°C and only the occasional tropical thunderstorm brings relief from the heat. It is also very hot between September and October but the frequent rainfall has a wonderful cooling effect.
Tourist High Season is from November to April. However, it's best to avoid December and January if possible, as this is Peak Season, when accommodation can be hard to find and is expensive, and Khao Lak's dive sites are very crowded, particularly the Similans, Koh Bon and Richelieu Rock. You will need to book your diving and accommodation package well in advance.
Whether you are coming for scuba diving or not, we recommend you try to come from February to April. There will be less tourists here, accommodation is much better value-for-money, the weather is at its best, and the seas their calmest. The dive sites around Khaolak and Similan Islands are less crowded, and its your optimum time to see something special on Similan liveaboards, as it's the season for whale sharks and manta rays.
Entertainment & Nightlife
There are many friendly beach bars and beachside restaurants where you can enjoy the sunset over The Andaman Sea. There are also a handful of places up on the main road such as bakeries, and live music venues.
Good quality international, seafood and Thai cuisine is available at most resorts' and hotels' restaurants. Khao Lak is still small enough for you to be able to stroll along the beach and choose different places to dine each night.
If you have come to Khao Lak for shopping, then I'm afraid you've come to the wrong place! There aren't even any department stores, never mind shopping malls. Drinks, snacks, food, toiletries and other consumables are all that you'll find in the small stores and minimarts of the area.
The larger resorts have wider selections of goods in their own shopping complexes.
The People of Khao Lak
Official records reflect a local population of around 5,000 inhabitants. The local residents of Khao Lak are mainly Thais and Chinese that work as farmers or fishermen. The population is growing rapidly as more Thais are attracted by work in the booming tourist industry.
Local Transport
Taxis operate in all the beach areas. Open air buses are cheaper, however they only travel north - south along the main road.
A more flexible way to get around is to hire a car. Car rental companies such as Budget have offices on highway 4 at Sawadee Plaza.
Motorcycles are the easiest way to get around and are readily available and easy to hire in Khao Lak. However, they can not be insured and, considering local driving standards, are not for the faint hearted! Bicycles and mountain bikes can be rented in hotels and resorts.
There are also public transport services to all outlying districts and other areas of Phang Nga Province.
Interested?
Are you interested? If you're keen to discover the new tropical paradise of Khao Lak, then click below to check your options now for:
Be sure to book up in plenty of time to avoid limited choice! The best diving opportunities are booked by repeat customers who book well in advance to ensure their reservation!
---
CUSTOMER TESTIMONIALS
... Prompt responses to e-mail queries. Information provided was accurate and timely - no surprises. When I finally was able to locate your office, I was treated well, friendly and efficiently ... Mel Laytner, USA
Travel website: Khao Lak Travel and Hotel Guide - KhaoLakLovers.com