>
PADI Dive Courses
>
Divemaster
Thailand Scuba Diving Courses
PADI DIVEMASTER
So you have decided you love diving? And you want to take the big step toward perfecting the art by reaching the level of a professional? Then the PADI Divemaster course is the one for you!
Whether your objective is to make a career out of scuba diving (in Thailand or elsewhere) or simply challenge yourself to reach the top of the training ladder, becoming a Divemaster is a big achievement and just 1 step away from instructor level. You will learn how to lead divers, supervise scuba activities and assist with training.
This respected professional rating denotes you as a person who has:
A high level of personal scuba skills;
Instructor level knowledge of diving theory;
Had significant training in how to assist an instructor during training activities;
Able to assume appropriate responsibilities that benefit the welfare of other divers.
In other words, you're the cream of the crop!
As you may know, many PADI Divemasters go on to become PADI Instructors. So the training and experience you gain through this programme helps shape your abilities and attitude toward becoming a professional level educator. To help you achieve this, PADI has developed the Divemaster Crew-Pak and various other material.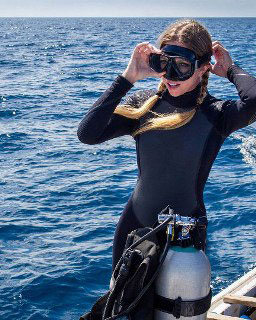 As a PADI Divemaster, you'll be qualified to:
Organise, conduct and supervise recreational diving activities, both land and boat based - Thailand liveboard or day trips;
Assist PADI Instructors in conducting diver programmes.
To qualify for PADI Divemaster training, you'll need to:
Be certified as an Advanced and Rescue Diver;
Have logged a minimum of 40 open water dives prior to entry into the course, and completed and logged a minimum of 60 open water dives with experience in night, deep, navigation and search & recovery prior to certification;
Be at least 18 years old;
Be in good physical condition for diving and submit a medical exam form signed by a physician.
You'll complete 3 phases in the PADI Divemaster course:
Watermanship and skills assessment
Watermanship and stamina
General scuba skills
Knowledge Development
Diving physics and physiology
Diving skills and the underwater environment
Supervising students in training
Dive planning, management and control
Emergency assistance plan for diving emergencies in the local area
Mapping a local Phuket dive site
Practical Application
This involves training activities using various structured training sessions, simulated scenarios and internship sessions with actual PADI programmes. These training sessions enable you to gain practical experience as an instructional assistant and a supervisor of open water diving activities, both as a coordinator and as an underwater diving guide in Thailand.
As a PADI Divemaster you'll be able to:
Act as certified instructional assistant to PADI Instructors;
Supervise participants in PADI experience programmes for uncertified divers;
Generally supervise both training and no training related activities by planning, organising and directing dives;
Teach and certify PADI Skin Divers;
Conduct the PADI Scuba Review programme;
Enjoy the benefits of a 10% discount off all diving related purchases through Dive The World Thailand, including liveaboard trips to the spectacular Mergui Archipelago and Burma Banks, and the Similan Islands, day trips, scuba equipment and accessories;
Enrol in PADI Instructor level training.
After successfully completing the Divemaster course, you'll receive a certification card and wall certificate denoting this rating. You'll also become a member of PADI and receive benefits, including the ability to purchase professional liability insurance.
Private Instruction
Location: Phuket, Thailand
Dives: Shore and boat dives (up to 60 logged dives) to all the local Phuket sites
Duration: 15+ days, depending on your skill development. This timeframe assumes pre-study, so if you don't have chance to do that, then add an extra 7 to 10 days.
Includes: experienced native English-speaking PADI instructor, PADI DM Manual, use of latest PADI training materials including DVD's and CD-ROM's from the on site PADI Library, hotel - boat transfers with breakfast, lunch and drinks on the boat.
You will need to buy the Encyclopaedia of Recreational Diving, and Knowledge Development Workbook, PADI Instructor Manual, Recreational Dive Planner Table and Wheel versions, Electronic RDP and Divemaster slates as part of the course, or supply them yourself. You will also need to pay the DM application fee and membership fees direct to PADI.
Total Price per person (incl. all taxes): US$ 1,423
Note: If you prefer, you can pay for your course on the start date here in Phuket.
Group Instruction
Location: Phi Phi Islands
Boat Dives: no minimum number
Duration: 14 days
Total Price per person (incl. all taxes): US$ 854
Location: Ao Nang Beach, Krabi
Boat Dives: no minimum number
Duration: 14 days
Total Price per person (incl. all taxes): US$ 996
Location: Koh Samui
Boat Dives: 20
Duration: 14+ days
Total Price per person (incl. all taxes): US$ 1,281
Frequently Asked Questions
How do I become a dive professional?
To work in the recreational dive industry in Thailand or elsewhere in the world, you can train to as a professional dive guide by becoming a PADI Divemaster. The minimum steps involved are the:
- Open Water Diver course (2/3/4 days – 4 dives)
- Advanced Open Water Diver course (2 days – 5 dives)
- Emergency First Response Primary and Secondary Care (CPR and first aid) training (1 day) within the past 24 months.
- Rescue Diver course (2/3/4 days –10 rescue exercises)
You need at least 40 dives to begin the Divemaster course, and 60 dives to complete it.

Once you are a PADI member as a Divemaster, you may enrol on the Instructor Development course (IDC) to become a PADI Instructor, trained and certified to teach students how to dive. To begin the IDC, you need at least 100 dives.
---
CUSTOMER TESTIMONIALS
... Extremely helpful and informative. Chose exactly the right level to pitch the conversation. Extremely helpful and informative ... K Staton, UK