All Accommodation Options
Thailand Diving Packages
Holiday Resort Options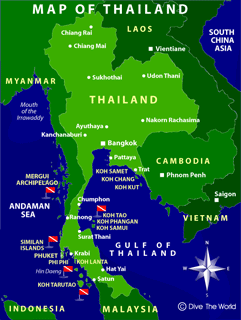 Thailand is considered by many to provide the ideal Asian holiday. Beautiful beaches, excellent resorts and the warm welcome of the people who live in the 'Land of Smiles'. As a scuba diver, you too can enjoy a wonderful resort stay in Thailand with the added bonus that there are some wonderful underwater encounters awaiting you within minutes of your balcony.
There are so many daytrip operators and very few dedicated dive resorts in Thailand. Therefore we recommend you combine a resort or hotel stay with a number of daytrip diving options, chosen to suit your needs.
Select a resort area for information on diving and accommodation packages, suitable for all budgets:
The best diving in Thailand is on the west coast, lapped by the Andaman Sea. Phuket is the best-known destination here with the greatest infrastructure and nightlife in the area. Many daytrip boats take resort guests from Phuket to the numerous excellent dive sites of the area; these daytrips run all year round. People staying in Phuket resorts can dive almost anywhere in the region without having to travel far overland. This includes Racha Noi, Shark Point, Kingcruiser wreck, Phi Phi and the Similan Islands - all you'd expect from the most popular island for scuba diving in Thailand. Read more about diving in Phuket.
Explore the best Thailand diving sites with the convenience of this near-by, tranquil beach area. Not far from Phuket, Khao Lak is another option and is better suited to those who prefer more peace and quiet than the action of places like Patong in Phuket. Khao Lak is the closest resort option to the Similan islands, so daytrips from here tend to focus more on the Khao Lak and Similan region than dive sites further south. These daytrips run from November to April. Dazzling underwater scenery, incredible diversity, whale sharks and manta rays all await you. Read more about diving in Khao Lak.
Manta rays at Hin Daeng, Kingcruiser Wreck and Shark Point, and some terrific local soft coral wall dives - is what Phi Phi is all about. Discover Thailand's best wall diving on year-round day trips from these stunningly beautiful islands.
The Krabi dive sites, Phi Phi Islands, Kingcruiser Wreck and Shark Point; Explore Krabi's rugged and spectacular coastline from the laid back atmosphere and unspoilt charm at Ao Nang Beach. Daytrips run all year round.
Dive Koh Samui and discover the best sites in the Gulf of Thailand with day trips from your resort on the Coconut Island. When it's low season on the west coast, May to October, Koh Samui represents one of the best options in the Gulf for some great scuba diving and a strong chance of encountering whale sharks. Samui daytrips run all year round.
The island is a huge draw for travellers who come here for the convenience of the dive sites and the famously low prices. Life here is entirely geared towards diving and you can join morning or afternoon day trips. There are more than 25 local Koh Tao dive sites, which include some advanced sites such as Chumphon Pinnacle, where you can encounter bigger fish and whale sharks, and the wrecks of HMS Sattakut and MY Trident. Whale sharks are often spotted in the Gulf, especially in March and April, and again in September and October.
Hotels, Resorts, Guesthouses in Thailand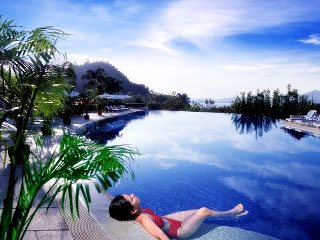 In each of our resort diving destinations we divide our accommodation recommendations between high, medium and low budget, always selecting options which are conveniently located for your needs. High budget choices are normally 4 star resorts with swimming pools, gyms, saunas and a wide range of other facilities, often with a choice of accommodation. Our medium budget recommendations are normally 3 star hotels with a good range of facilities and offer good value for money. In the lower budget category we recommend good quality, but inexpensive, hotels and guesthouses which may also include facilities such as a swimming pool and internet.
Our affiliated hotel reservation agents hotelscombined.com have a wide variety of diver-friendly accommodations throughout Thailand. Browse their website choices, use their on-line chat to ask your questions, and simply use your credit card to make your reservation.
• hotelscombined.com Thailand Resorts

Or use this search box directly to find options that match your requirements:
Take your pick from dozens of options, from top-of-the range international beach resorts to budget guesthouses or backpacker inns - and everything in between. There's something to suit everyone's taste and pocket.
And you can be sure that whatever option you go for, it will be backed up with their 'Low Price Guarantee' to ensure you get top-dollar value for money when you're scuba diving in Thailand.
Getting There
Most visitors from overseas fly into Bangkok before connecting with an internal flight to their chosen destination, however there are several international airports in Thailand such as Phuket, Koh Samui and Krabi. Visit our Thailand tourist information for further details on how to get there.

---
CUSTOMER TESTIMONIALS
... I always wanted to let you know I was so happy, but we didn't come back to Phuket ... Congratulations Dive The World for the great concept (all in 1 shop), the affordable price, and the great personal advice. Surely my best holidays for [a] long [time]. ... JB & Leenar de Moulin, France
---
CUSTOMER TESTIMONIALS
... I always wanted to let you know I was so happy, but we didn't come back to Phuket ... Congratulations Dive The World for the great concept (all in 1 shop), the affordable price, and the great personal advice. Surely my best holidays for [a] long [time]. ... JB & Leenar de Moulin, France