>
Dive Sites
>
Richelieu Rock
Thailand Diving Sites
Richelieu Rock
...Good for: Large animals, small animals, underwater photography, value-for-money and advanced divers
Not so good for: Wrecks, beginners, snorkelling, non-diving activities...
Rated as one of the best places in the world to dive with whale sharks, Richelieu Rock is easily the best site in Thailand for this amazing activity. Encounters with the whale sharks, the largest fish in the ocean, are rare almost everywhere in the world.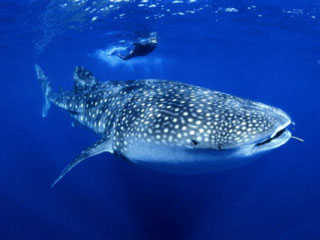 It's not the only Thailand dive destination where whale sharks are seen but Richelieu Rock certainly attracts more than its fair share. With nothing else for miles around, the whale sharks are attracted to the rock to feed on the rich planktonic blooms that occur here. A liveaboard charter is your best bet for diving here, as once they arrive, they tend to hang around for days, with an entourage of followers in tow, most notably cobias.
Swimming with such a large animal, known to grow to 14 metres in length, is a never to be forgotten experience for any diver. Sightings occur about 10% of the time. Some dive seasons see more visitors than others and generally February to April is the best time for a visit if your aim is to enjoy the exhilaration of swimming with these massive creatures onboard liveaboards at Richelieu Rock.
Whale sharks are not the only large creatures attracted to the rock to feed on plankton. Manta rays are also regular visitors throughout the year, and they can be frequently seen make regular passes over or near the top of the rock. Show more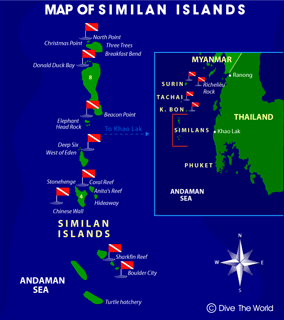 Reef Basics:
Depth: 5 - 35m
Visibility: 15 - 35m
Currents: Can be strong
Surface Conditions: Can be rough
Water Temperature: 26 - 29°C
Experience Level: Intermediate - advanced
Number of dive sites: 2
Diving Season: November to April
Distance: ~200 km north of Phuket (10 hours), 80 km northwest of Khao Lak (4 hours, or 2 hours by speed boat)
Access: Thailand liveaboards and Khao Lak diving day trips
Recommended length of stay: 2 days

---
CUSTOMER TESTIMONIALS
... We really appreciated Dive The World's customer service. I would personally recommend to anyone I know going to Phuket for diving to use Dive The World ... Brian Alexitch, USA