>
Dive Sites
>
Khao Lak
Khao Lak Diving Guide
Similan Liveaboard Adventures
...Good for: Small animals and wrecks
Not so good for: Beginner divers, visibility, and snorkelling...
Arriving like a refreshing summer breeze on the Thailand diving scene, Khao Lak is now firmly establishing itself as a favourite destination for discerning scuba divers. With the Similan Islands located directly across the Andaman Sea and within easy reach of Khao Lak, and those other monster dive attractions of whale sharks and manta rays just a little further up the coast, who could blame them?
Khao Lak's undeveloped coastline, beaches and forests are a natural and convenient springboard to explore Thailand's ultimate liveaboard diving destination - the Similan Islands, Koh Bon, Koh Tachai and Richelieu Rock.
Closer to home, some of Khao Lak's local dive sites are worthy of exploring, just 30 minutes boat ride from shore. The most regularly visited site in Khao Lak is the Bunsoong Wreck, a well-established artificial reef where you can see juvenile barracuda and snappers, trevallies and moray eels. More recently the Premchai tin dredger sank in 2001 in 21 metres of water, making an ideal alternative dive. This site is often silty but has some wonderful soft corals, scorpionfish and morays.
The Sea Chart I, a boat sunk in almost 40 metres, is ideal for advanced and technical divers. This wreck is regularly visited by schools of batfish and rainbow runners, and is home to lionfish, nudibranchs and octopus, as well as more unusual frogfish and ghost pipefish.
Khao Lak has a couple of nearby coral reefs too. Khao Naa Yak is a shallow 12 metre dive, ideal as a relaxing warm up to the Similan Islands. Thai Muang Reef is a reef ecosystem a little further from Khao Lak. It is one of the largest and healthiest reef structures in Thailand and is another great option.
A world away from the commercialism of Phuket, diving holidays in Khao Lak are ideal for honeymooners, families, couples and adventurous divers.
Khao Lak's Dive Sites
Click on a twisty ('++' sign) to show more detailed information on each Khao Lak dive site:
++

Bunsoong Wreck

This wreck started her days with her sinking in 1984. Bunsoong is an old tin ore processor that is 60 metres in length, 12 metres wide and 6 metres high, and lies positioned in a north to south direction, in open sea but quite close to the Khao Lak shoreline.

Descending from the surface, you'll soon be surrounded by clouds of juvenile yellowtail barracuda and bluefin trevally, and schools of Ehrenberg's snapper and blue-striped snapper, that all use Bunsoong as a congregation point.

There are dozens of masked porcupinefish and common porcupinefish, parading up and down on top of the wreck. They seem to be waiting in line for a clean from the remora's in attendance. There's are also some loose groups of longfin batfish.

Diving along the sides of the wreck, look closely and you'll see many types of moray eel, such as zebra morays, white-eyed morays, spotted morays, and leopard morays. Spotfin lionfish and bearded scorpionfish lie in wait too.

During the 2004 tsunami, Khao Lak was badly damaged by big waves. The wreck too suffered a lot of structural damage and now lies, still easily recognisable but broken into 5 major sections. It is probably the best local site.

++

 Sea Chart I Wreck

Recent shipwrecks always take time to settle into the marine environment, become colonised by sessile life forms, and come to represent home to mobile marine creatures. So it is with the Sea Chart I, a bulk carrier that sank en route from Burma to Vietnam via the Malacca Straits.

It was on the early morning of the 23rd August 2009 that in bad weather, water leaked into the engine room immobilising the vessel. A distress call was sent out and responded to by the Thai Navy who rescued all of the crew by 9 am that morning. Shortly after this, the container and cargo of Burmese teak sank to a depth of 38m where it now lies on its starboard side, visited only by scuba divers from Khao Lak.

With a length of 84m and a beam of 12m, this is a large wreck. You will not have time to see it all, particularly because at its shallowest depth it is at 24m so bottom time is particularly restricted, especially if you are not on nitrox. With these depths and this size of wreck, it is no surprise that it is a favourite among Thailand's tech divers.

Normally you will descend down the mooring line attached to the bow. As you descend, and if visibility permits, the impressive size of this long vessel will be clear. You can begin the dive by checking out the cargo of over 100 teak logs that have spilled out onto the sandy sea floor. Recovery of the cargo is planned so the logs may not always be part of the Sea Chart I experience.

Making your way along the wreck past the masts (now draped in fishing nets), you are likely to run into a school of batfish and considerable numbers of trevallies. Also keep an eye out for nudibranchs, frogfish and ghost pipefish. Past the wheelhouse where lionfish often lurk, you can check out the single propeller at around 30m before turning and finning back in the direction of the mooring line.

Here you may see many schools of fish such as rainbow runners, yellow and silver snappers swirling around overhead. As you ascend along the line there is a resident great barracuda who may put in an appearance at around 15m to bid you farewell.

In only a few short years this site has become home to an impressive amount of Khao Lak's sea life. As a wreck dive it will likely improve year upon year so the future seems bright for the Sea Chart I.

++

Premchai Wreck

This wreck sank in September 2000, just off Thai Muang Beach, near Khao Lak. The Premchai lies on its side in 20 metres of water, with its shallowest section being 15 metres deep. It is therefore an ideal spot for intermediate divers.

It was built in the Netherlands in 1976 and was used as a tin dredger in Phang Nga. Being a fairly recent addition to the sea bed, the wreck is still in very good condition and does not yet have the same abundance of coral growth as the older Bunsoong Wreck does. However the fish life on the wreck is excellent, with many species of moray eel making their home here. Scorpionfish, lionfish and shoals of snappers cover the wreck. Other marine life to be spotted include nudibranchs, shrimps, crabs, and lots of shells such as molluscs and clams.

Being close to shore, the visibility can be quite restricted here and rarely exceeds 10m.

This site is close to Bang Niang, off-shore opposite the La Flora Resort. It is comprised of 17 trucks, several concrete blocks, and the ex-Thai navy boat T13. It was ceremoniously sunk on 22nd March 2014 as an artificial reef to encourage marine environmental benefits in the area as well as to create another Khao Lak dive site.

This area is of great significance to many Thais as it was here that one of 2 police boats overseeing the vacation of the son of former Royal Princess Ubol Ratana sank during the 2004 tsunami. The son was jet-skiing out on the sea when the wave struck, and he and the entire crew of one of the police boats died.

The other boat, T813, was swept 2km inland and remains in exactly the same spot. It is now the centrepiece of the Tsunami Memorial Site opposite Bang Niang Market. The princess and her daughter escaped the tsunami by fleeing to the La Flora Resort.
Dive The World Thailand Recommendations: Bunsoong Wreck and Sea Chart I.
Diving Season in Khao Lak
You can dive in Khao Lak from October to May but the best conditions for scuba exist from November to April. This is the northeast monsoon, meaning it is drier during this period. You can expect water temperatures around 26–30°C throughout the year, with the dry season being the warmest. It is also the time with greatest water clarity with visibility pushing 30m at times.
Many of the creatures you might expect to see in Khao Lak are present throughout the year. These include reef sharks, leopard sharks, and sea snakes. If it is the bigger stuff that you are interested in then February to April is the optimal time to come to see whale sharks and manta rays.
The Similan liveaboard season runs from early November to mid-May and, since this destination is so nearby, it is the reason why most divers, indeed most tourists, visit Khao Lak. At this time of the year, calmer water makes the crossing easier.
Reef Basics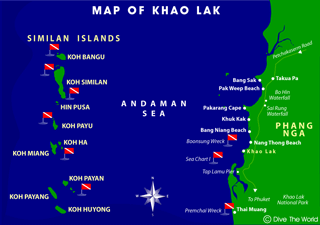 Depth: 12 - 18m
Visibility: 2 - 15m
Currents: Moderate
Surface Conditions: Can be rough
Water Temperature: 26 - 30°C
Experience Level: Intermediate
Number of dive sites: 5
Distance: ~90 km north of Phuket (1½ hours)
Access: Similan liveaboard and day trips
Recommended length of stay: 1 - 2 days, or 1 week to dive all destinations that are accessible from here
• Khao Lak tourist information
---
CUSTOMER TESTIMONIALS
... I just want to give you feedback about my 3 diving days I booked. It was amazing and I really enjoyed this trip! Everything worked perfect and it was all well organized. My guide was Justin, and he was very nice and it was so much fun! I really felt very safe. It was a great time, thank you ... Janine Wenker, Germany