>
Dive Sites
>
Burma
Myanmar Dive Sites
Mergui Archipelago and the Burma Banks
...Good for: Small animals, underwater photography, advanced divers, reef life and health
Not so good for: Wrecks, beginners, non-diving activities...
The Mergui Archipelago in Myanmar comprises 800 small islands north and east of Burma Banks. Some islands offer huge boulders, soft corals, sea fans, and excellent visibility. Others, such as Black Rock and Shark Cave, offer wall diving, caves and drop-offs.
The region has remained relatively untouched by the passage of time this past half century, and it maintains a mystical out-of-this-world aura of years gone by. When visiting these islands on liveaboard charters you really can forget about your worries, on a journey of discovery, unhurried by time and untroubled by others, as you dive Burma and explore these fascinating islands in peaceful solitude. Show more

Diving Season in Burma
The recommended period for diving in Myanmar is from October to May, and the best conditions exist from December to April. During this period, the skies are clear, the seas are calm and liveaboard itineraries can include even the more remote sites. If you visit before the year's end then the seas may be rougher and conditions considerably less favourable.
Whale sharks and manta rays are most likely to be spotted from February to May, since that is the time when there are plankton blooms. The nutrient-rich water may cause a dip in visibility but it brings in the big boys.
Towards the end of the season the visibility usually improves as the water temperatures rise to a maximum of around 30°C. In the earlier part of the season you can expect water temperatures in the region of 26 to 27°C.

Reef Basics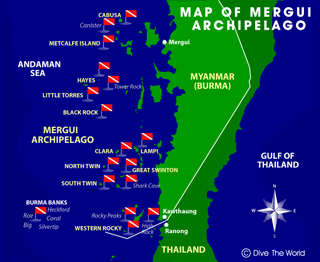 Depth: 5 - >40m
Visibility: 5 - 50m
Currents: Can be strong
Surface Conditions: Can be rough
Water Temperature: 25 - 28°C
Experience Level: Intermediate - advanced
Number of dive sites: >50
Distance: ~280 km north of Phuket (14 hours), 60 km west of Kawthaung (3 hours)
Access: Liveaboards from Phuket, Khao Lak or Ranong
Recommended length of stay: 10 days
Dive The World Thailand Recommendations: Black Rock, Shark Cave and Burma Banks. Visit our www.dive-the-world.com website for more information on Myanmar's dive sites