>
Dive Sites
>
Koh Tao
Koh Tao Diving Guide
Turtle Island's Scuba Attractions
...Good for: Beginner divers, value-for-money and snorkelling
Not so good for: Wrecks and drift dives...
This famous easy-going island has long been known by travelers and backpackers as a great place to learn how to scuba dive in Thailand. This is partly due to the bargain prices for courses offered by Koh Tao's dive centres, but also because of the numerous sheltered nearby bays with shallow coral reefs that make excellent training reefs for student divers.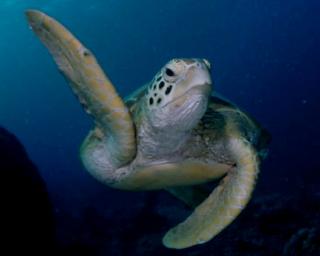 But there are also some key attractions that will appeal to divers of all levels. Whale sharks are frequent visitors to Koh Tao, especially to the offsore dive sites such as Chumphon Pinnacle. An encounter with these massive creatures is always memorable. There are also turtles, leopard sharks, schools of barracuda, and reef sharks to look out for.
The dive sites of Koh Tao are composed mainly of hard coral reefs, with the table, stubby finger and green branching corals attracting tropical reef fish such as parrotfishes, damsels, gobies, butterflyfishes and wrasses. There are also many anemones, with their resident anemonefish, clownfish and crabs, sea fans, featherstars, and whip corals.
Beware though! The lifetyle associated with diving in Koh Tao can be a serious addiction. Many a visitor has arrived on the island with plans to simply stay for a few days and get a dive qualification, only to find themselves still there months later, living and working in the dive industry.
Koh Tao's Dive Sites
Click on a twisty ('++' sign) to show more detailed information on each of the following best known dive sites of Koh Tao:
++

 Chumphon Pinnacle

A showpiece granite pinnacle that starts at 12 metres deep and goes down to a maximum depth of 35m, Chumphon Pinnacle is the best and most famous of Koh Tao's sites. 40 minutes boat ride from the island, it should definitely be on your diving itinerary in the Gulf of Thailand.

There is a large central pinnacle which is surrounded by numerous smaller rocks in the deeper outlying areas. The main rock is completely covered in anemones, gently swaying in the current. They are full of anemonefish such as the western clownfish, or 'Nemos' as they have become better known.

This is one of the best dive sites in Koh Tao to see big fish, including potato grouper, longfin batfish and barracuda. Schools of trevally are sometimes present, so huge that they can make it difficult to even see the pinnacle as they rush around scuba divers.

Whale sharks are common visitors here too, the best time in Koh Tao being from February to April. Other species spotted here include lionfish, fusiliers, surgeonfish and schooling bannerfish. Leopard sharks are often seen resting on the sandy bottom at the reef's edge.

The depth of the site and the prevalent currents mean that it's a good idea to have some deep diving training before attempting this site. At the least, you should be advanced certified.

++

 Koh Nang Yuan

The small islet of Koh Nang Yuan is connected to Koh Tao by a thin strip of white sand and is surrounded by several interesting sites. It's a very relaxed area to dive or snorkel and to chill out on the boat between dives.

'Nang Yuan Pinnacle', is like a mini version of Sail Rock. It starts at just 2 metres below the surface and there are many interesting boulders, nooks and crannies to explore, and the occasional swim-through.

Moorish idols, angelfish and oriental sweetlips are some of the common inhabitants here. Also keep an eye out for octopus hiding in the rocks and, if you see a cuttlefish, look around for the mate which is probably nearby as they often travel in pairs.

'Twins' is just south of Koh Nang Yuan and is actually 2 rocks starting at 6 metres and going down to 18 metres. Visibility can drop at times and big fish visits are rare but there are plenty of tropical reef fish to charm divers. There are lots of anemones too, with their resident families of clownfish, including the rare saddleback clownfish.

'Japanese Garden' is situated on the east side of Koh Nang Yuan, north west of Koh Tao. It is named after the pretty coral formations that can be seen in the sheltered bay here. The bay ranges from a depth of 2 to 18 metres with an average of 10m and frequently boasts good visibility. There is a myriad of staghorn and plate coral, as well as interesting boulders. This is a great site for beginners or is often the final destination of a dive from Koh Nang Yuan through a series of swim-throughs.

You can expect to see bannerfish, butterflyfish, triggerfish and schools of jacks. Juvenile eagle rays often make an appearance too. There is now a small wooden wreck here at 17m depth, close to the coral formations. The wreck attracts barracuda, trumpetfish and small schools of colourful reef fish.

++

Koh Tao Island

Ao Leuk, located on the south side of the island, is one such bay and it is highly recommend for beginners or for people who haven't dived for a while and need a refresher. There are a surprising amount of reef fish such as parrotfish, angelfish and butterflyfish, schools of yellowtail barracuda and turtles.

The name is rather misleading since it means 'Deep Bay' - something that this bay certainly is not. With its sandy bottom just 12-14 metres deep, it is one of the shallowest on Koh Tao.

Also in the south of Koh Tao is a small rock islet called Shark Island. It is so named due to its fin-like appearance at the surface and as occasionally you can find leopard sharks here, as well as turtles and many types of reef fish. The east side is the most interesting, with big boulder formations for scuba divers to explore. On the south side is a soft coral garden growing on a bed of rocks at a depth of 14 metres. The site is not for absolute beginners as sometimes there can be strong current at Shark Island, runing from either the southeast or northwest.

Green Rock and White Rock are 2 sites located midway between Koh Tao's Mae Haad Pier and the nearby island of Koh Nang Yuan. Green Rock is the more interesting and is characterised by an impressive ensemble of swim-throughs, small caves and pinnacles formed by the huge granite boulders that are typical of Koh Tao. The dive site ranges in depth from 5 to around 32 metres and masses of marine life can be found here sheltering in the crevices and under rocks, including moray eels, grouper, pufferfish, batfish, blue-ring angelfish, blue damselfish and sea snakes.

There is often a strong current here which makes it a great location for drift diving and deep dives. The site is also a breeding ground for both yellow margin and titan triggerfish so you are practically guaranteed an encounter. Approach cautiously if you venture near their nests in the sand to the north of the area as these fish can be very aggressive guardians.

The main attraction at White Rock is Trevor the Triggerfish, who is known as just about the most aggressive triggerfish around. The site is comprised of 2 large boulders which are just a few metres apart. These big tablet-shaped stones are surrounded by smaller rocks and coral formations. Trevor aside, dives here are relatively easy with the maximum depth of around 20 metres.

Many frequent visitors to Koh Tao claim that Hin Wong Pinnacle is the best dive on the island. This large granite boulder is located on the north point of Hin Wong Bay. The north side is very beautiful with purple soft corals and different kinds of sea fans, whip corals and black corals. Black and blue damsels will give you a warm welcome as you enter the water. Then down on the bottom you might see small groups of razorfish drifting by.

As you spiral up the pinnacle back to the shallower area you'll find forests of Christmas tree worms embedded in the hard coral reef. There are white-eyed moray eels hiding in the rock and some big groupers here too. Look up to see schools of fusiliers or turtles swimming past. Altogether the most unique site at Koh Tao.

Laem Thian is a point located along the east coast of Koh Tao. It has a series of swim-throughs and small caves along the coastline that are worth exploring for nudibranchs. Depths range from 6 to 20 meters, so it is relatively easy to explore this isolated dive site, searching for marine life that includes green turtles, blue-spotted stingrays, groupers and trevallies.

++

 Southwest Pinnacle

The pinnacle is a group of submerged limestone rocks and big boulders that are carpeted with pink and gold anemones hosting pink spinecheek anemonefish. Surrounding the rock formations are black corals and fans. Leopard sharks, marble groupers and blue-spotted sting rays are often found near here on the sandy substrate.

Whale sharks can sometimes be spotted at Southwest Pinnacle from February to October. Apart from the big stars, the pinnacle is also popular with pelagic fish and their juveniles such as yellowtail barracuda, yellow snapper and a few squid that have so far managed to evade the many squid fishing boats of Koh Tao.

This pinnacle is located approximately 13 km from Koh Tao. It is best visited when the sea is calm as it's completely out in the open sea and has no protection from the ocean waves. But do take the opportunity if it presents itself as Southwest Pinnacle is one of the best diving sites near Koh Tao.

++

HTMS Sattakut

Located off the west coast of Koh Tao and south of Koh Nang Yuan, 30m from Hin Pee Wee, the HTMS Sattakut is a 48m long and 7m wide shipwreck that has become a firm favourite of scuba divers in Koh Tao. It is a former World War II US Navy vessel that participated in the Battle of Iwo Jima between the USA and Japan. It was then sold to the Thai Royal Navy and scuttled in 2011 for the purpose of creating a wreck for scuba diving. It lies upright in 30m of water with its super structure accessible from a depth of 18m.

It has already attracted an abundance of marine life. Here you will find large schools of fusiliers, yellowtail barracuda, trevally, snappers, rabbitfish, bannerfish and coral trout. More unusual creatures include nudibranchs, flatworms, blennies, Kuhl's stingrays, and even frogfish and ghostpipefish. Batfish frequent the clearner wrasse stations that have already been set up on the wreck.

With a large 76 mm gun mounted on the bow and a 40 mm cannon at the stern, the wreck of the Sattakut looks oddly reminiscent of the Red Sea´s Thistlegorm. Penetration of the various cabins, portholes and holds is relatively easy as there is plenty of light penetration and there are few sharp objects.

Due to its depth, this is a site reserved for advanced divers, although the current is usually mild and visibility good at 10-25m.
Dive The World Thailand Recommendations: Chumphon Pinnacle and Southwest Pinnacle.
Diving Season in Koh Tao
The best conditions are from May to September, with July and August being the busiest months, although you can dive Koh Tao all year round. This best period of the year happily coincides with the rainy season being experienced by Thai destinations in the Andaman Sea.
It can be windy in the Gulf of Thailand from October to November, causing surface swells and reducing visibility. It can also be wet and windy from November to February, but usually not so bad as to cause cancellations to day trips. Koh Tao is a relatively small island so it is possible to change plans and go to alternative, more sheltered dive sites, if conditions require it. Sea temperatures remain pretty constant all year, at 28°C to 29°C.
Whale sharks can be spotted in the general area throughout the year but particularly in September and from February to April. You should also beware of nesting titan triggerfish, particularly in March and April.
Reef Basics
Depth: 5 - 35m
Visibility: 5 - 30m
Currents: Usually none but can be strong
Surface Conditions: Normally calm but can be choppy
Water Temperature: 27 - 30°C
Experience Level: Beginner - intermediate
Number of dive sites: ~15
Access: Day trips from Koh Samui by speedboat
Recommended length of stay: 1 week

---
CUSTOMER TESTIMONIALS
... I contacted 3 different operators when I planned this holiday. Not only was Dive The World quickest to respond, their reply was the most informative. I also think that their website is the best laid out for any scuba diver wanting to book a holiday ... Arun Vajpey, India