>
PADI Dive Courses
>
Emergency First Response
Thailand Diving Courses
PADI EMERGENCY FIRST RESPONSE
Your mother stumbles down the stairs and twists her ankle. Someone lies out on the top deck of your Thailand liveaboard dive boat too long and gets burnt in the sun. 2 motorbikes crash on your Phuket vacation, and you see that one of the riders is seriously injured. Want to help? Then this programme is for you!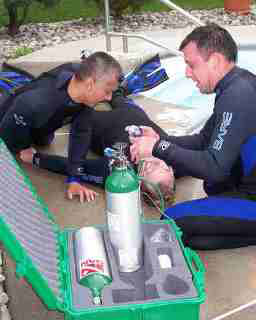 Accidents and illnesses happen all the time. Some victims just need a friendly helpful hand, but others will suffer serious or permanent injury without the assistance of trained personnel. Whether you're diving or not, Emergency First Response prepares you to effectively handle potentially life-threatening situations.
This comprehensive programme is composed of 2 core modules that can be taught together or as stand-alone courses; these are Primary Care (Cardio Pulmonary Resuscitation - CPR) and Secondary Care (first aid). In tandem, these courses will prove to be extensive instruction in CPR and first aid, as well as providing optional (yet recommended) and additional automated external defibrillator (AED) and emergency oxygen modules. These extra training modules complement the core modules very well.
The programme is designed specifically to meet the CPR and first aid pre-requisite training requirements for completing the PADI Rescue Diver course.
Private Instruction
Location: Phuket
Duration: 1 day
Total Price per person (incl. all taxes):
1 student - US$ 142, 2 students - US$ 140, 3 students - US$ 137, 4 students - US$ 137
Note: If you prefer, you can pay for your course on the start date here in Phuket.
Group Instruction
Location: Phi Phi Islands
Duration: 1 day
Total Price per person (incl. all taxes): US$ 162
Location: Ao Nang Beach, Krabi
Duration: 1 day
Total Price per person (incl. all taxes): US$ 134
Location: Koh Samui
Duration: 1 day
Total Price per person (incl. all taxes): US$ 148

---
CUSTOMER TESTIMONIALS
... I have never dived before and the instructors, dive crew, resort staff (everyone, in short) was supportive, really cared whether I was enjoying myself and gave me lots of encouragement ... Suzanne McLennan, Canada