>
PADI Dive Courses
>
Open Water Diver
Scuba Diving in Thailand
PADI OPEN WATER DIVER COURSE
Now is the time to take the plunge with the PADI Open Water Diver course, the most popular scuba programme in the world! This is your ticket to a lifetime of amazing underwater experiences and your first step into a whole new, brightly-coloured world full of beautiful marine creatures and happy people! Why not learn to dive in Thailand with a company that combines professionalism and fun so you can relax and enjoy the course, knowing you are in good hands?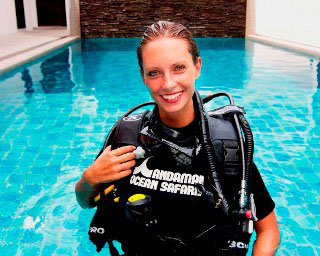 You will earn the PADI Open Water Diver certification that is recognised worldwide. You earn this license by completing 5 sessions in a purpose-built 3 metre deep diving pool in Phuket, 5 knowledge development sessions, and by making 4 scuba dives at some of the best Phuket diving sites. Every step of the way your instructor will help you along at your own pace and make the experience both interesting and great fun!
However, we have now gone one step further and can recommend a course structured to allow you a 5th dive absolutely free of charge, meaning you'll have more fun and gain more experience. We also want to ensure that Day 1 is a fun day out for you with no books. So your instructor will take you for 2 fun dives in the Andaman Sea and, going at your own pace, you can decide if you enjoy it. A small minority of students don't take to scuba, so if you are one of those people you can quit then having paid for just 1 day. Otherwise you will go on to complete the course over Days 2 and 3 and become a certified diver!
For more on why Dive The World Thailand are your best choice: Why Choose Us?
How the Days Unfold
You will spend the first day or two of your course (from 8 am to 3-4 pm) at our dive centre, learning basic scuba skills in a swimming pool. Here you will breathe for the first time underwater - an unforgettable experience! Earlier on, you will do some interesting classroom work that will help you understand the principles of scuba diving. Then it's out into the open water, on board the dive boat, departing at 8.30 am and returning mid-late afternoon. You will make at least 5 dives at the local Phuket sites under the supervision of a PADI Instructor.
It is so exciting to be in the sea after doing your pool training and to be witnessing the delights of the underwater world in the open ocean. The amazing sights of coral reefs, colourful sponges, vibrant tropical reef fish and a whole range of other reef creatures will reveal themselves before your very eyes! As a scuba diver you can explore in a whole new world – you'll be hooked! Phuket has some amazing underwater wildlife, so expect these first dives of your scuba career to be outstanding.
Where You Will Dive
With such a wide variety of dive sites here in Phuket, we can manage the course to fit your needs. At Racha Noi and Racha Yai islands we have clear, shallow areas in which to practice your new found skills, and then it's a short swim to our many natural and artificial reefs, teeming with fish, Then maybe on your 2nd diving day you can visit the exciting sites of Shark Point and Phi Phi Islands, or finish off in style at the beautiful Similan Islands.
What Is the Open Water Course All About?
Throughout the programme, you'll learn the fundamentals of scuba diving, including dive equipment and techniques. Virtually anyone who's in good health, reasonably fit, and comfortable in the water can earn the Open Water Diver certification. At some point during your Thailand diving course, your PADI Instructor will ask you to demonstrate the ability to swim 200 metres.
The PADI Open Water Diver is a permanent license, and as a certified diver you have the freedom to dive with a buddy independent of a professional. However, if you do not dive for over 12 months and you are relatively inexperienced, we recommend you complete a refresher programme, such as the PADI Scuba Review. This can take as little as 1 hour of your time in the swimming pool and gives you the chance to refresh those skills you may have forgotten. That way, when you do dive again you can relax and enjoy your time underwater, and be sure that you won't have any nasty surprises in store.
If you already tried a PADI Discover Scuba Diving experience or are Scuba Diver certified, you may get credit from these courses to the open water programme. Your underwater adventure can begin as soon as today with the new PADI Open Water Diver Video! View this with your instructor, who will explain all aspects of the theory and answer any questions you have. Learning options for scuba diving in Phuket also include group or private instruction.
To sign up, you must be at least 10 years old. No prior experience with scuba diving is required. So what are you waiting for? Your only regret is likely to be that you didn't learn to scuba dive in Thailand even earlier!
Note: during this course you will learn to allow 18 hours to pass before flying after diving. So please make sure to consider this when finalising your travel plans.
Private Instruction
Location: Phuket
Boat Dives: 5 - you'll complete boat dives to top quality sites - no low quality shore diving!
Duration: 3 days (not 4 days!)
Typical Itinerary:
Day 1 - 09:30 to 16:30 hrs - class and pool scuba training;
Day 2 - 07:30 to 16:30 hrs - 2 dives to a maximum depth of 12m at your choice of location from Racha Yai, Racha Noi, or Phi Phi Islands (we can advise you on this choice).
Day 3 - 07:30 to 17:30 hrs - 3 dives to a maximum depth of 18m at your choice of site.

Unlike with other dive centres, you will be taken to as many different sites as possible.
Total Price per person (incl. all taxes):
1 student - US$