>
Dive Sites
>
Koh Bon
Koh Bon Diving Guide
Thailand Dive Sites
...Good for: Large animals, value-for-money, advanced divers
Not so good for: Wrecks, beginners, non-diving activities...
Koh Bon Island lies an hour or so north of the Similan Islands. It's one of the best places in Thailand to see manta rays, especially from April to May, though the last couple of years have seen Mantas almost year round.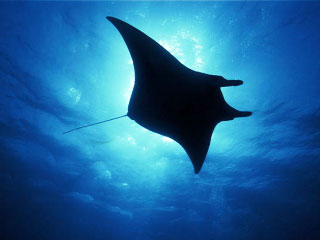 There's a 33 metre wall on its south side, facing a small cove, with a stepped ridge pointing west and down to over 40 metres. It is at the edge of this ridge that divers are drawn, as they peer into the blue looking for that first sight of a black and white wing that signals an approaching manta ray. Keep a little distance from the rays and the chances are good that they'll circle and swoop around, feeding on the plankton. If the manta feels threatened by rapid or aggressive movements it will just glide off into the distance and find somewhere else to feed.
Manta rays are not the only reason that Thailand dive cruises visit Koh Bon though. Leopard sharks are common at the ridge on the sandy flats below the wall, and white tip sharks can be seen roaming the depths off the edge of the reef. Soft corals the colours of turquoise, yellow and green dominate. Listen carefully and you'll hear the warning clicks of hundreds of nervous damselfish, and the coral crunching of hungry titan triggerfish, but don't neglect the wall itself which has plenty of critters to keep you interested including various types of moray eels.
To the west of Koh Bon Island lies Koh Bon Pinnacle. This site lies in deep water (18-40m) and is exposed, so consequently it is only possible to dive here in favourable conditions with experienced or advanced liveaboard divers. The west wall is steep, covered in small, yellow soft corals, and has a large cavern with a fish trap at its entrance. There is a smaller pinnacle lying to the north. Making your way back up the mountainous terrain, keep your eyes out for passing eagle rays, black tip sharks, and manta rays.
The small cove of Koh Bon provides good grounds for a night dive. The reef is made up of pore corals, with shrimp gobies peering out of the holes, and coral ledges. There are splendid decorator crabs, the intelligent red octopus, and red and white banded boxer shrimps.
Reef Basics: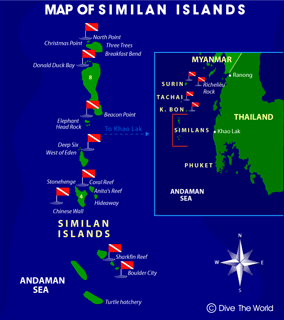 Depth: 5 - >40m
Visibility: 15 - 40m
Currents: Can be strong
Surface Conditions: Can be rough
Water Temperature: 26 - 29°C
Experience Level: Intermediate - advanced
Number of dive sites: 3
Diving Season: November to April
Distance: ~145 km north of Phuket (8 hours), 50 km northwest of Khao Lak (3 hours, or 1¼ hours by speed boat)
Access: Thailand liveaboards and some day trips
Recommended length of stay: 1 day

---
CUSTOMER TESTIMONIALS
... It was all very good communication in planing this trip, can't really say anything that could have been better ... Jakob af Petersens, Sweden