>
PADI Dive Courses
>
Scuba Review
Thailand Dive Courses
PADI SCUBA REVIEW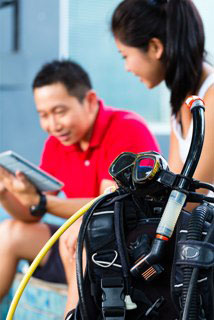 PADI's Scuba Review programme is designed to get you back in waters - comfortably in time for that upcoming Thailand liveaboard trip!
The Phuket Scuba Review programme consists of 2 parts - a Knowledge Review and a Confined Water Skills Review conducted in the sea. The Knowledge Review segment covers basic safety information you learned during your entry-level training. The only material you need is the Scuba Tune Up Multimedia or the guidebook.
The Confined Water Skills Review will give you the opportunity to practice a comprehensive circuit of basic scuba skills. With guidance from a PADI Member, you will update and fine-tune your diving skills.
There is also an optional supervised open water dive. This recommended dive offers the opportunity to obtain an environmental orientation to a local site from a PADI Member as well as the comfort of supervised diving.
You will benefit from a Scuba Review experience if you're:
A certified diver and have been out of the water for awhile;
Looking to refresh your scuba skills and knowledge;
A PADI Scuba Diver or a referral student diver and want to earn your Open Water Diver certification;
An experienced diver seeking certification.
Private Instruction
Location: Phuket
Boat Dives: 3 - You choose diving sites from Racha Yai, Racha Noi, or Phi Phi Islands
Duration: 1 day
Total Price per person (incl. all taxes):
1 student - US$ 157, 2 students - US$ 148, 3 students - US$ 140
Pool session only: US$ 0
Note: If you prefer, you can pay for your course on the start date here in Phuket.
Group Instruction
Location: Phi Phi Islands
Boat Dives: 2
Duration: 1 day
Total Price per person (incl. all taxes): US$ 91
Location: Ao Nang Beach, Krabi
Boat Dives: 2
Duration: 1 day
Total Price per person (incl. all taxes): US$ 29

---
CUSTOMER TESTIMONIALS
... Very personalised service with no surprises or hidden charges. Oui brought a wetsuit to my hotel the night I arrived (I forgot to pack mine). On day 3, she searched me out on a dive boat just to make sure that everything was going fine and to see if there was anything else that Dive The World could do. I'm definitely coming back and will definitely use Dive The World for the arrangements. I've already passed out your URL to every diver that I know who is interested in Phuket ... Bill Ballard, England