>
Hotels
>
Koh Tao
All Accommodation Options
Koh Tao Resort Diving
Day Trips and Resort Packages
We recommend that you select a scuba day trip package and a Koh Tao dive resort to match your budget. We've made some hotel accommodation suggestions to assist you, below, together with some details about the day trips and other useful visitor information.
• Koh Tao dive daytrip packages
Koh Tao Accommodation
Firmly established on the traveller circuit, Koh Tao is a popular island dedicated to fun and affordable diving. Prices are important to many visitors so for this reason we have specially discounted accommodation for our divers:
Coral Grand Resort
A 3-star beachfront dive resort, located on Sairee Beach, Coral Grand features cottage-style rooms in the main section of the resort, as well as a dedicated section of budget accommodation for scuba divers. There is a beachfront restaurant, and a swimming pool for guests to enjoy while soaking in the sunshine! The resort also provides a souvenir shop and massage services. Wi-Fi is available throughout. See carousel photos 1-7.
Dormitory room (see carousel photos 8-10):
Fan room / cold water: US$ 7 per person per night
Air-con room / cold water: US$ 14 per person per night
Air-con room / hot water: US$ 15 per person per night
Standard twin room (see carousel photos 11-13):
Fan room / cold water: US$ 14 per room per night
Air-con room / cold water: US$ 27 per room per night
Air-con room / hot water: US$ 30 per room per night
Coral House (newest) twin rooms (see carousel photos 14-18):
Air-con room / hot water: US$ 41 per room per night
Coral House rooms have tea/coffee-making facilities. Breakfast is not included in the prices.
If you prefer more luxury, book your accommodation from a full range of resorts at hotelscombined.com, our affiliated hotel reservation specialists. Rates are backed up by their 'Low Price Guarantee':
All: Koh Tao Resorts

Or use this search box directly to find options that match your requirements:
Day Trip Diving in Koh Tao Island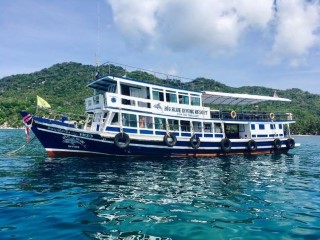 Our diving and resort options run from throughout the entire year. From Koh Tao you can dive all the local sites around the island, as well as the famous Chumphon Pinnacle Sail Rock, and the Sattakut and Trident shipwrecks.
• Koh Tao diving day trip options
We offer 2-tank dive trips from the boat pier at Sairee Beach. There is a morning trip and an afternoon trip. Snacks and refreshments are served during the trips. Please wait in your hotel reception area for your pick up, the boat departs at 6 am (and 12 noon) and returns around 10:30 am (and 4:30 pm). Boat rides to the sites are usually 15-30 minutes. We also offer full day Sail Rock 3-tank dive trips.
There are several diving boat which take a maximum of 40 guests, with qualified divemasters provided for every 5 divers. The boat is equipped with tank racks, steel ladders, dive platform, kit up area, rinse tank, indoor saloon, toilet and shower, sundeck and shaded area, and GPS.
There is a re-compression chamber on nearby Samui Island. We recommend scuba divers have their own dive insurance policy - see our insurance programme for a competitive quotation. Standard safety equipment is available on board, including GPS and marine radio. For general accidents, there is a public hospital on Koh Tao, as well as clinics, and an international hospital on Samui.
Best Time to Go
As a diver, we recommend you visit from March to September when the weather is at its best, the visibility is good, and the seas are calm. July and August are the busiest months. Rainy season runs from October to December but it's not often that trips are cancelled due to bad weather because there are multiple sites nearby. Whale sharks are most frequently seen from February to April and September.
Tourist Suggestions
For information on how to get to Koh Tao, the beaches, things to do, dining out, entertainment and nightlife, visit our Koh Tao tourist information guide.

---
CUSTOMER TESTIMONIALS
... Timely information provided ... Provided a varied dive itinerary with a range of sites despite what I understand was some limited options during the low season from the operators. ... Euan White, England