>
Dive Sites
>
Koh Tachai
Koh Tachai Diving Guide
Scuba Dive Thailand
...Good for: Large animals, reef life and health, value-for-money and advanced divers
Not so good for: Wrecks, wall dives, beginners, snorkelling and non-diving activities...
'Tachai Island' lies about halfway between the Surin and Similan Islands and is rated as one of the best sites for Thailand scuba liveaboards as it's normally visited on the way to Richelieu Rock from the Similans.
There are several dive sites around the island but the most famous is Koh Tachai Plateau which lies southeast of the island, about 1 kilometre offshore. The plateau is a submerged crowned reef of hard sheet corals, and scattered boulders. These boulders provide great swim-throughs and cut-through opportunities. They also provide refuge for tired scuba divers caught unawares by the sometimes hectic currents!
This site is renowned for its currents and a dive briefing on any Thailand liveaboard trip will include advice on where to find shelter. A dive here is not for beginners and not always easy but it is worthwhile because, as any diver knows, where there are currents there are big fish>. Chief among these are manta rays who make regular appearances and effortlessly glide over the boulders.
Other big visitors are whale sharks and nurse sharks. Leopard sharks are common and hawksbill turtles are often seen. Other common fish you'll see here are blue-dash and yellow-backed fusiliers, red-tooth triggerfish, bigeye trevally and unicornfish.
The south side of Koh Tachai is the deeper side, and a logical place to start your dive. The north side features a huge abandoned fish cage which is useful as a navigational aid. At the edge of the coral crown is a cleaning station, popular with tiera batfish which always makes for a pleasant safety stop as you hang on the line at the end of the dive. Koh Tachai is often dived early morning by liveaboard but also makes a nice sunset dive.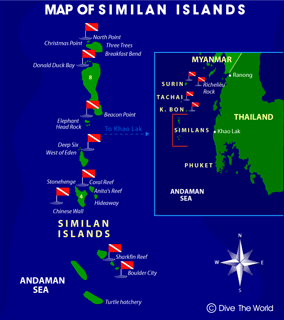 Reef Basics:
Depth: 14 - 36m
Visibility: 15 - 40m
Currents: Can be very strong
Surface Conditions: Can be rough
Water Temperature: 26 - 29°C
Experience Level: Intermediate - advanced
Number of dive sites: 4
Diving Season: November to April
Distance: ~165 km north of Phuket (9 hours), 65 km northwest of Khao Lak (3½ hours, or 1¾ hours by speed boat)
Access: Thailand liveaboards and Khao Lak diving day trips
Recommended length of stay: 1 day
---
CUSTOMER TESTIMONIALS
... You were very helpful providing advice on which would be the vessel more adequate to our needs considering that my wife is a non diver. I think the advise was very good because both my wife and me were very satisfied ... Angel Florez, Spain