Thailand's Diving Locations
The Andaman Sea
...Good for: Small animals, underwater photography, value-for-money, advanced & beginner divers, snorkelling, non-diving activities
Not so good for: ...
With its warm clear waters crammed with colourful, tropical fish-life and corals, set around stunningly beautiful tropical islands, the Andaman Sea boasts some high quality scuba adventures and certainly offers the best diving in Thailand by far. Discover here the sites you can explore from our liveaboard cruises or dive day trips.
A firm favourite with divers over the past decade or so, Thailand is blessed with gorgeous weather, fantastic beaches, and handy diving a few kilometres from a fun-packed shoreline.
• Watch our Dive Video Gallery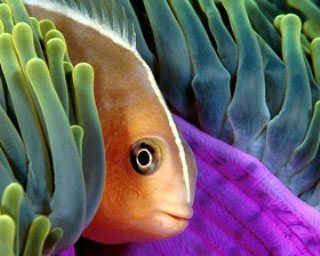 Phuket, Khao Lak, Phi Phi Islands and Ao Nang Beach - Krabi are the top resort locations for a Thailand diving vacation. Phuket is best placed to serve the whole region, and is popular with party-goers, whilst Khao Lak is ideally placed to focus on the northern Thai Andaman Sea. Ao Nang is set on the peaceful and spectacularly beautiful Krabi coastline across Phang Nga Bay, and Phi Phi's magic draws sunseekers and travellers for the beaches and a slice of island-life.
The biggest draw-card here though, are the professionally run dive outfits that have a fantastic range of value-for-money liveaboards cruising around world class dive sites in the Similans, Burma and Hin Daeng.
The picturesque Similan Islands are the most popular Thai scuba destination, with superb underwater scenery and excellent visibility in its aquamarine waters. Huge deep water boulder formations create daring swim-throughs as well as providing dramatic back-drops to its vibrant reef slopes. You can dive here by liveaboard or day trips.
The world famous Richelieu Rock is perhaps the Thailand's most famous dive site, and it rates as one of the top places in the world for diving with whale sharks. Koh Bon and Koh Tachai are great for manta rays and white tip reef shark encounters.
Hin Daeng - Hin Muang is your best chance to see grey reef sharks, patrolling the walls. Besides that, it's also the second home in the Andaman Sea for whale sharks and mantas. Visit Hin Daeng and you'll experience the excitement of diving Thailand's biggest vertical wall. Nearby caves and caverns add to the thrill of adventure.
Koh Samui is the ideal base for exploring the sites in the Gulf of Thailand. The diving may not be quite as varied as in Phuket and the Similan Islands, but there are some very good dive spots around Samui and Koh Tao which can be combined with a stay at one of Samui's excellent resorts.

Dive Sites
For more detailed information on Thailand's best sites, click on the links below:
Andaman Sea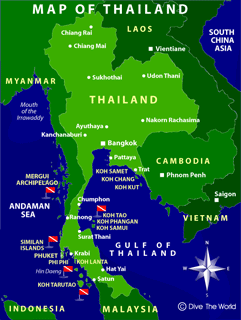 Northern Region
Central Region
Southern Region
Gulf of Thailand
Dive The World Thailand Recommendations: Richelieu Rock, Koh Tachai, Hin Daeng and Hin Muang.

The Diving Season
You can dive Thailand all year round. The best conditions in the Andaman Sea exist from November to April, with whale sharks visiting from February to May, and manta rays all year round. Visibility can easily reach over 30m, the seas are a bathtub 28-31°C, and the surface conditions are generally calm, especially in the months following the new year.
Late May to October brings monsoon winds and surface swells to the Andaman Sea, making some of the remote sites, such as the Similans, Richelieu Rock and Hin Daeng, inaccessible and reducing visibility in general by about 30% at the open locations. October can also see heavy rains in the area.
The Phuket liveaboard season runs from early October to mid May, but there are some liveaboards and overnight trips to the Phi Phi Islands all year round.
For the Gulf of Thailand, the best months for diving are May to August, when the Andaman Sea has its low season.

Reef Basics
Depth: 5 - >40m
Visibility: 5 - 30m
Currents: Can be strong
Surface Conditions: Can be rough
Water Temperature: 26 - 31°C
Experience Level: Beginner - advanced
Number of dive sites: >250
Access: Liveaboards, resorts and day tours
Recommended length of stay: 1 - 3 weeks
• Thailand tourist information