>
PADI Dive Courses
>
Rescue Diver
Recreational Diving Thailand Courses
PADI RESCUE DIVER
How do you take a subject like accident prevention and management and turn it into recreational diving fun? Call it the PADI Rescue Diver programme!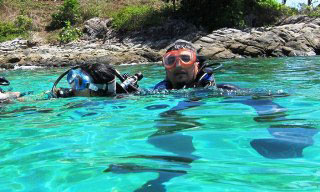 The PADI Rescue Diver course develops your knowledge and skills so you can effectively perform scuba diver assists and rescues, manage accident situations and render first aid. It is an important step in expanding your knowledge and experience. You will end the course as a much more accomplished diver.
If you are already an Advanced diver and you want to take the next step and grow in confidence in your own diving abilities, then there is no better way than the Rescue Diver course. You will learn skills that improve your own safety and that of your dive buddies, plus you will learn important life-saving skills, applicable to many real-life emergencies.
PADI Rescue Diver certification is also a prerequisite for all PADI leadership programmes.
How the Days Unfold
Your 1st day will consist of pool and class work, equipping you with basic skills such as assisting a panicking diver, surfacing an unconscious diver, and out of air drills. In the classroom you will learn how to quickly identify stress and how to minimise the risks associated with differing diving conditions.
The 2nd and 3rd days are spent on the shore and on the boat simulating scuba emergencies, conducting searches, and learning how best to manage the human resources available, as well as learning how to administer oxygen, and in-water artificial ventilation techniques. Be prepared for unexpected rescue scenarios!
What Is the Rescue Course All About?
The PADI Rescue Diver programme includes a study manual and video, and subjects covered include:
Self-rescue and diver stress
Scuba first aid
Swimming and non-swimming assists
Egress (exits)
Surfacing the unconscious diver
Underwater problems
Missing diver procedures
Panicked diver response
In-water artificial respiration
Dive accident scenarios
First aid procedures for pressure related accidents
Emergency management and equipment considerations
To get begin the PADI Rescue Diver course, you'll need to be certified as an Advanced Open Water Diver and at least 12 years of age. You'll also need to have successfully completed the PADI EMERGENCY FIRST RESPONSE® or other sanctioned programme in CPR within the past 24 months.
After successfully completing the course, you'll receive the internationally recognised PADI Rescue Diver certification card.
Private Instruction
Location: Phuket
Boat Dives: 4 - YOU choose dive sites from Racha Yai, Racha Noi, Phi Phi Islands, Shark Point, Kingcruiser Wreck, Anemone Reef - you'll visit as many different sites as possible
Duration: 2 days (Day 1 - class and pool, Day 2 - boat diving)
Total Price per person (incl. all taxes):
1 student - US$ 314, 2 students - US$ 308, 3 students - US$ 301
Note: If you prefer, you can pay for your course on the start date here in Phuket.
Group Instruction
Location: Phi Phi Islands
Boat Dives: 2 - plus 3 beach sessions
Duration: 3 days (Day 1 - class and beach, Day 2 - beach, Day 3 - dive boat)
Total Price per person (incl. all taxes): US$ 344
Location: Ao Nang Beach, Krabi
Boat Dives: 4
Duration: 3 days
Total Price per person (incl. all taxes): US$ 396
Location: Koh Samui
Beach Dives: 12 diver exercises and rescue scenarios
Duration: 3 days
Total Price per person (incl. all taxes): US$ 410

---
CUSTOMER TESTIMONIALS
... Myself and Caroline would both just like to thank Paul for making the scuba diving part of our holiday problem free and a brilliant experience ... Very clear instruction, easily explained, very professional and a pleasure to be around ... Jon Wilson, United Kingdom