>
Hotels
>
Khao Lak
All Accommodation Options
Khao Lak Resort Diving
Day Trips and Resort Packages
We recommend that you select a dive day trip package, and then choose a Khao Lak resort hotel to match your budget. To assist you, we've made some accommodation suggestions below, together with some details about the day trips and other useful visitor information.
• Khao Lak dive daytrip packages
Khao Lak Accommodation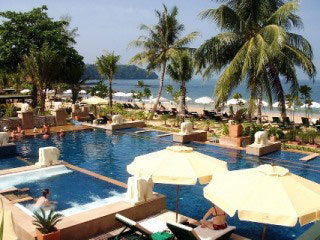 A relatively undeveloped tourist destination, ideal for nature lovers, Khao Lak is the natural choice for those wanting to dive the Similan Islands and base themselves in a nearby beach resort area.
There is a range of beach resorts to suit all tastes and budgets. Take advantage of a 'Low Price Guarantee' and book your accommodation with hotelscombined.com, our affiliated hotel reservation specialists:
High budget: Baan Khao Lak Resort

In this conveniently located deluxe hotel you will find all you need to make your diving vacation one of extreme comfort. Set on the shores of the Andaman Sea, the resort has its own soft sandy beachfront, swimming pool, wireless internet, bar and restaurants. You can choose from a range of rooms from 2 story cottages to beachfront villas. All are very stylishly furnished and have air-conditioning, satellite TV, minibar and telephone, and the beachfront villas also feature a whirlpool bath and outdoor shower.
Medium budget: Best Western Palm Galleria Resort

This great mid-price resort is built in contemporary Thai style and boasts a full range of facilities including sauna, massage and outdoor pool, as well as conference and function rooms. The resort is located a little outside the centre of Khao Lak and is a short stroll to all the nearby amenities. The spacious accommodation ranges from superior rooms to suites; all featuring hair dryers, air conditioning, robes, balcony/terrace, tea/coffee maker, minibar and an en-suite bathroom with shower.
Low budget: Khao Lak Mohin Tara Hotel

This hotel represents one of the best value-for-money options in Khao Lak, with beautifully furnished rooms set around an outdoor pool. You can also avail of the massage service offered. In-room features include air conditioning, television, tea/coffee making facilities and minibar, which are common to both superior and deluxe rooms.
Make you choice and book from their full range of resort options:
All: Khao Lak Resorts

Or use this search box directly to find options that match your requirements:
Similan Islands Day Trip Diving
Our diving and resort options in Khao Lak Beach run from November through to April. From Khao Lak you can visit the Similan Islands, Koh Bon and Koh Tachai islands, Richelieu Rock, as well as the Bunsoong Wreck.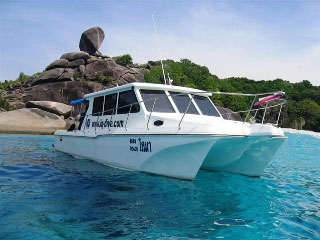 • Khao Lak diving day trip options
We offer 2-tank dive boat day trips from the nearby pier at Tap Lamu. Lunch and soft drinks are served during the trips. For the Similan Islands, the dive boat used takes a maximum of 30 guests, with qualified divemasters provided for every 6 scuba divers. For all other Khao Lak destinations the vessel used is a high speed catamaran for a maximum of 15 guests, and divemasters are provided for every 5 divers. You'll be collected from your hotel reception area at 08:30 hrs and return around 17:00 hrs, but times vary depending on the destinations visited.
The Similan dive boat is a 20m+ wooden monohull and features a dive platform with steel ladders and kit up area, showers, toilets and rinse tank, indoor saloon area, sundeck and shaded area, ship to shore radio and mobile telephone contact. The high speed catamaran has steel ladders and kit up area, a toilet and rinse tank, shaded area, ship to shore radio and mobile telephone contact.
There are 2 re-compression chambers on nearby Phuket Island. We recommend scuba divers have their own dive insurance policy - see our insurance programme for a competitive quotation. All our boat operators carry emergency oxygen and evacuation procedures onboard and have liability insurance. For non-diving accidents there is a provincial hospital in Phang Nga town, and several private international hospitals in Phuket.
Best Time to Go
We recommend February to April as the best time to visit Khao Lak to dive the Similan Islands; this is prime manta and whale shark sighting season, the visibility is very good, and the weather is dry and sunny. The diving season, though, runs from October until the end of April. Outside of these times the Similans are closed to visitors.
Tourist Suggestions
For information on how to get to Khao Lak, things to do such as activities and entertainment, as well as tips on getting around, visit our Khao Lak tourist information page. For more background on the Similans, read our Similan tourist information guide.

---
CUSTOMER TESTIMONIALS
... You provide full information of the places with your webpage (resort, diving, transfers etc). The communication by email was complete and fast. The website = excellent. Email responses = excellent. I will certainly use Dive The World's services again and recommend your homepage. ... Pilar Mayoral, Argentina