Thailand Travel Information
Things to Do in Thailand
We want you to have all the information you need to make your Thailand scuba diving trip perfect.
We know Thailand well, and set out all the tourist information for you here:
The rest of this page contains information about Thailand:
About Thailand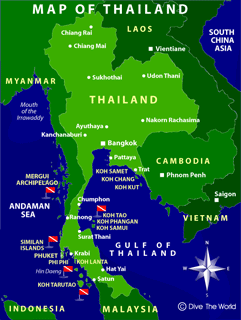 The kingdom of Thailand attracts more tourists than any other nation in South East Asia. Some say it's the outstanding natural beauty, warm seas and fine beaches that are its main draw card. Others would argue that the main attractions are its fascinating culture and religion, inspirational temples, and ancient ruined civilisations. Still others come for more basic pleasures that Thailand satisfies - spicy and tasty food, low cost living, lively nightlife and cheap sex.
The main land mass of central, north and east Thailand is landlocked and surrounded by Cambodia, Burma (Myanmar) and Laos.
However, it's the narrow southern peninsula running down to Malaysia that provides some spectacular adventure opportunities. Both the Andaman Sea to the west and the Gulf of Thailand to the east are liberally sprinkled with picturesque island tourist destinations and national marine parks, but it's the Andaman Sea, and in particular the Similan Islands, that's the jewel in the crown when you want the best liveaboard charter diving.
If you require a place to stay in Thailand you can get the best value rooms with hotelscombined.com, our affiliated resort reservation specialists:
How to Get There
Bangkok is one of the major travel hubs in South East Asia. There are flights with most of the major international airlines from countries in Asia/Middle East, Europe and Australia. If you are already in South East Asia then there are reliable connections with Malaysia, Singapore and Bali. There are also some flights into the smaller international airports of Thailand, such as Phuket, Koh Samui and Krabi.
In recent years the country has become well served by international flight options from some of the low cost airlines such as Air Asia

, Jetstar

, Scoot Tigerair

, and Thai Airways

.
We recommend you consider taking out insurance to cover diving and travel activities, including trip cancellation. See our insurance programme for a competitive quote:
Thailand's Climate
Thailand has a hot and humid, tropical climate throughout the year, though it can get chilly in the mountainous north. The dry and cool season runs from November to February. March to May is also dry but very hot, except in the south. The wettest month in rainy season tends to be October throughout the country.
You can dive in Thailand all year round, although the best conditions are between November and early May. Some sites in the Andaman Sea are not available in the rainy season due to strong winds. At that time there are also only a limited number of diving cruise charters in Thailand. Check our dive site descriptions for detailed seasonal factors.
Health
Thailand is a malarial area, but most urban areas and Phuket, Similan Islands, Krabi and Phi Phi are mainly malaria-free. Dengue Fever, however, is prevalent, as is Rabies.
Common but avoidable health concerns are contaminated food, water and ice that can lead to diarrhoea, dehydration and hepatitis A or E. Make sure you drink only bottled drinking water. Fungal infections are also very common. Wear loose clothes, wash frequently, and dry yourself carefully.
Self-diagnosis and treatment of any medical problem can be risky, so you should always seek medical help.
Tourist Security and Safety
We have to admit to having a vested interest in encouraging you to visit Thailand but that does not extend to recklessly advising you to go to a place of danger. We consider Thailand a safe place for tourists to travel. All qualified divers will know from their training that the best way to deal with a potentially risky situation is (stop, breathe, think, act) to make an informed and rational evaluation before taking action.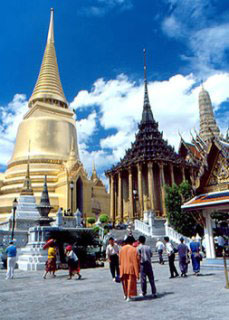 Thailand has an established tourist industry and infrastructure and a reputation for safe travel, even for single females, hence its popularity with young travellers. Bangkok Airport correctly boasts of being the gateway to Asia and since millions pass through the country each year, the authorities value tourism as central to the nation's prosperity. It is little wonder, in the current climate, that the authorities do all they can to maintain the reputation that Thailand has gained as a safe and rewarding destination (including covering up potentially damaging events such as chicken flu!).
The Thai government is seen as one of the most pro-active in the prevention of terrorism and most visitors encounter no problems whatsoever. Furthermore, their intelligence network has ensnared operatives from illegal organisations who had wrongly considered the country to be a safe place from which to conduct their affairs.
There is a national network of tourist police whose job it is to prevent any potential problems by ridding areas of known troublemakers as well as being your first port of call should anything go wrong. This and the heightened level of security in recent times means that it has never been safer to travel here.
Dive the World Thailand has travelled to all the tourist areas described in this section and never experienced threats of any kind and indeed have never had any customers report safety or security concerns (so far!). The only areas of concern in the country are the Muslim dominated provinces in the south, bordering Malaysia. Here, popular public protests have been brutally supressed by the Bangkok governmant, but tourists have never been targetted. One further note of caution concerns the drugs industry. 1,000s of suspected drug dealers have been killed by the authorities over recent years. The current policy seems to be 'shoot first, ask questions later', as none of these state-sponsored murders have been presented to court. Involve yourself in drugs at your peril!
The usual travel advice should be heeded however, but as long as you avoid entering into any bogus jewellery deals or falling in love with a local who suddenly has a family emergency remediable only with hard cash, you should be fine. The general sense that tourists get from visiting the country is one of warmth, hospitality and cultural richness. Blindly following all warnings issued by authorities these days, we sometimes wonder how people ever leave their homes!
Tourist Visas
Visitors from most Asian and Western Countries including Europe, North America, Australia, New Zealand and South Africa are granted a tourist visa on arrival

. This will be a 30 day stay permit when arriving by air, or a 15 day permit-to-stay when arriving by land or sea. Some other nationals are required to produce a tourist visa before arrival and you should contact a local Thai embassy or consulate for details.
Time Zones
There is only 1 time zone in Thailand: +7 hrs GMT, or +12 hrs EST.
Business Hours
Banking hours are 08:30 until 15:30, Monday to Friday. Many shop stores are open 12 hours a day, every day.
Electricity
Thai electricity is 220 volts AC at 50 cycles. Several different plugs and sockets are in use, so travellers will need to be aware of this when using shavers, CD players or other appliances that require power mains. Plug adapter kits are available. There are occasional blackouts and power variations, especially during rainy season.
Photographic Facilities
Most popular brands and types of film are widely available in Thailand. It is advisable to bring any special photographic equipment or film from home as supplies may be limited here. Film processing is widely available in all tourist areas.
Postal Services
Post offices are open from 09:00 until 15:30 hrs. Thai postal services are be unreliable. Important items can be sent by express mail service (EMS) from the mainland. This is faster and safer but the cost is higher. Private air couriers like DHL and UPS also have representatives on Phuket.
Telephone Services
International calls can be made from most major hotels and some travel agents. For International Direct Dialling dial 001 + country code + area code + phone number.
E-mail Services
There are many internet cafes in the tourist locations and connection speeds are fairly good in this easy-livin' backwater village paradise.
The People of Thailand
62 million people live here, with approximately a quarter of those living in the greater Bangkok area. There are several small minority ethnic groups such as Mon, Karen and Khmer, mainly in the north but 75% of the population are of Thai descent, with the rest made up of predominantly Chinese then Malay.
96% of the people are Buddhist with the remaining 4% being mainly southern Muslims. The national language and script is Thai, but there are several regional dialects.
Codes of Behaviour
Thais are flexible in nature and understand very well, that foreigners do not know their code of behaviour. Mostly they are too polite to complain about ignorance.
But if you'd like to be respected, it is important to show proper behaviour, most importantly to show respect for the monarchy. Thai people are very fond of and loyal to their king and queen and the whole royal family.
Their religion should be respected as well. Temples, Buddha, statues, and monks (it is not allowed for a woman to touch a monk, for example) are to be revered.
Buddhist and Chinese shrines are open to foreigners but you should dress appropriately when visiting. Shorts and sleeveless shirts are discouraged. A non-Muslim can enter a mosque during prayer time. Hilltop houses have special spirit houses, which are closed to outsiders; entering them will violate their sanctity.
Thais are amenable to being photographed but, if in doubt, ask first. Monks can be photographed and Buddhist ceremonies too. They regard the feet of lower stature so do not point them at others or step over those seated or lying. Remove your shoes before entering a Thai temple or house. Likewise, the head is of high stature and is not supposed to be touched or slapped.
Tipping and bargaining
Although tipping is not expected or required, it is a nice gesture to leave a small amount, when you receive good service, particularly as salaries are low.
Most restaurants, bars, supermarkets, department stores, pharmacies, public transport (except taxis and tuk-tuks), and larger hotels do not offer discounts. On the other hand, nearly any independent small businesses, from jewellery stores to street vendors, are open to bargaining, except Dive The World!
If you decide to bargain, understand that you should, above all, do it in a light-hearted non-confrontational manner, preferably with a big smile. When bargaining, Thais will normally drop their original asking price to a lower price very quickly but will then become irritable after more than a few minutes of further haggling! If you really feel that you are not getting value-for-money, then better to show that you are willing to walk away and maybe return later!
As in other countries, knowing the rudiments of negotiation ("How much?", "Too expensive", "Can you come down?" and numbers) in the Thai language will certainly afford you a better price.
Clothing
Thailand is a country in the tropical region, so light, loose cotton clothing is most recommended. When exploring the night-life, tight dresses, short shorts, and miniskirts are no problem. On the other hand, naked sunbathing or topless appearance in public places is considered offensive, more especially when you are outside of the tourist resort areas.
Criminality
Thailand is one of the friendliest and safest travel destinations in the world. Your personal safety is well taken care of in the main tourist destinations and the tourist police demonstrate a polite and competent attitude all round. By travelling with confidence, being aware and showing the proper caution, you will surely enjoy your stay.
Travellers should be aware, as in the rest of the world, pickpockets and con artists are more likely to be found in crowded areas such as tourist spots, buses, trains and train stations, festivals, and marine harbours - so keep a watchful eye on your valuables in these places.
Petty pilfering from hotel rooms is not unknown, though it is fairly unusual and staff are likely to be unexpectedly honest.
Thai Officials
If you are involved in an incident then respect for the police is a must. Insults, loud or aggressive speech, or, indeed any expression of anger, will invoke much embarrassment and even less cooperation, so you must avoid this at all times, guilty or not.
Thai police officers have much greater powers of action than their European counterparts and will not accept disrespectful behaviour. Common offences such as not wearing a helmet will get you a 300 B fine. Parking on the wrong side of the road will get your bike or car chained up and another fine. The trick is to know which side of the road to park on. Just look to see where everyone else has parked and park on that side of the road.
Police corruption is widespread throughout the country, and buying off offences is common. Don't expect justice to take place naturally. If you feel that you're being treated unfairly then stand your ground, remain cool at all times, make a show of recording the officer's registration number, and insist on seeing a superior officer.
Are you interested?
If you're keen to discover the unique underwater landscapes of the Andaman Sea and the tourist-easy haven of Thailand, then click below to check your options now for:
Be sure to book up in plenty of time to avoid limited choice! The best Thailand diving opportunities are booked by repeat customers who book well in advance to ensure their reservation!

---
CUSTOMER TESTIMONIALS
... Good information prior to booking on options, professional feel, efficient service and friendly. Helpfully offered to store our bags while we were on the boat! ... Gerald Chappell, UK