>
Dive Sites
>
Phuket Island
Phuket Diving Guide
Access the Best Dive Sites in the Andaman Sea
...Good for: Small animals, reef life and health, beginner divers, value-for-money, snorkelling and non-diving activities
Not so good for: ...
Nestling like a pearl in the Andaman Sea, Phuket's location sets it apart from and elevates it above Thailand's other diving destinations, and this is one of the reasons why so many visitors come back to dive in Phuket year after year. Simply put, this island is the only resort area from where you can visit all of Thailand's chief diving attractions, with regular liveaboard tours to the famous Similan Islands, Hin Daeng, Richelieu Rock, as well as Burma.
Scuba diving in Phuket offers a wide range of interesting local adventures too, with its soft coral pinnacles, coral fringed islands, wall diving. Discover the sunken treasures of the King Cruiser wreck, a car ferry sunk in 30 metres of water, an ideal site for deep divers. Then there's the chance to dive with manta rays and view dolphins and occasional whales at Racha Noi South Point.
Or if you are a keen photographer then you can take underwater photos of cuttlefish or the leopard sharks at Shark Point or Koh Phi Phi. Shark Point is a series of pinnacles covered in colourful soft corals and alive with sea life. Nearby is Anemone Reef, another pinnacle carpeted in magnificent anemones and a great place to see clownfish and find turtles.
The Phi Phi Islands are a further distance but still frequently visited on dive day trips out of Phuket. These ever-popular islands provide splendid wall dives where you might find reef sharks and groupers, schooling reef fish such as fusiliers, as well as smaller marine treasures such as pipefish and squid. The trip to Koh Phi Phi is worth making for the magnificent scenery alone.
With unbeatable access to all of the best diving in Thailand, its own varied and fascinating underwater worlds, plus its legendary topside attractions of fantastic beaches and thumping nightlife, Phuket remains very popular with both young holidaymakers and experienced scuba divers alike.
Phuket's Dive Sites
Click on a twisty ('++' sign) to show more detailed information on each dive site of Phuket:
++

 Anemone Reef

Hin Jom, meaning Submerged Rock, derives its English name from the profusion of lime green and sky blue magnificent anemone's that cover this pinnacle. Anemonefish and clownfish use the anemones for protection and provide this diving site with all the colours you could wish for.

A dive at Phuket's Anemone Reef usually starts with a descent to the bottom of the pinnacle. You can then slowly circle your way up the reef until you reach your safety stop level at the end of your dive. Sometimes the currents make it difficult to circumnavigate the reef in which case your guide will lead you on a zigzag route up one side of the pinnacle to avoid heavy finning against the current. Which ever route is taken, Anemone Reef is a spectacular scuba diving spot.

On the eastern slope of the pinnacle you can find large examples of lemon sea fans. Barrel sponges dot the lower slopes, and you can often find big, well-fed bearded scorpionfish resting inside their open barrel rims. These creatures are masters of camouflage and adopt crazy patchwork markings of white and pale pink, to match the granite rocks of Anemone Reef. Common lionfish and spotfin lionfish are always in attendance, either floating freely or hiding around the barrel sponges to avoid the currents.

Large schools of fish are everywhere on Anemone Reef, including various families of snapper, grouper and fusiliers. Splendid soldierfish congregate together in the many cracks and crevices which are also a haven for smaller critters such as the yellow tiger-tail seahorses. These guys are normally found around the lower reaches of the pinnacle and you need a good eye or a skilled dive guide to spot them.

Look under the coral heads for Oriental sweetlips. Adult harlequin sweetlips can also be seen, and if you are lucky, the beautiful juvenile harlequin sweetlips performing its distinctive dance. Red-tail butterflyfish and schooling bannerfish are common at most of Phuket's dive sites, as are Moorish idols, trumpet fish, cornetfish and parrotfish.

You will see plenty of giant morays, undulated morays and white-eyed moray eels too, and with a little searching you should also be able to spot honeycomb, yellow-edged and spot-faced moray eels.

At the end of the dive, pay close attention in and around the anemones. You can find tomato, skunk, pink and Clark's anemonefish, to name but a few. And yes, the now famous western clownfish is everywhere, so you will find Nemo! Anemonefish are not the anemone's only residents though. Porcelain crabs can be seen on the outer edges of carpet anemones, shrimps hide in the middle of the anemones and damselfish such as the 3 spot dascyllus are ever present. The top of the rock at 6 metres is an ideal spot to finish off that roll of film; in fact many photographers choose to spend their whole dive here as the shallow depth provides great lighting conditions.

As Anemone Reef lies very close to Phuket Shark Point Marine Sanctuary, you are just as likely to see leopard sharks here as you are there, and there's also a pair of hawksbill turtles that make frequent appearances. They seem to share their time between Anemone Reef and the King Cruiser Wreck. Conditions can be adverse, especially in rainy season during the months from May to October, which makes this site suitable for intermediate level divers only.

++

 Koh Dok Mai

The name means Flower Island in Thai and this site must be named for its underwater beauty because above the water there are no flowers, only a few trees and bushes. As soon as you descend however, the colourful flower-like coral covering the wall makes the name understandable.

Koh Dok Mai is a small limestone islet rising vertically out of the sea. The site is mainly a wall dive down to 30 metres, with a hard coral staghorn reef sloping to the west. On the east side of the island are a series of caverns and caves which are great for practising penetration techniques, and maybe search and recovery!

Koh Dok Mai is a favourite site with Phuket's diving professionals because of the diversity of small stuff on the wall and it's famed for its resident yellow tiger-tail seahorses. Try spotting them hidden amongst the lacy gorgonian sea fans. They are in there somewhere ... honest!

Whilst your dive guide is looking for them for you, he'll also be looking for ornate or harlequin ghostpipefish. There's also a huge variety of invertebrates here, such as lobster, crabs, zigzag clams, pencil urchins, oysters, squid, and white-eyed moray eels. This is one of the top macro sites in Phuket so if you're a photographer a macro lens is the best option here.

Bigger fish such as leopard sharks and grey reef sharks are occasionally seen here and Indonesian bamboo sharks are becoming a more common sight beneath coral heads following a recent breeding program by the Phuket Marine Biological Research Centre. Octopuses are also common on the walls and if you look up you can normally see crocodile long-toms swimming close to the surface.

If you ever come across a dive buddy who claims in their log book to have seen a yellow submarine at Koh Dok Mai, then it's not necessarily likely that they took too many hallucinogenic drugs in the 1960's. One Phuket tour operator here did take tourists down on yellow submarine tours around the island to goggle at the marine life. Thankfully, they don't play the accompanying music to the passengers.

++

 King Cruiser Wreck

The King Cruiser was originally a car and passenger ferry in Kobe, Japan before being purchased by a Thai company to be used as a passenger ferry between Phi Phi Islands and Phuket. In May 1997 the ferry struck Anemone Reef and sank nearby. There were over 500 people on board when she went down but no lives were lost and now the wreck remains as an underwater attraction.

The wreck is 85 metres long by 25 metres wide, and has 4 decks with large passages and window holes. It is resting in an upright position on 32 metres, with the captain's cabin the shallowest area at 12 metres. This depth, together with the frequent strong currents and low season rough seas, makes the diving here unsuitable for beginners.

The Kingcruiser was a steel boat and the large cargo hold used to be considered safe for penetration. However, in August 2003 the floor of the stern top deck collapsed through onto the main deck and more recently both the midsection and the bow areas have deteriorated significantly, so penetration is no longer safe. As you dive around the wreck you will be aware of the constant sound of creaking joints, lending a sense of impending doom. Let's hope the wreck will survive and remain a source of enjoyment for some years to come yet.

On 32 metres at the stern you can see the twin propellers with lionfish swimming around them and there is normally a nurse shark sleeping in the angle between the sea bed and the open cargo ramp. The toilet area at the rear of the main deck is home to the largest lionfish of any of the local sites. The wreck is home to literally thousands of scorpionfish which are perfectly camouflaged with the rusting steel and barnacles so, if you have to hold on to something, look closely before you touch.

Towards the bow, near the wheel house there are 2 frequent visitors to the wreck which seem to delight in intimidating Phuket divers as they hang on the line for their safety stop. One is an enormous great barracuda and the other is a large and friendly hawksbill turtle, who will nibble your hoses given the chance.

There are huge schools of fish all over the wreck. In fact it's as if the more broken up the wreck becomes, the more fish it attracts. It seems odd that with beautiful homes like Anemone Reef and Shark Point so close by, these fish choose to take sanctuary in a rusting lump of metal, but they do and you'll find the biggest schools of trevally, mackerel and yellowtail barracuda here along with rabbitfish, surgeonfish, fusiliers and other schooling fish.

This beautiful uninhabited island is surrounded by hard coral reef, with huge granite boulders descending to depth at the north and south points. With Similan-like formations, the best visibility of all local sites, and the greatest chance of seeing manta rays and whales, this island is probably the best outside the Similan Islands and Hin Daeng, and is Dive The World Thailand's local favourite.

Racha Noi South Point is great for experienced scuba divers. The dive starts with a free descent to 18 metres where you'll find yourself on a large rock formation surrounded by deep water. The fish here are larger and schools of tuna and jacks sweep past. Mantas are really quite common here too. You can also be fairly certain to find some blue-spotted stingrays resting near the reef. The depth and presence of strong currents and surface swells make South Point inadvisable for beginners. For this reason, this particular Racha Noi site is more regularly visited on Phuket liveaboards than on day trips.

However, on the east coast lies Banana Bay, one of the best spots for learning to dive in Phuket. A perfect small white sand beach, lends the shallow waters here a cool aquamarine light, and when the sun is shining, the scene is pure paradise. The visibility here normally exceeds 20 metres, and the protected waters host many small bommies and staghorn reefs to leisurely explore.

In the small bay at the northern point of Racha Noi are some of the healthiest coral formations in Thailand. Diving along in the shallows, you'll find large patches of delicate green sheet corals, porites and formosa bottle-brush corals. Red octopus are plentiful and make for engaging encounters. Moving north, out along the eastern edge of the bay, large boulders take over the scenery. Once out of the bay confines at the extreme north point, currents often come into play, and here you're likely to see large groups of slowly circling chevron barracuda.

With numerous off-shore pinnacles and many other dive sites to discover, Racha Noi is an exciting destination for both day-trippers from Phuket and liveaboard charters.

++

 Racha Yai

This beautiful palm covered island, 20 km from Phuket, is dotted with small sandy beaches, and surrounded by fringing hard coral reef. Racha Yai is a granite island which means the water is always clear. The many shallow protected bays around the island make it an ideal trip at any time of the year. Racha Yai is the perfect place to learn scuba diving, for snorkellers, and for divers who haven't been in the water for a while.

Local marine residents in the coral gardens and reef include titan triggerfish, moray eels, cuttlefish, octopus and giant pufferfish. Titan triggerfish are quite mean looking fish, with their beady, swivelling eyes. In nesting season their moods change to match their looks. The male stands guard of its nest on the sand, and woe-be-tide you if you cross into its territory - the zone in a full circle directly above the nest. The titan triggerfish will charge at you continuously until you swim out of its territory once again. Thankfully, the fish seems more attracted to colourful fins rather than divers themselves, which reduces your risk of any personal injury.

You can also see trumpetfish, nose down in the reef hunting for food. Cornetfish are ever present as are large schools of twin-spot snapper, dog-eyed pufferfish and parrotfish. Some anemones can be found scattered amongst the hard corals with western clownfish in residence. It's worth spending some time in the sandy area at the edge of the reef to look for blue-spotted stingrays that, when not moving, bury themselves in the sand with just their eyes protruding out. Garden eels are also in this area.

A few years ago one of the first liveaboard dive boats was sunk at Racha Yai on Homerun Reef. It's now home to some batfish and a huge sting ray. Often, large schools of yellowtail barracuda slowly glide by.

Racha Yai remains Phuket's most popular destination for scuba diving day trips.

++

 Shark Point

Hin Musang was given official marine sanctuary status in 1992. It's made up of 3 large rock pinnacles, the largest of which breaks the surface. These rocks abound with life. The sheer density and diversity of coral and fish life makes diving here a wonderful, sensual experience. Shark Point's most colourful feature is the profusion of the purple and pink soft corals that cling to the rocks, and its huge barrel sponges.

Hin Musang derives its name from the leopard sharks that are resident there, making it one of the more popular spots for scuba diving in Phuket. These docile creatures grow to approximately 2½ metres, are nocturnal, and sleep on the sandy bottom at the edge of the reef during the day. Shark Point's your best chance to get up close and personal, and maybe take a photo or 2 of these sharks.

Bamboo sharks can also be found hiding under coral ledges but there's a lot more to see here than just sharks. Lionfish and scorpionfish are all over the reef, the latter being incredibly well camouflaged against the coral. There are many different types of pufferfish including the cute little yellow boxfish. Moorish idols and the very similar looking bannerfish can be seen on every dive. Blue-ringed angelfish and emperor angelfish are also common.

1 metre long potato groupers are quite shy, making photographing them a challenge but there are plenty of other, more willing subjects to snap away at whilst you're diving at Shark Point. Schools of fusiliers are dotted around the reef and in places the reef is completely carpeted by glassfish which are constantly being dispersed by raiding trevallies. Moray eels are in abundance and banded sea snakes are often seen in the shallower areas. A small rock outcrop, just off the south west corner on the main rock at 18 metres depth is home to a yellow seahorse and while you're hunting for him you'll probably also see free swimming white-eyed morays, banded boxer shrimps and hinge-beak shrimps.

As Phuket Shark Point is made up of more than 1 pinnacle there is always somewhere on the reef to shelter from any currents, so you can dive here any time of the month.

++

 Siam Bay Statues

One of Phuket's newest sites is located at the north end of Siam Bay, Racha Yai Island, and it may be the only place in the world where you can dive with elephants. Racha Yai is not normally known as a destination for scuba diving with 'the big stuff' but here you certainly can.

In 2006 the Thai government commissioned the design of some underwater statues in order to create an artificial reef to attract back diving tourists to Phuket after the tsunami of December 2004.

The various structures that make up the artificial reef sit on a sandy bottom, a short swim from the coral reef edge. There is also a mooring line for easy descents directly onto the statues. The deepest point is 22 metres with an average depth on the bottom of around 18 metres, making this a popular option on PADI Open Water Diver Course dives 3 and 4. The water is generally clear so some rather unusual photo opportunities are possible.

There are 2 large elephant statues and a big oyster shell. There is a big temple gate guarded by a mythical giant sentry, known in Thai as Yak, who is believed to protect the gate from evil spirits. There is also a Thai sala (pavilion). Each statue is separated by about 6-7 metres of sand so swimming from one to the other is easy.

It's a bit like visiting an underwater amusement park as you swim through the temple gate then under an elephants legs (not only is this very good luck in Thai, it's good buoyancy skills practice too), then sit on the other elephant with it's trunk raised for the obligatory photo. While you are there, have a look in the elephants ear where a white-eyed moray eel has already taken up residence. Then swim through the sala and check out the oyster.

20-25 minutes is normally enough time for these novelties, before heading over to the reef to check out the local fishy residents of Phuket. Set your compass on a 120 degree bearing and in 4-5 minutes you'll hit the reef edge (or just follow your dive guide). As you swim over the sand look out for blue-spotted stingrays that bury themselves from view, their eyes and the tips of their tail are the giveaway to their presence. Also look for garden eels poking their bodies from their holes and swaying in the current. With patience and sharp eyesight you can find bent-stick pipefish as well as a very big, and very ugly, reef stonefish on the sand at the edge of the reef.

The reef itself is acropora hard coral of the staghorn and table variety. Reef inhabitants include trumpet fish, lion fish, scorpionfish, titan trigger fish, puffer fish and many other of the colourful reef fish species that you find elsewhere around other Racha Yai dive sites. There is a big school of fusiliers and another big school of yellow tail barracuda. Butterfly fish and angel fish are also common.
Dive The World Thailand Recommendations: Racha Noi and Shark Point.
Diving Season in Phuket
You can visit all of the dive spots in Phuket all of the year round, but the best conditions exist from November through to April. The liveaboard season runs from early October through to mid May.
Late May to October brings monsoon winds and surface swells to the island, sometimes reducing visibility by about 30%, but it's pretty rare that local diving trips are cancelled due to bad weather. Indeed some of the sites are just as good, if not better, in the low season. October also brings heavy rains to the Andaman Sea.
January and February can see water temperatures dip to as low as 26°C, while May and June sees them rise to a high of about 30°C. You might also experience a few temperature-changing thermoclines during the Phuket high season, especially in March and April.
Reef Basics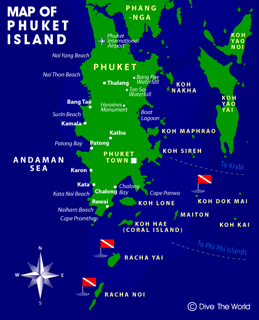 Depth: 5 - 40m
Visibility: 5 - 40m
Currents: Can be strong
Surface Conditions: Calm to moderate
Water Temperature: 27 - 30°C
Experience Level: Beginner - advanced
Number of dive sites: ~30
Access: Phuket liveaboards and day trips
Recommended length of stay: 1 week, or 2 - 3 weeks to dive all destinations that are accessible from here

---
CUSTOMER TESTIMONIALS
... Wonderful, friendly staff at your Patong office! They were also very informative & took time to answer our questions in detail. They were also very knowledgeable about local sites ... Libby, Australia