>
Dive Sites
>
Koh Tarutao
Koh Tarutao Scuba Diving Guide
Dive Sites of Southern Thailand
...Good for: Encounters with dugongs and dolphins...
Tarutao National Marine Park, formed in 1974 and Thailand's oldest national park, is in Southern Thailand in the Andaman Sea, near to the Malaysian border. It is about 32 nautical miles northwest of Langkawi.
Koh Tarutao consists of Koh Adang, Koh Rawi, Koh Lipeh, Koh Dong, Hin Ngam, Koh Yang and Koh Bitsi islands. These islands with crystal clear water are still largely unknown to tourists. Explore the underwater world around these islands for some of the best snorkelling spots and diving in Thailand. The clear waters support rich coral reefs, lobsters, and around 25% of the world's tropical fish species, including lionfish, angelfish, butterflyfish, groupers, trumpetfish and others. Dolphin encounters are common and rare dugong encounters are possible too.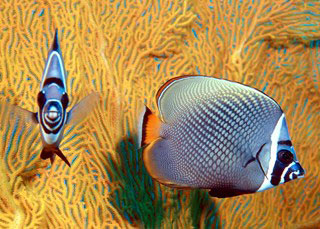 Koh Lipeh is the smallest of a group of islands (Koh Rawi, Koh Adang, Koh Butang) and these islands form the extreme south Thailand border. There are plenty of dive sites in the small archipelago, from the shallow small boulders in the channel to more challenging and deeper formations at the island's points, such as Lighthouse South Tip where current can be very strong and visibility drops to 5 metres.
The Lipeh reefs are in good condition for scuba diving, when you can enjoy beautiful hard coral formations, many reef fish species. Blue spotted Kuhl's sting rays are plentiful in the area. Diving at the island points, where currents bring in water from the deep, it's possible to encounter pelagic fish. Due to its sand bottom and morphology, it is better to avoid full and new moon when diving at Lipeh as the currents can be very strong, causing sand dispersion and reducing visibility.
The coral formation at Eight Miles Rock is completely submerged and takes its name from its position, just 8 miles south of Koh Lipeh. The location makes it a good place for pelagics as it is exposed to strong current.
The shallowest part is about 12 - 14 metres from the surface and the rock falls away to over 50 metres deep. Soft coral grows in the areas sheltered from current, such as the deep southern channel. Pelagics as the big as mantas and whale sharks can be spotted here. Also stay calm and look around you during the dive and you may just encounter a massive potato grouper that come up from the deeper waters.
The offshore location makes Eight Miles Rock exposed to very strong currents and you must avoid diving here during full and new moon as the waters move fast and can change direction suddenly, making dives uncomfortable and difficult. Conditions are suitable only to advanced divers and a safety balloon is a mandatory part of your equipment as the safety stop will be made while drifting in blue water.
Reef Basics:
Depth: 5 - 40m
Visibility: 5 - 20m
Currents: Can be very strong
Surface Conditions: Can be rough
Water Temperature: 27 - 30°C
Experience Level: Intermediate - advanced
Number of dive sites: >10
Diving Season: November to April, best is best February to April
Distance: ~180 km south of Phuket (9 hours), 30 km west of Satun
Access: Thailand liveaboards from Phuket
Recommended length of stay: 3 - 4 days
---
CUSTOMER TESTIMONIALS
... Pip helped for the booking of the liveaboard including transfers. The best parts of Dive The World's service were: quick responses, detailed information and offering support. I will be enquiring a new booking soon ... Myriem El Qacemi, France