About Us
Meet the Dive The World Thailand Staff
Dive The World Thailand may be the number 1 authority in online dive travel, but we are real people. We want the best for you, our customers. So who are we?
Like you, we are all passionate about scuba diving and Thailand, so we love what we do. From managers to accounts assistant, all our staff are qualified divers. We trust that our attentive, knowledgeable service and love for the underwater world is infectious and will ensure you book a Thailand diving trip that's right for you.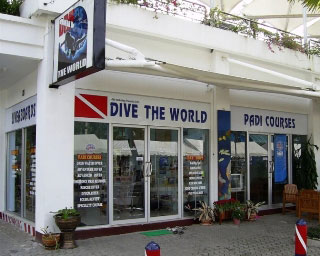 Our Staff (in alphabetical order):
Miss Parichart Thongthuam (Aeing)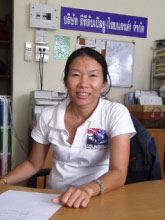 Nationality: Thai
Dive The World position: Accountant. She is the youngest in our team and helps us out with invaluable contributions to the day-to-day running of the business as well as taking care of the numbers .
Bio data: Aeing is the newest member of our team, but has over 10 years experience of working in the Phuket diving industry. She is a rescue and nitrox trained diver with over 50 dives as well as degrees in business, accounting and tourism.
Language skills: Thai and English.
You can contact Aeing at: aeing@dive-the-world.com
Daniel Nichols (OWSI 286115)
Nationality: British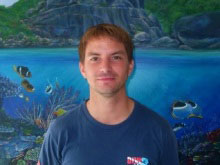 Dive The World position: A fairly new instructor, we had heard very good things about Dan's teaching ability and decided to give him a try. We immediately got great feedback from our customers and he's been 1 of our 2 main instructors for 6 months now.
Bio data: Dan has travelled extensively around the world and, like many others, his travels came to an abrupt halt in Thailand. Seems to survive on a diet of pot noodles and Sprite and is capable of talking the hind leg off a donkey, only figuratively speaking of course.
Language skills: English only.
You can contact Daniel at: thailand@dive-the-world.com
Justin Hartrey (PADI MSDT 494497)
Nationality: British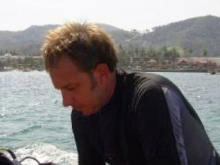 Dive The World position: Justin is our course manager in Thailand having previously been General Manager of our Phuket dive centre. Previous to that, Justin had probably taught more PADI courses at Dive The World than anyone else over the past few years.
Bio data: Justin worked in the real world as a Rail engineer, before escaping to Thailand to turn his 15 year long passion for scuba into a career, nothing whatsoever to do with the nightlife. He is a PADI MSDT who has dived in many places around the world, from the painful and often pointless dives in the UK to warm tropical waters in the Red Sea, Africa, Australia, Philippines, Malaysia, Mexico and of course Thailand. Justin is relieved to be living in a country like Thailand, with warm water and loads of sunshine. He says he never wants to see a dry suit again or another chicken sausage.
Language skills: English.
You can contact Justin at: justin@dive-the-world.com
Mike Clarke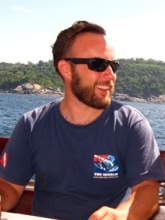 Nationality: American (Texan)
Dive The World position: Senior Dive Instructor.
Bio data: Mike has been living here for 3 years and now considers Phuket to be his home. A highly qualified instructor (PADI Staff Instructor), Mike is capable of teaching many different specialty diving courses as well as having lots of experience guiding and teaching at all of the dive sites of southern Thailand. You may not recognise him when you get here since he constantly experiments with his facial hair.
Language skills: English.
You can contact Mike at: thailand@dive-the-world.com
Oor Sakuntala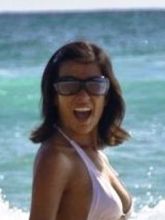 Nationality: Thai / Swedish
Dive The World position: Oor joined Dive The World in January 2010 as our Senior Sales Consultant.
Bio data: Oor is our main sales adviser in the shop as she speaks fluent Thai, English and Swedish. She's currently training to be a PADI Divemaster, though she's been training for 5 years and we sometimes wonder if she'll eve finish. But she also has over 400 dives in the Phuket area so with her experience she counts as one of our professionals.
Oor is very friendly and very informative about diving as she's surrounded by dive professionals in the office. And at home too as all her friends and her sister are dive instructors, so she talks like an instructor as well!
Language skills: Thai, English, Swedish and some Norwegian.
You can contact Oor at: oor@dive-the-world.com
Sheldon Hey (PADI MSDT 614758)
Nationality: Born UK but South Africa is now home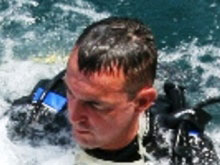 Dive The World position: Chairman of the board. The founder of Dive The World Thailand, Sheldon used to be seen slaving away in the shop every day over the past few years, making sure all the finer booking details were correct to ensure your dive trips all went as planned. Nowadays, after finally having enough of the Phuket work permit, tax department and immigration practices, he only visits the Phuket dive centre to stick his nose in periodically.
Bio data: Sheldon trained and instructed as a PADI Master Scuba Diver Trainer, which means he's wasted more money than most on PADI qualifications. Diving in northern and southern Africa, South East Asia and the South Pacific, his passions are for adventure, animal and conservation issues. He can be a man of extremes, enjoying both the remote reefs of the Surin Islands as well as night diving in Pattaya.
Language skills: English and all the Thai he would ever want to speak. Also html and java script (written, not spoken).
You can contact Sheldon at: sheldon@dive-the-world.com
Make New Friends
If you're the kind of person that likes to make friends and share their diving experiences with others, you can join our Dive The World Thailand Facebook page

. Through our Facebook page you can check out all the latest news plus enter competitions, review and comment on our diver photos, meet like-minded people, and a whole lot more.
Check out our Dive The World Blog for all the latest news, special offers and other goings-on in the world of scuba. You can sign up for email updates to make sure you stay in touch.
You can also subscribe to our newsletter (see our sign up feature in the right hand margin of this page). You'll receive an email every month with special features and items of interest. Twice a year these emails are fun and informative web-based newsletters - a great way to keep yourself immersed in the underwater world.
Inbound Travel Agents
We can also act as inbound agent for any company taking bookings from outside of Thailand. If you want to sell Thailand dive packages and are based outside Thailand then we can work together. Instead of trying to work with a variety of different dive operators in a distant land, you could instead work with just one ... us. For more information: Dive The World as Thailand inbound agent.
Underwater Images
Many of the images on our website were kindly contributed by Marcel Widmer of www.seasidepix.com. Marcel is an award winning photographer with a wide selection of images of marine life, underwater scenery, people and places.
---
CUSTOMER TESTIMONIALS
... As for your staff at Dive The World in Patong, they did a great job. We had a transportation issue getting to the boat (a lot of luggage brought by several people thus not enough room in the initial minibus). The girls in your shop did a great job resolving it with the boat and respresented your company very well. We rate their service and help a solid 5 out of 5 for sure ... a great on the ground team and face for Dive The World in Patong.
... They and you have been responsive and very good and a pleasure to deal with. We booked a day trip with you at the shop as well and they took great care of us at the shop and on the South Siam boat we went on for the day. We like your website and your range of choices very much. We would and will definitiely recommend Dive The World Thailand to any divers we meet! ... Ken Fidalgo, USA