>
PADI Dive Courses
>
Scuba Diver
Thailand Scuba Diving Courses
PADI SCUBA DIVER
Thinking of getting certified for an upcoming Thailand diving vacation, but don't have the time to put into a regular diver course? Now there's a quick and easy programme designed especially for you! This is your chance to slap on some fins, strap on a mask and experience an intense adventure in a short amount of time.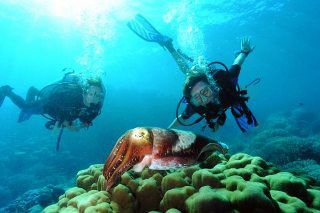 The PADI Scuba Diver programme is a pre-entry level certification that is perfect for vacationers or people who only plan to dive a couple times a year. As a subprogramme of the PADI Open Water Diver programme, the PADI Scuba Diver rating allows you to get certified quickly and easily by minimising time constraints.
With the PADI Scuba Diver certification you can dive under the direct supervision of a PADI professional on your next vacation or diving trip to Thailand. This programme is a wonderful opportunity to explore the underwater world with the comfort and safety of having an experienced guide with you at all times.
The knowledge and skills you learn in this programme are just the beginning of an exciting array of courses and programmes that await you. During this diving course you will use the PADI Open Water Diver Manual and Video.
Credit earned in this programme can be used toward the Open Water Diver certification. The Open Water Diver course uses the same materials as the Scuba Diver course, so already you are on your way to continuing further dive adventures.
Note: during this course you will learn to allow 18 hours to pass before flying after diving. So make sure to consider this when finalising your travel plans.
Private Instruction
Location: Phuket
Boat Dives: 3 - You choose dive sites from Racha Yai, Racha Noi, or Phi Phi Islands
Duration: 2 days
Typical Itinerary:
Day 1 - 09:30 to 16:30 hrs - class and pool dive training;
Day 2 - 07:30 to 16:30 hrs - 2 dives to a maximum depth of 12m at your choice of diving site from Racha Yai, Racha Noi, or Phi Phi Islands (we can advise you on your best choice)
Total Price per person (incl. all taxes):
1 student - US$ 343, 2 students - US$ 331, 3 students - US$ 317
Note: If you prefer, you can pay for your course on the start date here in Phuket.
Group Instruction
Location: Phi Phi Islands
Boat Dives: 2
Duration: 2 days
Typical Itinerary:
Day 1 - 09:00 to 16:30 hrs - class and pool dive training;
Day 2 - 08:30 to 15:30 hrs - 2 dives to a maximum depth of 12m
Total Price per person (incl. all taxes): US$ 227
Location: Ao Nang Beach, Krabi
Boat Dives: 2
Duration: 2 days
Typical Itinerary:
Day 1 - 09:00 to 16:00 hrs - class and pool dive training;
Day 2 - 08:30 to 15:30 hrs - 2 dives to a maximum depth of 12m
Total Price per person (incl. all taxes): US$ 331
Location: Koh Samui
Boat Dives: 2
Duration: 2 days
Typical Itinerary:
Day 1 - class and pool dive training;
Day 2 - 2 boat dives to a maximum depth of 12m
Total Price per person (incl. all taxes): US$ 360

---
CUSTOMER TESTIMONIALS
... I just wanted to take this opportunity to say a big thank you Justin, for a great open water diving course. Your response to my emails were always quick and helpful, borrowing DVD player to do my 'homework' was helpful and your kindness and efficiency was also reassuring! As well your recommendations for places to eat and getting oriented here in this crazy town my first day was also much appreciated ... Barb Prevedello, Canada