>
Hotels
>
Koh Samui
All Accommodation Options
Samui Resort Diving
Day Trips and Resort Packages
We recommend that you select a scuba day trip package, and then choose a Samui Island resort hotel to match your budget. We've made some accommodation suggestions to assist you, below, together with some details about the day trips and other useful visitor information.
Koh Samui Accommodation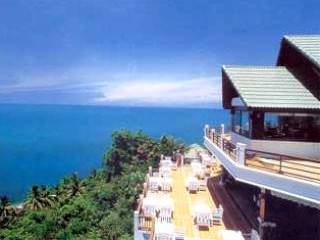 A popular tourist island in the Gulf of Thailand, Koh Samui offers tourists access to modern amenities yet retains most of its natural charms, with tropical jungles, waterfalls and some superb beaches. This small island is an ideal base from which to dive Koh Tao, Sail Rock and Chumphon Pinnacle.
There's a full range of resorts of all shapes and sizes. Take advantage of a 'Low Price Guarantee' and book your accommodation with hotelscombined.com, our affiliated hotel reservation specialists:
High budget: Banburee Resort & Spa

This is a beautifully furnished 4 star resort which aims to cater for its guests' every needs. It is located away from the central, noisier areas of Koh Samui, although the action is only a short drive away if you do feel the need to venture beyond the resort after you return from diving. All 40 rooms are airconditioned and have room service, minibar, a private balcony or terrace, tea and coffee making and private safe. The facilities here are excellent and include an outdoor pool, a spa with massage, steam room, airport shuttle, travel counter, and car rental. High level service and superb facilities make this a high quality deluxe resort.
Medium budget:  Chaweng Villa Beach Resort

A centrally located mid range hotel close to everything in the main resort area of Chaweng Beach, this resort is set in wonderful lush gardens and features an outdoor pool with great sea views. All rooms are air conditioned with TV, daily newspaper, telephone and en-suite bathrooms. You can arrange morning wake up calls for your Samui dive trips, make use of their travel counter, play pool in the evenings, take a massage or join in the range of water sports. There is a Thai and beach restaurant and bar. This resort prides itself on its high service levels, and at these room rates it's an excellent central choice on Samui Island.
Low budget:  Al'S Hut Hotel

Located right in the heart of Chaweng Beach, everything is within a few short minutes walk of this hotel. Accommodation consists of 20 bungalows, over half of which have air-conditioning, and all are set in a tropical garden. Each has a terrace and the resort offers airport transfers as well as room service and laundry. This hotel is very close to the beach and to all amenities and may therefore be more suited to younger guests rather than those seeing solitude and repose. Thai dishes, international favourites and seafood beach BBQs are all available.
Make you choice and book from their full range of resort options:
All:  Samui Resorts

Or use this search box directly to find options that match your requirements:
Day Trip Diving in Samui Island
Our diving and resort options run from throughout the entire year. From Samui you can go diving in Koh Tao, as well as Chumphon Pinnacle and Sail Rock in the Ang Thong National Marine Park, and Koh Phangan.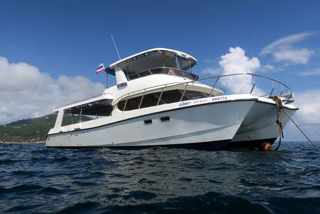 • Koh Samui diving day trip options
We offer 2-tank dive trips from the boat pier at Bangrak. Lunch and refreshments (soft drinks, tea, coffee, drinking water, and fruit) are served during the trips. Please wait in your hotel reception area for your pick up, the boat departs at 08:00 hrs and returns around 17:15 hrs. Boat rides to the sites are approximately 1½ to 2 hours.
The diving boat takes a maximum of 25 guests, with qualified divemasters provided for every 4 divers. The boat is equipped with tank racks, steel ladders, dive platform, kit up area, rinse tank, indoor saloon, toilet and shower, sundeck and shaded area, and GPS. For the trip to Chumphon Pinnacle and Koh Tao, a speed boat is used for a speedier arrival time.
There is a re-compression chamber at Bangrak Pier. We recommend scuba divers have their own dive insurance policy - see our insurance programme for a competitive quotation. All passengers are issued with life jackets on boarding the boat, and emergency oxygen is available onboard. The boat has VHF radio and mobile phone for emergency contact. For non-diving accidents, Samui International hospital is only 10 km away.
Best Time to Go
As a diver, we recommend you visit between March and September. If you avoid the peak months of July and August you will experience fewer tourists and better accommodation prices, the weather is at its best, the visibility is good and the seas are calm. Whale sharks are most frequently seen in March, April and September then. Rainy season runs from September to November but its not often that trips are cancelled due to bad weather. From November to March, the best diving is focussed on the Andaman coast of Thailand instead.
Tourist Suggestions
For information on how to get to Koh Samui, the best beaches, things to do such as tours, sightseeing and activities, entertainment and nightlife, as well as useful tips for getting around, visit our Koh Samui tourist information guide.

---
CUSTOMER TESTIMONIALS
... Overall, an extremely positive experience diving with Dive The World Thailand. Diego and the others were honest, knowledgeable and a pleasure to interact with ... Angela Tai & Josser Delgado, Singapore