>
Hotels
>
Koh Phi Phi
All Accommodation Options
Phi Phi Islands Resort Diving
Day Trips and Resort Packages
We recommend that you select a dive day trip package, and then choose a Phi Phi resort hotel to match your budget. To assist you, we've made some accommodation suggestions below, together with some details about the day trips and other useful visitor information.
• Phi Phi dive daytrip packages
Koh Phi Phi Accommodation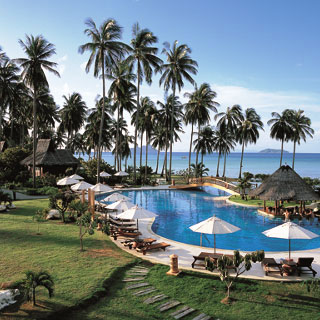 The quintessential Thai travel destination, Phi Phi Island remains a hot favourite for its spectacular limestone cliffs, stunning beaches and aquamarine waters. Dive the local sites as well as Hin Daeng, Hin Muang and Phuket Shark Point.
There are lots of resorts here, so you're bound to find something to suit your needs. Take advantage of a 'Low Price Guarantee' and book your accommodation with hotelscombined.com, our affiliated hotel reservation specialists:
High budget: Phi Phi Island Cabana Hotel

This a popular 4 star resort which manages to blend Thai hospitality with the level of service you might expect from a luxury resort. The rooms and suites offer stunning views over Tonsai and Loh Dalum bays. One of the main features of the hotel is the infinity swimming pools that seem to merge with the Andaman Sea itself. A sophisticated restaurant was built on the rooftop where hotel guests can enjoy fresh seafood and other delicious Thai and Western dishes. Rooms all feature air conditioning, private safe, mini bar and hair dryer.
Medium budget: Phi Phi Banyan Villa

This centrally located resort is minutes from the main pier and has access to a secluded beach. There are 40 air conditioned rooms, all with views over Ton Sai bay and each room features cable TV, mini-bar, en-suite bathroom and safety deposit box. You can choose from a number of dining options including the Ton Sai Seafood Restaurant, the Rooftop View Restaurant and the Beach Sun Deck; and you can also enjoy the swimming pool, pool bar and sauna. Staying at the Banyan Villa Hotel you will only be a few minutes stroll from the dive centres, shops and bars of down town Phi Phi.
Low budget: Phi Phi Hotel

Located just 1 minute from the ferry pier in Tonsai Bay, the Phi Phi Hotel features 64 air-conditioned rooms (3 different room types available). A 3 star hotel equipped with all the necessary amenities: a swimming pool, an internet point, a bar with live music and also a restaurant that can accommodate up to 200 guests, serving Thai, Chinese and European dishes. A great choice for whoever is looking for great location and good value for money.
Make you choice and book from their full range of resort options:
All:  Phi Phi Resorts

Or use this search box directly to find options that match your requirements:
Day Trip Diving in Phi Phi
Our diving and resort options run all the year round. You can visit the Phi Phi Islands, Phuket's Shark Point, Kingcruiser Wreck and Anemone Reef, as well as Thailand's best southern dive sites - Hin Daeng, Hin Muang and Koh Ha.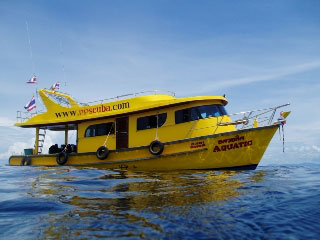 • Phi Phi Island diving day trip options
We offer 2- and 3-tank boat trips from Phi Phi. Lunch and refreshments (drinking water, and tea and coffee at the dive centre) are served during the day. The dive boat used takes a maximum of 15 divers, with qualified divemasters provided for every 5 guests. As there is no transportation on the island, please meet at the dive centre in Tonsai Village for the boat departure. Boat journey time for local Phi Phi dives is just 20 minutes, but the further sites are up to 2½ hours away.
The 15m+ wooden hull boat features a dive platform with steel ladders and kit up area, toilet and shower, sundeck and shaded area.
There closest re-compression chambers are on Phuket, a 48 kilometre boat ride away. We recommend scuba divers have their own dive insurance policy - see our insurance programme for a competitive quotation. All our boat operators carry emergency oxygen and first aid boxes. For non-diving accidents there is a basic medical centre in Tonsai Village.
Best Time to Go
The best time to visit the islands is from February to early May, when the seas are calm and the weather is most often sunny, although it's possible to dive here all year round. As with many of the tourist destinations on the Andaman coast, December and January can be very busy and good accommodation can be difficult to find over the public holidays. Late May to October is rainy season, and the period from November to January is breezy and therefore slightly cooler than the rest of high season.
Tourist Suggestions
For information on how to get to Phi Phi, things to do, nightlife and restaurants, and the local climate, visit our Phi Phi Island tourist information page.
---
CUSTOMER TESTIMONIALS
... I had a very good attention from your people, who were very professional and attentive ... Nothing to complain but on the contrary, Dive The World gave good service. ... Marcio Dos Santos, Portugal