>
PADI Dive Courses
>
Advanced Open Water Diver
Thailand Scuba Diving Courses
PADI ADVANCED OPEN WATER DIVER
Looking for the ultimate adventure? You found it! PADI's Advanced Open Water course is the next full step up from your Open Water license. It's all about adding to your experience, fine-tuning your dive skills and allowing you to explore all that Phuket diving has to offer. There is no theory involved and no test, making it the easiest PADI certification earn!
You will complete a number of specific dives designed to teach you something new and make you a better scuba diver. Complete any 3 adventure dives to earn the PADI Adventure Diver rating. Complete the Deep, Underwater Navigation and 3 additional adventure dives and earn the PADI Advanced Open Water Diver certification.
On the Deep dive, you plan and execute dives to deal with the physiological effects and challenges of deeper scuba diving up to 30m. The Underwater Navigation dive enhances your compass skills and you learn how to navigate using kick-cycles, visual underwater markers and elapsed time.
This in-water, performance-based programme includes the following choices: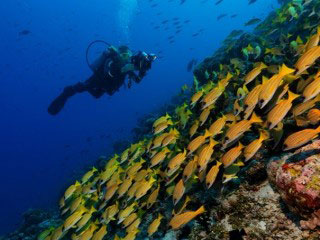 AWARE-Fish Identification
Underwater Naturalist
Boat
Underwater Navigator
Peak Performance Buoyancy
Underwater Photography
Multilevel and computer
Deep
Night
Dive Propulsion Vehicle (DPV) - underwater scooter
Search and Recovery
Drift
Underwater Videography
Wreck
Sidemount
Whatever your interest, PADI's Adventures in Diving has something for everyone and is ideal for a Phuket liveaboard cruise.
Adventures in Diving is a structured programme where you gain additional experience and skills under the guidance of a PADI Professional. If you're already an Open Water Diver and at least 12 years old, then you're ready for PADI Adventures in Diving. What's more, the adventure dives also count towards PADI's specialty certifications.
How the Days Unfold
The course is conducted over 2 days but you are not confined to a classroom at all. Each day it's out into the open water on board the dive boat, departing at 8.30 am and returning mid-late afternoon. You will make at least 2-3 adventure dives per day at the Phuket sites with a PADI Instructor. Lunch, breakfast and lots of fun included!
So what does the Advanced Open Water Diver course offer you? New experiences, new skills, lots of scuba and thrilling adventures. Are you ready to take the next step up the ladder beyond the Open Water Diver level? It's your dive, go for it!
Private Instruction
Location: Phuket
Boat Dives: 6 (not the standard 5!) - You choose the dive sites from Racha Yai, Racha Noi, Phi Phi Islands, Shark Point, Kingcruiser Wreck, Anemone Reef - you'll visit as many different sites as possible.
Adventure Dives: All choices available, from Underwater photography to James Bond Underwater scooter! Phuket offers a wide choice of underwater scuba adventures. Dive the local Kingcruiser car ferry wreck, or catch the manta rays at Racha Noi South Point on film.
Duration: 2 days
Total Price per person (incl. all taxes):
1 student - US$