>
Hotels
>
Krabi
All Accommodation Options
Krabi Resort Diving
Day Trips and Resort Packages
We recommend that you select a dive day trip package, and then choose a Ao Nang resort hotel to match your budget. To help you, we've made some accommodation suggestions below, together with some details about the day trips and other useful visitor information.
Ao Nang Beach Accommodation
The peaceful, yet modern, resort town of Ao Nang Beach is the best place from which to explore the spectacular coastline and island scenery of Krabi. Here you can enjoy scuba diving in the Phi Phi Islands, at Phuket's Shark Point, as well as the local Krabi sites.
There is a wide range of beach resorts to meet all your requirements. Take advantage of a 'Low Price Guarantee' and book your accommodation with hotelscombined.com, our affiliated hotel reservation specialists:
High budget: The Cliff Ao Nang Resort

This resort is named after its location; set below the imposing limestone cliffs of Ao Nang, and was voted among Thailand's top 50 hotels by the Tourism Authority of Thailand. It is a beautiful boutique 4 star resort with 21 rooms and exceptional service levels. All rooms are non-smoking and feature air conditioning, television, telephone and en-suite bathrooms. The superb facilities also include car rental, airport shuttle, dry cleaning and laundry, as well as massage and an outdoor pool; but what really sets this resort apart is the top quality service.
Medium budget: Ao Nang Villa Resort

This is one of the more established resorts in the Ao Nang Beach area and is well known for its excellent facilities, which would normally be expected of a hotel above the 3 star status that Ao Nang Villa has. All rooms are non smoking and include the standard facilities as well as morning call, city transfers, car rental and airport shuttle. Leisure facilities include a pool table, outdoor swimming pool with whirlpool, tennis courts and sauna, massage and steam room for those who want a little pampering. This Krabi resort also has its own restaurants and cocktail lounge.
Low budget: Ao Nang Paradise Resort

This resort comprises double rooms, twin rooms and 1 mountain view room, and is set back from the Krabi shoreline, with the beach a stroll away. All the rooms enjoy features such as air-conditioning, en-suite shower, minibar, TV and safety deposit box. The facilities make Ao Nang Paradise Resort one of the best options in its price range and include a swimming pool, coffee shop and restaurant as well as Wi-Fi internet and airport pick up and drop off. The resort is quiet, private and set in cool and shady natural surroundings.
Make you choice and book from their full range of resort options:
All:  Krabi Resorts

Or use this search box directly to find options that match your requirements:
Day Trip Diving in Krabi
Our diving and resort options run all year round. You can visit the Phi Phi Islands, Phuket's Shark Point, Kingcruiser Wreck and Anemone Reef, as well as the nearby Krabi sites. In High Season you can also visit Hin Daeng, Hin Muang and Koh Ha - the best dive sites in Thailand's southern Andaman Sea.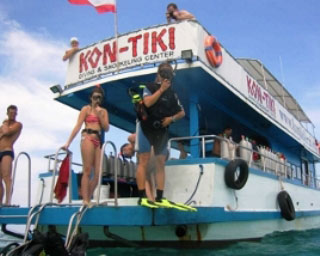 • Krabi diving day trip options
Ee offer 2 or 3 dive day trips by boat from Ao Nang Beach. Lunch and refreshments (drinking water) are served during the trips. The dive boats usually take about 20 divers, with qualified divemasters provided for every 4 scuba divers. Please wait in your hotel reception area for your pick up at 07:30 hrs, returning between 14:30 and 16:30 hrs depending on the destination visited.
The boats are 25m long (the MV Petchmanee, used for further dive sites) and 13m long (the MV Ing Mari, used for the local sites), and feature sundeck and seating area, canopy, toilet and shower, kit up & storage area, twin engines, tank racks and steel ladders.
There are 2 re-compression chambers on nearby Phuket Island, 50 km west of Ao Nang. There is a 24 hour scuba medical facility on Nopparat Thara Beach. We recommend divers have their own dive insurance policy - see our insurance programme for a competitive quotation. Our boat operator has emergency evacuation procedures, radio, GPS, compass, fishfinder, radar, fire extinguisher, life jackets, first aid kit and re-breather oxygen system onboard. For non-diving accidents there is a hospital 16 km away in Krabi Town.
Best Time to Go
February to April offers the best all round weather, value for money and diving conditions in Krabi. December and January can be expensive and crowded with holiday makers in Ao Nang. This is the dry season and the seas are at their calmest towards the end of this period. The rainy low season runs from May to October and dive trips are sometimes cancelled during this period due to rough seas or insufficient customers.
Tourist Suggestions
For information on how to get to Krabi, the best beaches, things to do here for visitors such as sightseeing and activities, as well as tips on getting around, visit our Krabi tourist information page.
---
CUSTOMER TESTIMONIALS
... What ever problem we have they will do the best to solve for us. Dive The World are all friendly and easy going, also giving us lots of fun though the whole trips ... Alan Hong, Singapore