>
Tourist Information
>
Koh Tao Island
Koh Tao Travel Information
Visit the Popular Dive Mecca
Koh Tao is something of a Mecca for backpackers and young travellers who come here for the convenience of the dive sites and the famously low prices. Life on this Gulf of Thailand island is pretty much entirely geared towards divers, and you will find the day trip diving, learning to dive, and accommodation to be very affordable. There are more than 25 sites within close proximity, which means you can spend the morning scuba diving and the afternoon lazing around the pool or exploring the island.
Once an island exclusively for backpackers, things have changed over the years and now upwardly mobile travellers also stay here in 4 star resorts. There are plenty of beaches, restaurants and bars, and Thailand's infamous full moon parties are all the rage here too. And you won't find language to be a barrier here either as nearly everyone speaks English.
Firmly established on the travel circuit, Koh Tao is often inked in as a "must" for visitors wanting to explore the Kingdom of Thailand.
The rest of this page contains information about:
How to Get There
Koh Tao does not have an airport, so ultimately you will need to arrive by boat, either from the mainland or from one of the nearby tourist islands. Most visitors arrive through Samui Island, Surat Thani, Chumphon, or Nakhon Si Thammarat.
From Koh Samui
The most convenient way to get to Koh Tao is from Koh Samui. You can catch a Seatran Discovery ferry

from Bangrak Pier which is close to Koh Samui International Airport. Ferries leave 3 times daily and travel time is 2 hours. You can book the ferry ticket with a minibus transfer when you arrive at the airport. It's also possible to catch the daily and slightly faster Lomprayah High Speed Catamaran

from Pralarn Pier or Nathon Pier.
Please see our Koh Samui tourist information page for details on how to get to Samui Island.
From Bangkok
Since Bangkok is a huge international travel hub, most visitors will arrive from here. There are several options:
The most popular route is to buy an economy bus and ferry package ticket. This daily transfer service runs from Khao San Road in Bangkok to Chumphon by road, then the ferry to Koh Tao. It takes nearly 10-16 hours. Lomprayah (see website link above) and Songserm operate this service.
You can fly to Koh Samui (see above), Surat Thani, Chumphon, or Nakhon Si Thammarat, then catch the ferry. Nok Air and Air Asia offer low cost flights and boat combination tickets via Surat Thani, Chumphon and Nakhon Si Thammarat. Thai Airways also fly to Surat Thani.
It is also possible to catch the sleeper train to Chumphon, then catch the ferry. These trains are more comfortable than the bus as they have sleeper carriages. The boat companies provide free transfers between their piers and the train station.
Please see our Thailand tourist information page for details on how to get to Bangkok.
From Koh Phangan
If you happen to be on Phangan Island prior to your visit, it's very simple to get to Koh Tao. Simply catch a daily ferry service from one of Seatran Discovery, Lomprayah or Songserm. It takes just over 1 hour.
From the Andaman Coast
There are 2 options for travelling to Koh Tao from the popular tourist centres of Phuket, Krabi, Phi Phi and Khao Lak:
You can fly from Krabi or Phuket international airports to either Chumphon or Surat Thani, then catch a boat service (see details above).
You can purchase a minibus/boat ticket to Koh Tao from all tourist centres at any good travel agency.
Where to Stay
You can opt to stay in one of our partner dive resorts. These accommodations are specially discounted for divers. If you prefer to book your own accommodation, there are over 300 hotels to choose from. You can book them at guaranteed lowest prices through our affiliated hotel reservation agents hotelscombined.com. Browse their website options, use their on-line chat to ask your questions, and use your credit card to make your booking:
Take your pick from 4 star beach resorts to backpacker guesthouses. There's something to suit everyone's taste and pocket.
The Beaches of Koh Tao
The island is blessed with many fine beaches and bays, to either enjoy the Thai sunshine or to snorkel on the nearby shallow coral reefs. At nearly 2 km long, Sairee Beach is the longest on the island. Located on the west coast 1 km north of Mae Haad Pier. It's the most popular and developed beach area on Koh Tao and offers a wide range of accommodation, dive centres, restaurants, and nightlife. You can snorkel here, play beach volleyball, or socialise in one of the beach bars that get busier later in the day once the boats return from diving.
Made up of 3 islets connected by a sand bar, the stunning Koh Nang Yuan is the picture-postcard perfect spot at Koh Tao. The shallow coves surrounding the island are ideal snorkelling spots, and there is a short and easy 15 minute walk to the view point. You can get there by longtail boat.
Chalok Bay is another one of the largest beaches on the island. Located in the south close to the town of Chalok, the beach is great for swimming and sunbathing. There are the usual services such as dive centres, lots of restaurants and bars, shops and tour agencies. The beach is close to the island's main road so is easily accessible.
On the east coast of Koh Tao, Hin Wong is a large undeveloped bay surrounded by boulders, with a few bungalows between. The marine life is prolific here, and so the snorkelling is particularly good. There are lots of schools of fish, sting rays, and fish species both large and small. Kayaking around the bay is a popular activity here.
Also on the east coast and surrounded by high green hills is Tanot Bay. The bay is popular for divers, but also for those that enjoy diving in to the sea from the large boulders. There are some restaurants and you can easily get here by road.
Ao Leuk is a protected cove with a scenic beach. The bay is deep and the sides are lined with coral reef. It's one of the few beaches here with a small entrance fee, but that the entry fee includes drinks and use of the sunbeds and beach chairs.
Turtles and reef sharks can both be easily spotted in the sea at Sai Daeng Beach. It is a quiet, hidden away beach with a great view of Shark Island, which you can kayak out to in under 30 minutes.
Shark Bay has a striking fine white sand beach and is another popular snorkelling spot. Black-tip reef sharks can be found here, as well as large green turtles. There are several luxury resorts along the beach, which make great venues for lunch and to take in the idyllic scenery.
Freedom Beach is a secluded spot on the southern point of Koh Tao. Currents flow here so you can always find schools of fish. There is also a good view of Buddha Rock from here and several walking trails lead off to other beaches or to viewpoints.
Sai Nuan Beach is actually 2 beaches - Sai Nuan 1 and 2 - separated by a rocky outcropping. It has a beach and shallow turquoise water, just as nature intended. Snorkelling and diving are popular here, with plenty of turtles, batfish, snapper and unicornfish. There are a few beach huts and lazing hammocks.
Other locations around the island that you might want to explore include Jansom Bay, Mango Bay, Gluay Teun Bay, Laem (Cape) Thian, Lang Khai Bay, Cape Je Ta Kang, June Juea Bay, and Saan Jao Beach.
Koh Tao's Climate
This is a tropical and warm island throughout the year. Temperatures peak at of 33°C in May, with a low of 29°C in December/January. Evening temperatures never fall below 24°C. Humidity is pretty constant at 80%.
Although there is rain throughout the year, the rainy season runs from October into December, with November being the wettest month - up to 5 times more rain than during the dry season. The weather can also affect the gulf's waves, making boat crossings more unpleasant.
High Season runs from December to August, but we recommend you visit between April and July as accommodation is better value-for-money and the weather is at its best.
Adventure Trips and Tours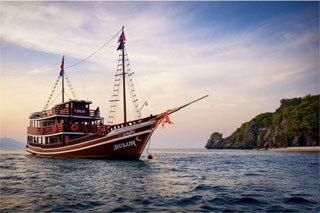 Koh Tao is a small island and life very much revolves around scuba diving. But there are other things to do while on the island, the most obvious one being to join an organised snorkelling tour of the island, exploring the various bays that dot the coastline. Want to push your limits? Complete a freediving course and explore the underwater world without the assistance of a scuba tank. For the more energetic, hire a kayak or paddleboard, and explore a section of the coastline for yourself. For a more thrilling activity, visit Tanot Bay for some exciting diving/jumping from huge rocks in to the sea.
Tired of the water? Then take to the air and learn the flying trapeze. Climb the tower and let yourself go ziplining. Or take a rock climbing lesson in the centre of the island. For the more sedate, there are Thai cookery schools and yoga classes.
Further afield, you could join a kayak tour of the spectacular Ang Thong National Marine Park, a spectacular area of 42 small islands. Or board a fishing charter to hunt game fish.
Sightseeing
A must-do while on the island is to visit the John Suwan Viewpoint. The 15 minute trail begins in the south of the island at Freedom Beach.
Buddha Rock, or Hin Taa Toh, near Chalok Bay, is a group of boulders that resemble a male in a sitting position. Hin Yaai Mae is the female form. Both these famous Koh Tao landmarks are believed to be 'spirit rocks' and are treated with respect by the locals.
To get a great perspective of the entire island from the water, you can board a sailing cruise to experience some of the main sights.
Entertainment & Nightlife
Sairee Beach is the place to be in Koh Tao for nightlife. There are plenty of bars to choose from, whether you want to sit at a beach bar with a cool drink and watch the sunset, find a bar with a fire show, watch Muay Thai performances, or enjoy a game of pool or watch live sport on TV in an air-conditioned pub. There are also a few dance clubs and live music venues. Look out for flyers while on the island.
There are no large shopping centres on the island, but there are plenty of stores selling beachwear, scuba equipment, jewellery, as well as the usual host of convenience stores and pharmacies.
Dining Out
Koh Tao caters for a wide range of culinary tastes, although the specialities are Thai food and especially seafood. You can find Chinese, Japanese, Indian, Burmese, Italian and international restaurants. Rather unusually, most restaurants on Koh Tao are well accustomed to serving tourists, so if you want authentic Thai food you will have to ask for it spicy (phet, phet!).
History
As recently as 1943, Koh Tao was uninhabited. At that time, only fishing boats visited the area. The island was a jungle with an abundance of turtles and sea birds. Then during 1943-4, a political prison was opened in Mae Haad to confine prisoners of the Borawadesh Uprising from Koh Tarutao. Life was hard for the inmates; malaria was rife and they were often starved. Finally the prisoners were released and returned to the mainland, leaving Koh Tao deserted once again.
In 1947 the first 2 settlers arrived from Koh Samui, bringing with them a supply of rice, building their own shelter and living off the sea. Later, they returned to Samui and brought their families with them to settle permanently to the north of Sairee Beach. In 1953 more settlers arrived from Koh Phangan to start a new life. Coconut plantations, rice paddies and orchards were cultivated to allow a sustainable life.
The first travellers came to Koh Tao in 1977 to dive and explore its undiscovered underwater world. In 1984, the first resort on Koh Tao was established in Thian Og Bay. Since then, Koh Tao has changed from a home for fishermen and gardeners to a centre of tourism for 350,000 travellers per year.
The People of Koh Tao
There are about 8,000 inhabitants of the island; most are southern Thais, but there are also a lot of Burmese workers, and a lot of Europeans that have set up home here.
Local Transport
Local taxis are called 'Songthaews'. They are pick-up vans or motorbikes with bench seats in the back that operate from the pier and run up and down the island's main road. There is no timetable – simply stand by the side of the road and wave one down as it approaches. They are cheap and regular, but you should always agree the fare in advance.
A more flexible and cheaper way to get around the island is to hire a motorbike. These are useful if you plan to explore the different beaches and bays of the island. There are several places on the island that rent them out. Usually a small deposit is required.
Longtail boats are the preferred mode of transport to get around the island by sea.
Are you interested?
If you're keen to discover the legendary waters of Koh Tao then click below to check your options now for:
Be sure to book up in plenty of time to avoid limited choice! The best diving opportunities are booked by repeat customers who book well in advance to ensure their reservation!
---
CUSTOMER TESTIMONIALS
... Very well organized and performed very professionally ... well trained instructor who explained everything very well and repeated when asked. ... Dorota Ferry, Sweden