>
Dive Sites
>
Phi Phi Islands
Koh Phi Phi Diving Guide
The Travellers Scuba Paradise
...Good for: Wall dives, value-for-money, snorkelling and non-diving activities
Not so good for: Wrecks and advanced divers...
Actually 2 main islands - Phi Phi Don and Phi Phi Leh - these awesome sisters rest in the sea like a pair of emerald jewels studding the aquamarine waters of Phang Nga Bay. It's one of the most picturesque islands in the world. You'll marvel at the stunning movie-set desert-island scenery both above and below the waterline. Scuba diving in Phi Phi ranks among the top 5 dive destinations in Thailand. Limestone cliffs rise dramatically out of the sea and plunge straight back down underwater, forming the colourful soft coral walls for which the islands are famous.
There are more than 15 different dive sites at Koh Phi Phi with many rugged walls, interesting caves and cavern penetrations. Swim-through entrances are often obscured by dazzling clouds of glassfish and gorgonians. Sea fans harbour pipefish, seahorses and shrimpfish, keeping even the most experienced divers entertained for days.
The islands lie in the Mu Koh Phi Phi National Marine Park in Krabi Province, so the sea life is substantially different from our other Thailand dive destinations. In many places, the islands are fringed with shallow coral gardens, where hard and soft corals and sponges prosper harmoniously among myriad marine life. Here's your best opportunity to happen across green and hawksbill turtles munching on bubble corals, black and white banded sea snakes, squid, angelfish, crocodile long-toms, black-tip reef sharks and leopard (zebra) sharks.
The diving in the Phi Phi Islands, along with its beautiful movie-set beaches, seemingly endless number of coves and bays, and laid-back life style appeals to holidaymakers from all walks of life. Travellers, young backpackers, tropical island paradise seekers, and those simply looking for a few days of fun, easy living in the sun, are sure to be delighted by the wide range of diving adventures that these islands have to offer.
Phi Phi's Dive Sites
Click on a twisty ('++' sign) to show more detailed information on each dive site of the Phi Phi Islands:
++

 Bida Nai

"Inner Father" lies 1 kilometre south of Phi Phi Leh. Like its larger neighbour, Bida Nok, Bida Nai is a limestone cliff islet with similar underwater terrain and, together with Bida Nok, is regarded as Phi Phi's best diving.

Descent is often down a mooring line to one of 2 swim-throughs on the site. Without the help of your guide you would not even know that there is a gap in the rocks because it is completely filled by glassfish that make room for you as you fin through. Watch your buoyancy here as bearded scorpionfish are often seen camouflaged on the bottom. Look closely at the rock walls on the outer edge of the swim-through for seahorses and harlequin ghost pipefish, along with boxer shrimps, hinge-beak shrimps and innumerable nudibranchs.

Scuba divers normally spend most of the time on a coral outcrop called Fantasy Reef which is home to dozens of common lionfish that make their homes around the barrel sponges, sea whips and gorgonian sea fans. Schools of trevally and 5-finger jacks are constantly feeding on the balls of baitfish above the reef. To get to Fantasy Reef you must cross a large field of staghorn coral that was unfortunately badly affected by high sea temperatures in 2010 but it is still normal to see sleeping leopard sharks there. On your way back from look out for the blacktip reef sharks that patrol the sand at the outer edges of the reef. The blacktips are quite shy of divers and are most commonly spotted early in the morning.

Look for sand holes under small coral heads as you work your way shallower at the end of the dive - a telltale sign that a bamboo shark, residents of the Phi Phi Islands, has made a home there. Orange-lined, Indian and titan triggerfish are all around the shallow areas and it's not unusual to see a pair of cuttlefish performing one of their colourful dances.

On you safety stop look out for squid and the ever present crocodile long-toms, swimming just under the surface.

++

 Bida Nok

"Outer Father" is a small limestone cliff islet, 2 kilometres south of Phi Phi Leh. It is the islands' top dive site, due to its great diversity of marine life and is often visited on Thailand liveaboard cruises.

South west of the islet, just outside a large sheltered bay, is where the most beautiful coral and rock formations can be found. It's also the best area for seeing banded sea snakes and hawksbill turtles. The cliffs descend straight into the sea and are covered with soft corals and anemones of purple, green, blue and pink. This creates magical, colourful wall diving. Look closely into the crevices and zigzag clams for all types of moray eels, the most common being the white-eyed moray.

Caverns and overhangs are plenty, with a beautifully diverse finger reef replete with gorgonian sea fans, sea whips, giant brain corals, table corals and bubble coral. Bida Nok is home to lionfish, bearded scorpionfish, bird wrasse and moon wrasse, moorish idols, parrotfish and honeycomb grouper.

Leopard sharks are as common here as they are elsewhere in Koh Phi Phi, as are black tip reef sharks and, although not regular visitors, whale sharks and mantas are seen here by some lucky scuba divers every year.

Although you probably will not want your dive to end here, as you surface above the water the islet rock formations will take your breath away. As you wait for the boat to pick you up you can watch the sea eagles soaring overhead.

++

 Garang Heng

This submerged reef lies 2 kilometres east of Phi Phi Leh and is not visited by dive boats from Phuket. It has large schools of yellowtail barracuda, twin-spotted sea perch, gold-striped fusiliers and blue-lined snapper.

The reef itself is predominantly soft coral, sea fans, large barrel sponges and magnificent anemones, plus there's a great chance for divers to see leopard sharks too.

++

 Hin Dot

'Chimney Rock' is located just outside Tonsai Bay on the south side of Phi Phi Don and is therefore only visited by day trip boats from Koh Phi Phi and the occasional liveaboard.

When not exposed to strong currents, Hin Dot forms a great multilevel dive. There are 3 chimneys aligned close together in a north-south direction, the deepest rising only to 16 metres below the surface. The main pinnacle has 3 ledges at 3 metres, 12 and 15 metres, then drops down to 30 metres. This provides an ever-changing underwater scenery as you slowly ascend, spiralling ever upwards.

There is an amazing amount of sea life concentrated in such a small area. Huge schools of yellow fusiliers circle around, and larger fish such as trevally and barracudas are common, feeding on the smaller baitfish. The show will easily keep you occupied for an hour.

Purple and orange soft corals, tube corals and hard corals cover the pinnacles, with christmas tree and tube worms. Inside the rocky crags are all manner of shrimps, small lobsters and crabs; and nubibranchs are easy to spot here. The deeper walls are embedded with zigzag clams, giant clams and oysters.

The sea floor here often has leopard sharks, and it is recommended to carry a safety balloon as the entry and exit point for this dive site is in the middle of Tonsai Bay and exposed to boat traffic.

++

 Kled Kaew Wreck

Built in 1948, this boat was purchased by the Royal Thai Navy in 1956 and functioned as an auxiliary transport support vessel. It was decommissioned and purposely sunk by the Dept of Marine & Coastal Resources via controlled explosion to create a new dive site in March 2014.

The boat is 47m long and almost 8m wide. It sits almost upright in a north to south direction on the sea bed in 26m of water with a 20 degree tilt, about 1 km east of Pileh Bay, Phi Phi Leh. The main deck is at 20m and the shallowest section is at 15m. Penetration into its compartments is possible by suitably trained scuba divers through several holes that were cut into the hull to assist its sinking.

The ship is now shelter to thousands of fish, such as yellow snappers, fusiliers, rabbitfish, porcupinefish. The hull is patrolled by lionfish and is home to urchins, clams and one or tow frogfish. If you are lucky you might spot a nurse shark on the seafloor. Currents are usually mild and visibility is variable from fair to poor.

++

Loh Samah Bay

At the entrance to Loh Samah Bay on the south tip of Phi Phi Leh there is a small cliff islet. This islet has walls on all sides and is small enough to dive a complete circuit at a very relaxed pace.

The northern part of the wall is shallowest at around 8 metres, dropping down to 20 metres on the southern side, and the whole wall is covered in clams and hard corals with several patches of soft coral. Scorpionfish, lionfish and angelfish are common here.

The highlight of this diving site is a narrow 15m deep canyon on the east side. The canyon is wide enough for you to swim through single file, and is spectacularly adorned with colourful gorgonians, soft corals and sea whips. Turtles can also be found, coming to feed on the bubble coral.

Loh Samah Bay really comes to life on night dives when the wall appears more colourful than in the day and liveaboard boats moor here in the evenings. The reflected orange eyes of millions of shrimps make the wall sparkle as you hunt for painted lobster and decorator crabs in all the nooks and crannies.

++

Maya Wall

On the west side of Koh Phi Phi Leh is Maya Bay, made famous by "The Beach" movie starring Leonardo DiCaprio and now the most popular snorkelling spot in the Phi Phi Islands. It's possible to dive the walls outside of the bay to the south and the north with the latter offering more of interest.

The island walls, so beautiful above the water, are just as stunning below and in many places huge boulders have fallen and fused together to create exciting swim-throughs filled with glassfish. A good dive light is useful for looking into and under rocks in search of critters. This site has mainly hard coral cover which is not as prolific as at other nearby sites but is still host to a multitude of reef fish including snappers, wrasse, bannerfish and moorish idols.

You'll probably see leopard sharks here and small rock groupers are numerous, as are oriental sweetlips. This is also the best dive site in Phi Phi for seeing hawksbill turtles.

At the very northern edge of the wall schools of black tips circle constantly. They are normally around the 10 metre mark, which means that snorkellers can spot them too.

++

Palong Wall

Also known as Coral Garden, Palong Wall is a popular dive spot as there always seems to be something special to see here, not least the blacktip reef sharks that live around here. The site is located on the western cliff face of Phi Phi Leh, just outside Maya Bay. It features a wall, running north to south, to maximum depth of 18m. There is usually very little current and visibility is good so it is a suitable place for divers of all abilities.

The wall features a lot of colourful soft and whip corals, and gorgonian seafans that host some rare creatures such as tigertail seahorses and harlequin ghostpipefish, which the dive guides take great delight in finding. Sea snakes have been seen hunting in the nooks and cannies the wall, as well as trevallies harassing the large schools of glassfish. Turtles also feed on the corals and sponges of the wall. Reef fish that you might find here include angelfish, yellow snappers and barracuda. Other creatures you can find include crabs and shrimps.

There are several swim-throughs and caverns to explore amongst the boulders at the foot of the wall. Here you can find giant morays, octopus, Kuhl's stingrays, groupers and the blacktip reef sharks. Cuttlefish are also one of the top attractions of diving Phi Phi Islands' Palong Wall. These creatures are quite commonly found hunting here, or calmly hanging out, just off the wall and boulders. Leopard sharks are sometimes found dozing on the sand on the seabed. Try not to disturb these sharks, as other divers would like to see them too and they will flee if awakened.

++

Phi Phi Shark Point

Hin Bida is a submerged rocky outcrop, 8 kilometres south of Phi Phi Leh. The north side drops to sand at 21m, and the south to 18m.

This Shark Point is famed for its leopard sharks. If you don't see them swimming past on their own errands, you will see them sleeping peacefully on the sand around the reef.

Whilst on the reef scuba divers will see schools of blue-lined snappers and harlequin sweetlips, amongst the colourful featherstars, plume worms and crinoids. You can also enjoy searching in the crags for moray eels, black and white banded sea snakes, porcupinefish, boxfish, lobsters and red octopus.
Dive The World Thailand Recommendations: Bida Nok and Bida Nai.
Diving Season in Phi Phi
You can dive the Phi Phi Islands all year round, with optimal conditions existing from February to May. At this time the water temperatures are at their highest, peaking around 30°C and visibility is also at the year round high of up to 30m. 27°C is about the coldest you can expect underwater here and this occurs in the months of January and February.
Prevailing northwesterly winds blow between November and January, lowering the water temperature a little and disturbing the sea's surface. At this time of the year you are likely to dive the sites on the western side of the islands as they remain the most sheltered.
South-westerly monsoon winds come from late May to October bring a drop in visibility and October can bring heavier rains to this part of the Andaman Sea. However, weather conditions are seldom bad enough to cancel daytrips and liveaboards run throughout the year in this region.
Reef Basics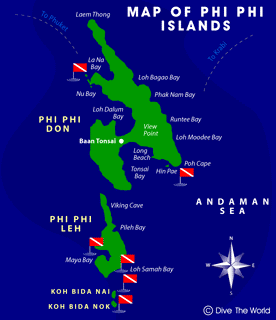 Depth: 5 - 30m
Visibility: 5 - 20m
Currents: Gentle
Surface Conditions: Can be choppy
Water Temperature: 27 - 30°C
Experience Level: Beginner - intermediate
Number of dive sites: ~15
Distance: ~45 km east of Phuket (3 hours), 30 km southwest of Krabi (2½ hours)
Access: Day trips and liveaboards
Recommended length of stay: 5 - 7 days
• Phi Phi Island tourist information
---
CUSTOMER TESTIMONIALS
... Paul and the rest of the team were great. They helped me plan a trip to Phi Phi Island very fast and it was very nice. The Dive The World Thailand team seems very unified, very nice spirit and very helpful. They have the good connections and can work very fast ... Cesar Khatounian, Saudi Arabia