>
Tourist Information
>
Koh Phuket
Phuket Island Travel Information
Pearl of the South
Thailand's largest island, with the shape of an irregular pearl, Phuket is 21 kilometres wide and 48 long. Driving from one tip of the island to the other would take about 1½ hours.
Located in the sparkling waters of the Andaman Sea just 70 minutes flying time south of Bangkok, Thailand's most popular beach destination has everything that you could possibly want on vacation: beautiful beaches, some of the finest resort hotels, international and Thai cuisine, temples, water sports, coral reefs, turquoise seas, scuba diving and liveaboards, and tropical sunshine - all in plentiful proportions.
Although building sites, new road construction and traffic mar some of the island's scenery, if you are looking for some quality diving and an action-packed time with plenty of night life, Phuket Island remains the place to be in Thailand.
• Watch our Phuket diving video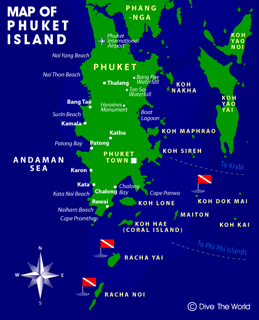 The rest of this page contains information about:
How to Get There
The island is located in the south of Thailand, on the Andaman Sea coast of the Thai - Myanmar - Malay peninsula. Phuket International Airport has direct flights to/from Kuala Lumpur - Malaysia, Singapore, Bali, Hong Kong, and Bangkok - Thailand. Flights from Bangkok with Air Asia

, Thai Airways

and Bangkok Airways

are daily, almost hourly, and take just over 1 hour. Return flights cost around US$ 150.
The airport is about 40 kilometres from Patong Beach, and a 45 minute taxi journey. We can arrange airport transfers for you from US$ 20 each way.
There are also daily bus and train services that run between Bangkok and Phuket, providing a cheaper means of getting here. They are however, depressingly slow (12 hours).
Where to Stay
Our affiliated hotel reservation agents hotelscombined.com have a huge range accommodations in Phuket. Browse their website choices, use their on-line chat to ask your questions, or simply use your credit card to make your booking:
Take your pick from dozens of options, from international beach resorts to one-star hotels. There's something to suit everyone's taste and pocket. And you can be sure that whatever option you go for, it will be backed up with their 'Low Price Guarantee' to ensure you get top-dollar value for money.
The Beaches of Phuket
The main beaches consist of:
Patong Beach
Not too many years ago, Patong Beach was a remote island village. Today it's Phuket's most famous beach and one of the most developed beach resort areas in South East Asia. It's also here that you can find Dive The World.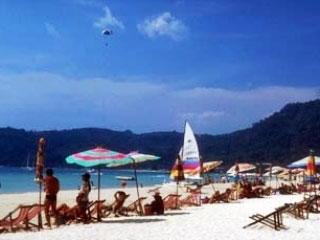 Located 15 kilometres west of Phuket Town and almost 3 kilometres long, Patong has a white sand beach and is set in a deep oval bay, ringed by lush green hills.
Behind the beach promenade, the coast line is almost solidly lined with hotels, ranging from simple guesthouses to luxury international resorts together with other services such as restaurants, shops, banks and tour operators. The town is the main departure point for Phuket liveaboards.
At night, this is the centre of all nightlife activity on Phuket. It centres around the main east-west street of Soi Bangla, and here you'll find restaurants, discos, go-go bars and beer bars.
During the day there's a real cosmopolitan atmosphere as you stroll down the beachfront seeing and hearing people from all over the world.
Patong Beach is a public beach and there are no closed or reserved areas for any of the resorts. The beach chairs and umbrellas, however, are rented from private vendors for a small fee. Many other services are available on the beach such as traditional Thai massage, hair braiding, soft drinks, ice cream, and fruit salad.
At the south end of the beach, you can hire a longtail boat for transportation to the neighbour beaches like Freedom Beach or just to have a great view of the town.
A full range of water sports are available here, like jet skiing and parasailing. If you seek an adrenaline rush, this is the right place for sure.
Kata & Karon Beaches
Only 10 minutes by drive from Patong Beach lies Karon Beach, another world away from Phuket's party town Patong.
This beautiful, 4 kilometre stretch of white sand is seldom crowded even in high season. This makes Karon Beach a good choice for a more peaceful style of vacation, with fine resorts near the beach with magnificent views on the hills overlooking the bay.
From May to October there are strong undertows so look out for warning flags. The waves at this time of year on Karon Beach can become big enough for surfing. The southern end of Karon Beach has the most surf activity and there are surfboards for hire.
Located immediately south of Karon is Kata Beach and Kata Noi, which are both quiet beaches. Crystal clear waters and a wide choice of recreation together with lots of elbow room are the highlights of the Kata area.
Koh Puu, the small island off the north end has a lively coral reef that offers excellent sights of the local marine life.
Other beaches of note are Kamala, Surin and Laem Sing to the north of Patong, and Naiharn and Yanui further to the south. These beaches are great destinations for those heading away from the main resort areas of Phuket.
Phuket's Climate
Phuket's climate is tropical and warm throughout the year.
The northeast monsoon from November into March is wonderful, with breezy clear days and fragrant cool nights. From November to April, Phuket has an average 26 sunny days per month.
Tourist High Season is from November to April. However, it's best to avoid December and January if possible, as this is Peak Season, when accommodation can be hard to find and is expensive, and Phuket's dive sites are very crowded, particularly the Similan Islands and Richelieu Rock. Diving charters are often fully booked.
There are 2 very hot periods of weather on the island, the first between April and May when the average temperatures range from 30 to 36°C and only the occasional tropical thunderstorm brings relief from the heat. It is also very hot between September and October but the frequent rainfall has a wonderful cooling effect.
The southwest monsoon, from May to October, brings rain and winds to the west coast of southern Thailand, but there are still 20 sunny days per month. Most often it's only a cool, late afternoon shower, but there can be rainy days.
Seas can be quite rough during this season and diving day trip rides from Phuket will be a little rougher. Swimmers should be careful, whilst these waves are sought out by a growing number of surfers and other water sports enthusiasts on the windward Andaman coast.
Whether you are coming to Thailand for diving or not, we recommend you try to come from February to April. The weather is at its best, there are less tourists here, accommodation is much better value-for-money, and the seas their calmest. The dive sites around the Similan Islands are less crowded, and its your optimum time to see something special on your Phuket liveaboard trip, as it's whale shark and manta ray season!
Adventure Trips and Tours
Need more fun and excitement on your dry days than being parked poolside, browsing a mystery novel? Then why not benefit from one of many outstanding action and adventure activities we're sure you'll enjoy.
Break up your ray-catching beach-side siestas with a spurt round the bay on a jet ski.
Cast off and away through hidden caves in the hollow island pillars of limestone, known as hongs, in Phang Nga Bay or Krabi. These cave refuges were formerly the hideaway sanctuaries to the notorious South China Sea's pirates.
Snorkel amongst technicolour marine fauna on the Andaman Sea's best coral reefs.
Soar high above the beach chasing sea-eagles, strapped into a paraglider towed by a speedboat. Or just chill out and check out the designer-copy knock-offs hiding in amongst the frenetic beach road market stalls.
Play a round of golf on one of Phuket's 8 world class courses, with challenging holes for experienced golfers and the less so. Discover sailing, big game fishing, river rafting, trekking ... the list goes on ...
Phuket has something for everyone to do - from bowling to bungee-jumping, it's a veritable grown up's paradise playground!
"Been there - done that"? Then why not venture further afield by air-conditioned minibus or jeep tour. Get away from it all, in the comfort of your reclining seat, to visit one of the neighbouring south Thailand provinces.
Experience the magic of wildlife game spotting from a lakeside hideout - Elephant trekking in the verdant rainforest jungle of Thailand's precious national parks!
Thailand is home to such priceless gems as the world's smallest and rarest species of bear - the Malaysian Sun Bear, in jeopardy because of Asia's penchant for it's medicinal bile - or the world's largest flower, the mythical Rafflesia blossom. This enigma can reach 80 centimetres or just over 2½ feet in diameter!
Wild tigers still cling precariously to a few precious islands of isolation in Thailand's wilderness, at odds with mans' profiteering exploitation of all Earth's creatures' shrinking homelands.
Escape the tourist traps of Phuket's rampant commercialism. There really is so much more to Thailand if you make the effort to find it. While you're here, why not take the opportunity to discover the unspoilt landscapes, the authentic rural family lifestyles sharing the simple honest culture of Thailand? Be daring and venture further afield!
For more ideas on what to do, visit Art Phuket

and Asia Sensations

.
Sightseeing
There are many things to see and do in Phuket and they won't cost you an arm and a leg. If you fit yourself out with a map and some transport.
If you head south to the hills overlooking Kata Noi beach you'll be rewarded with a breathtaking view of Kata and Karon beaches from the viewpoint lookout. Driving further south again and you'll end up in Cape Promthep, which shows you all the tropical splendour of an Asian sunset if you go there at dusk.
You could then head back and across to Wat Chalong, where you can explore Phuket's most famous Buddhist temple, you'll marvel at the colours and architecture and feel the Thai culture in all its splendour.
If you head towards the airport and turn right at the Heroines monument, you'll be on your way to Bang Pae waterfall. Drive back through Thalang to Ton Sai waterfall before winding your way back through Bang Tao, Surin and Kamala where most of the Phuket Muslim community lives in small townships.
Entertainment & Nightlife
Patong Beach is the centre of all nightlife in Phuket. Located around Soi Bangla are over 200 bars, pubs and go-go bars, with hundreds of 'bar girls' in attendance. They give parts of the town its unique flavour of a raucous, lively and fun place until long after the sun goes down. If it's your first visit to Thailand, you may be wondering why every bar has 10 or 20 beautiful ladies serving you drinks. Surely, they are just a little over-staffed?! That's because they offer more than just drinks ... Families and couples might prefer one of the quieter beaches, although even in Patong there are much quieter areas away from Bangla Road.
People who finish a day's diving, sunbathing or sightseeing enjoy congregating in these places to meet and party on into the night. There is a wide variety of bar sports to play with any of your new found friends. Games such as banging a nail into a log with a hammer are quite popular and can get quite funny after a couple of beers. Connect 4, Backgammon or Jenga are also in vogue. Some of the slightly larger bars have pool tables, bar football and dart boards.
Patong features some discos too.2 of them are in Soi Bangla and another 1 is on the hill towards Karon Beach.
For further reading on the island's nightlife visit Know Phuket

.
You'll be amazed at the selection of shopping opportunities on Phuket, especially in Patong. Almost anything you'd find in Bangkok, you'll find here, and so much more. Shoes and clothing, perfume, software games, souvenirs, oil paintings, resort ware, and designer label products are here, alongside their not so authentic versions.
There are many narrow streets that have the character of an Arabian Suk, or bazaar with a choice of products to match - Soi's Permpong II and III in Patong Beach are good examples. Every Thai handicraft from all regions of Thailand can be purchased in Patong.
Tailor shops can fit you and create that perfect silk suit, or shirt, dress or skirt in 24 hours and at unbelievably low prices.
Phuket is the source of pearls and tin and you'll find outrageous pearls at bargain prices and many locally produced items of pewter.
Legendary Thai silk reflects the rich diversity of the culture and its various ethnic origins. Each has its own weaving and dyeing style and technique.
Authentic antiques, a large choice of superior Wood carvings, indoor and outdoor bronze wares, teakwood furniture, porcelain, Buddha images, pottery, paintings and countless other decorative items can also be found in Patong, Phuket Town, as well as in establishments on the highway north of Phuket Town towards the airport and on the road to Patong.
Silver, gold and jade items, coloured gems and diamonds and very finely finished jewellery products come from a highly sophisticated Thai gem and jewellery industry. Most reputable stores will give you a certificate of authenticity and value with every purchase that you make.
Dining Out
There are some superb places to dine out so decide what you want to eat then look for it here. There is a great variety of different types of food, both local and International, to be found including French, German, Italian, Scandinavian, and Indian.
Whatever your tastes, there is something here for you. Patong Beach has a large variety of restaurants crammed into a small area making it easy to choose. Find a restaurant: Where to Eat in Phuket

History
Phuket Island has always been a crossroads and port of call on ancient sea lanes from Arabia, India and the West, with trade destined for China, and a refuge on the lee side in Phang Nga Bay for sea captains riding out the monsoon storms.
A balance developed between the maritime traders, the local Sea Gypsies (Chao Leh) tribes with Polynesian roots who have inhabited the islands of the South for many centuries, seafaring nomads and marauders, and the Thai speaking settlers from the North with their rice fields, orchards and tin mines. Previously Phuket was joined to the mainland by a low neck of land but now only by the Sarasin Bridge.
From the 16th century and the time of Ayuthaya came the Portuguese, the Dutch and later the British. The Burmese invaded 4 times. In 1785 a 5-week invasion by the Burmese was repulsed thanks to the ingenuity of 2 sisters, since elevated to national heroines. Realising they were outnumbered, Chan and Mook persuaded all the island's women to dress up as men thus fooling the Burmese into believing that the island was too well defended. In fact, the island's governor had just died and the Thais were leaderless.
As you drive to your hotel from the airport you will pass a statue, located on a roundabout, honouring the 2 sisters. The Burmese returned 24 years later, seized and burned Thalang, then Phuket Island's main town, completely to the ground. A new Thalang was rebuilt on a different site to the south and its name was changed to Phuket, from the Malay word bukit, or 'hill', after Kao Rang in Phuket Town the capital of the Province.
During the last 100 years Phuket has established its economic importance with the mining of tin and growing of rubber, although nowadays most tin mining activities have been replaced by tourism. The soil is rich and resplendent with myriad tropical fruits. Pineapples, coconuts, cashews and rubber are produced commercially, among others. Prawn farming is significant on the East and South coasts. Construction is also very big on Phuket with new hotels, housing estates and shopping centres along with road improvement projects to help eliminate traffic due to the tourism boom.
The People of Phuket
Official island records reflect a local population of around 200,000 inhabitants, but the total number of people living here at any one time is nearer a half a million. The 2 main population centres are on opposite sides of the island. On the east coast is Phuket Town, the capital and on the west coast is Patong Beach, the island's centre of tourism.
The residents of Phuket are Thais who migrated from the mainland, Chinese who arrived to work in tin mines, Muslims of Malaysian extraction that came to work in the rubber plantations and the Chao Leh or sea gypsies, one of the earliest groups to inhabit the island.
The Chinese represent around 35% of the islands population. They differ from those who settled in Bangkok and other regions of Thailand, in that they arrived mainly from the Hokkien region of China as did those now living in Singapore and Malaysia.
As elsewhere in Asia, many of the Chinese have now become fully integrated into the society and many of them own and operate businesses both large and small. Collectively, they are responsible for a large part of the trade volume on the island and their influence is visible in many places such as the Chinese temples or the annual Chinese Vegetarian Festival in October, a major tourist attraction of Phuket.
The influence of the Indonesian and Malayan culture is also apparent in the ethnic makeup, language, art, and religion of southern Thailand. About a third of the Thai's living here are Muslims. Concentrated mostly around Surin and a few other big villages, they work as rice and rubber farmers.
Local Transport
Public transport does exist but it does not adhere to regular schedules as it does in most western countries, making the tuk-tuk (Thai mini taxi) the most common way to get around Phuket.
Tuk-tuks operate in all the beach areas and depending on your negotiating skills - will charge from US$ 3 to US$ 11 depending on the distance. Tuk-tuk drivers have earned themselves a dubious reputation of ripping tourists off, so we recommend using metered taxis whenever possible instead.
Open air buses are cheaper however they only travel from the beach centres to Phuket Town itself.
A more flexible way to get around is to hire a car or jeep - Braun Car Rentals

. Motorcycles are readily available and easy to hire. However, they will never be insured and, considering local driving standards, are not for the faint hearted! Bicycles and mountain bikes can be rented in Patong and Phuket Town.
Are you interested?
If you're keen to discover the azure waters and unsurpassed beaches of Phuket Island then click below to check your options now for:
Be sure to book up in plenty of time to avoid limited choice! The best diving charters opportunities are booked by repeat customers who book well in advance to ensure their reservation!

---
CUSTOMER TESTIMONIALS
... Great. Great. Great! Vic was so helpful with our constant changes and requests and recommended the best place! Thanks again! Richard also booked a day diving in Phuket, assisted by Noon. This was all well organized but unfortunately we were only able to do 2 out of the 3 dives due to dangerous weather conditions ... Sarah Green, England
Travel websites: Phuket Travel, Hotel and Living Guide - www.PhuketDelight.com