>
Tourist Information
>
Samui Island
Koh Samui Travel Information
Heartbeat in the Gulf of Thailand
Thailand's third largest island lies 60 km from the mainland in the Gulf of Thailand. 21 km long and 25 km wide, Samui was first discovered by backpackers in the 1970's and much of the island is still covered by lush tropical rainforest and coconut plantations. It's part of the Ang Thong (Golden Bowl) Marine National Park which encompasses 80 mostly uninhabited islands.
Recent developments, including luxury resorts, health spas, 2 international hospitals, an international airport, banks, restaurants and a golf course, have made Koh Samui the destination of choice for discerning divers heading to the Gulf of Thailand.
Despite the development, Samui still maintains the feel of tropical beach island with an incredible variety of tranquil beaches, and bays around the island.
• Watch our Koh Samui diving video
The rest of this page contains information about: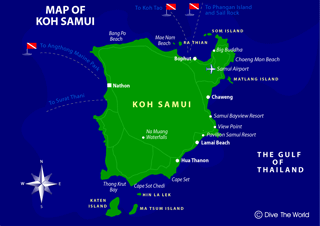 How to Get There
The quickest and most comfortable way to get to the island is by aeroplane. Thai Airways

and Bangkok Airways

fly to Samui's pretty little airport daily from Bangkok, Phuket, Krabi or Pattaya,
The night train from Bangkok goes to Surat Thani where you can transfer to the ferry port for Samui, We recommend you take a sleeper carriage because the trains are very slow. Trains are normally fully booked so it's advisable to book about 3 days in advance. If you are tall you will find the bottom bunk more spacious.
By far the cheapest mode of transport is the bus. From northern Thailand and Bangkok, head south for Surat Thani. These buses nearly always travel at night and there are different classes on offer. The best choice would be the government VIP 24 seat buses. You can buy a ticket direct to Koh Samui with the price including the ferry. We recommend against buying tickets from travel agents in Khao San Road.
The journey from Bangkok to Surat Thani takes 10 hours. If you would like to sleep on the journey we recommend a sweater to combat the air-conditioning (VIP buses will provide blankets), and earplugs to combat the movie that will be playing through the night!
The bus from Phuket to Surat Thani is about 4 hours with regular departures. From Phuket you can also buy the government bus tickets direct to Koh Samui.
If you want to make friends with interesting locals you could try the local bus which will stop on route every time that someone along the roadside raises an arm. This mode of transport is only recommended if your budget is very small and if you have unlimited time.
Once you get off the bus you will then need to find the ferry port and choose a ferry. You may find it easier to book the bus and ferry at the same time with a ticket that includes the transfer to the port.
The normal ferry takes 2½ hours. It's big and has seating and sunbathing areas. For a small surcharge there is even an air-conditioned cabin. There is also an express boat that is normally full of backpackers and rolls quite a bit in rough sea. There is also the Seatran Express from Surat Thani which takes 2 hours to get to Nathon Pier on Koh Samui. Finally, there is a night ferry that takes 5 or 6 hours.
Where to Stay
With over 130 hotels to choose from, our affiliated hotel reservation agents hotelscombined.com has a wide variety of accommodations on Koh Samui. Browse their website choices, use their on-line chat to ask questions, or simply use your credit card to make your booking:
Take your pick from 5 star international beach resorts to budget guesthouses, and everything in between. There's something to suit everyone's taste and pocket. And you can be sure that whatever options that you select, it will be backed up with their 'Low Price Guarantee' to ensure you get top-dollar value for money.
The Beaches of Koh Samui
Chaweng Beach is the island's most popular beach. It's on the east coast of the island and has hotels, bungalows, restaurants, shops and beach bars scattered between the palm trees along the 7 kilometre stretch of sand. The central Chaweng area is the island's largest town and has the biggest selection of nightlife venues. Food lovers will be in their element in Chaweng with every taste catered for from Thai to Western with some delicious seafood restaurants right on the beach.
Just south of Chaweng, around a headland on the south east of the island is Lamai Beach, This is Samui's second most popular and most naturally beautiful beach, and is a little smaller and quieter than Chaweng. Stroll inland a short way from the white golden sand beach and you'll find yourself in amongst coconut plantations and banana groves. There are plenty of hill tracks that can be explored on foot or by bicycle or you can follow the headland road out to the Grandfather and Grandmother Rocks which are is favourite spot for locals to meet and picnic. The main street and the small lanes branching off from it is crammed full of shops, restaurants, bars and even a few late night disco's.
The beaches on the north coast of Samui are quieter and more secluded than the east coast beaches. The calm, scenic bays are good for swimming. These are a great choice if you're seeking privacy or romance, but not so good if you want night time entertainment. Bophut is little more than a fishing village with a 2 kilometre white sand beach. Big Buddha Beach has no town to talk of and is famed for its 12 metre high Buddha statue and several small Thai restaurants. The Choeng Mon Beach area is actually a collection of small capes, some of which have been turned into private resorts.
On the west coast of the island is Nathon, Koh Samui's capital city. Apart from housing all the main administrative offices on the island, Nathon also offers streets of bustling shops, some traditional Thai architecture and an evening food market. Of course being on the west coast, Nathon also boasts wonderful sunsets.
Taling Ngam Beach is a quiet cove, well away from the crowds. Bang Po Bay has calm seas and fringing coral reefs offering some of the islands better snorkelling. The 4 kilometres long beach is undeveloped apart from a few traditional bungalows. Thong Krut Bay at the south of the island has a very small village and an unscheduled ferry service to Koh Taen (known also as 'No Dog Island') which is just 3 kilometres away.
Samui's Climate
Koh Samui's climate is tropical and warm throughout the year. March and April are the hottest months with average temperatures of 34°C and 75% humidity.
During the High Season, December to August, temperatures are consistently around 28-32°C. Tourist Peak Season is July and August. We recommend you visit between May and June as there are fewer tourists, accommodation is much better value-for-money, the weather is at its best, and the seas are calmest.
The rainy season runs from September into November. November is normally the wettest and windiest month. Most often it's only a cool, late afternoon shower, but there are rainy days on Samui and it's also when the waves are their biggest.
The Christmas holidays are a very busy period and accommodation may be hard to find.
Adventure Trips and Tours
Need more fun and excitement on your dry days than being parked poolside, browsing the latest Germaine Greer book? Then why not join one of many outstanding action and adventure activities we're sure you'll enjoy.
Cast away on your sea kayak through hidden lagoons, past an Emerald lake to The Beach made famous by Alex Garland's book and the subsequent Hollywood movie, all in Angthong National Marine Park. This fascinating group of islands which are within sight of Samui to the north and west is geographically different from the other islands in the region. The Ang Thong islands rise from the seas as dramatic walls of rock, soaring hundreds of metres high. Besides the many small coves and beautiful little beaches, erosion has shaped some strange formations. One island has a mysterious sink hole, completely enclosed by walls of sheer rock, in its centre.
Snorkel the Gulf of Thailand's technicolour coral reefs, amongst myriad marine fauna. Learn to cook up a spicy Thai curry at one of the cookery schools, or learn Muay Thai (Thai Boxing) at one of the local gyms.
Or just chill out and check out the designer-copy knock-offs hiding in amongst the frenetic beach road market stalls.
Koh Samui has something for everyone to do - from golf to bungee-jumping; it's an adult's paradise playground!
Sightseeing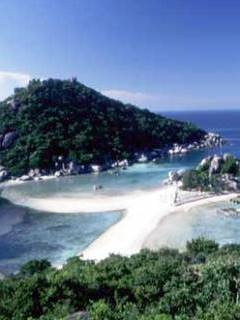 When you are not under the water there is so much to see around Samui either by organised tour or independently with a map and a sense of adventure.
The fishing village of Hua Thanon is the only Muslim community on Koh Samui. The people here migrated from Pattani, which borders Malaysia in Thailand's far south. With them they brought their distinctive high-bowed boats, painted with bright patterns. The village market offers the freshest of fish direct from the boats. Hua Thanon adds its Muslim element to a patchwork of peoples, including Thai, Chinese and Indian, that together constituted Samui's population.
Northeast of Samui on route 4171 is Phra Yai Temple (Wat Phra Yai) is the home of the island's most famous landmark - the Big Buddha. Most Visitors come to marvel at the sheer size and beauty of this remarkable statue which is visible from several kilometres away, and even from the air when arriving or leaving the island.
The body of Samui's most famous mummified monk, Loung Pordaeng, is on display at Wat Khunaram between the Na Muang waterfalls and Hua Thanon, in a specially constructed building. When he died more than 20 years ago, he was sitting in a meditation position. He is still in that same position and his body shows few signs of any major decay.
There are several waterfalls around the island. Na Muang I is 18 metres high and can be reached by vehicle. Na Muang II is about 80 metres high and can only be reached by a 30 minute walk. These waterfalls are the most scenic on the island. Hin Lad Waterfall can be reached by a 3 or 4 kilometre walk down a country track. In its rainforest setting with palms and creepers, the waterfall has several levels with a cool splash pool for a fresh water swim.
Entertainment & Nightlife
The liveliest party venues in Samui are the Chaweng and Lamai Beach areas, where you'll find all the usual 'girlie bars'. There are however, plenty of nice regular bars to relax in after a hard days diving, with pool tables and live televised sports. There are plenty of live music venues as well with everything from traditional Thai music to Elvis impersonations. If none of that is your scene you can happily relax on the beach at one of the open air beach bars and sip cocktails as you gaze out on the Gulf of Thailand.
If you're a shop-aholic then you won't be disappointed in Koh Samui because you can find all the usual Thailand souvenirs, both genuine and counterfeit. Tailor made clothes, designer labels, traditional handicrafts, gold, gems, oil paintings, furniture and antiques. The list goes on and on and with some careful haggling you can pick up some real bargains.
Chaweng and Lamai have the majority of options for shopping. That's where you'll find most of the tailors and gem shops. However all around the island there are smaller boutique shops where it's possible to pick up a more unique reminder of your holiday in Thailand.
Dining Out
If you can name it then you can find it in Samui, as all culinary tastes are catered for. There are French, Scandinavian, English, American, Japanese, Indian, German, Mexican and Italian restaurants as well as plenty of local Thai restaurants offering the delicious and (sometimes) spicy food that Thailand is famous for. So whether you want a non-too-wholesome pie and chips or a lip tingling green curry you won't be disappointed!
History
Up until 1940 the only inhabitants of Koh Samui were a handful of local people who lived almost completely isolated from the rest of Thailand. These people moved around by foot or by boat along the coastline. As Samui had no roads or vehicles, any journey required a trek through the mountainous jungle. There was no tourism because the only way to reach the island was a 6 hour night boat from Surat Thani on the Thai mainland to Nathon.
In 1967 that the then leader of the island, Khun Dilok Sutiklom, decided that development of Samui was needed for the future of the island, and asked the Thai government for assistance to build a road. Initial construction attempts were abandoned because of the numerous natural obstacles of hill and rock and because of the difficulty in getting machinery to the island. In the end hundreds of manual labourers were used to dig and blast a narrow track around the island. It wasn't until 1973 that this 50 km dirt track around the island was finally concreted so that it became possible to drive on without the passengers having to get out and push. This road is still the main road around the island although it has recently been widened to cope with the increase in vehicles coming to the island.
The People of Koh Samui
90% of residents here are Thais who have migrated to the island from other Thai provinces and they have brought their own cultures and ceremonies with them. Every month there is some sort of colourful and noisy festival or public holiday. The most popular celebrations are:
Songkran. During April 13-15, everyone celebrates the traditional Thai New Year. In every home, Buddha images are washed with rose scented water. People also pay respects to their elders by pouring a little water over their hands. Outside, people go a little wilder and buckets of water are thrown over everything that moves.
Visakha Bucha Day. The full moon of the 6th lunar month (mid-May) is the most important date on the Buddhist religious calendar. It celebrates the Buddha's birth, enlightenment and death. Every year on this day, teachers from the local school take part in a candle-lit procession around the main chapel of a local temple. They carry with them flowers, 3 incense sticks and a lighted candle. They walk around the chapel 3 times in a clock-wise direction. Afterwards they listen to a sermon from a monk.
Loy Krathong, most picturesque of the Thai festivals is held on the full-moon of the 12th lunar month, usually the first week in November. Little candle-lit 'krathongs' are launched onto the water as an offering to Mother Water. No one apologises for polluting the water but they do promise to do better in the future.
Of course, a modern cultural event is now famous in this part of Thailand. Every month at full moon, thousands of travellers flock to nearby Koh Pha-Ngan for the full moon party, probably Asia's biggest party. What, 10 years ago, was a small gathering of travellers lying on the beach to admire the beautiful full moon, has now transformed into about 10,000 people descending on Haad Rin Beach to dance the night away to the latest techno and trance tunes. This mass arrival of party-goers brings with it some problems, such as pollution from the garbage left behind and drug use. So if you are planning a trip to a full moon party, plan your lodgings early, and dispose of garbage responsibly.
Local Transport
Local taxis called 'Songthaews' are pick-up trucks with bench seats in the back that circle the island in both directions and pick up passengers along the way. They normally start at 6 am and there is no timetable - you just stand by the side of the road and wave one down as it approaches. They are cheap and regular. Prices rise after 6 pm and you should agree the fare in advance.
Samui now has some 'meter taxis' which can whiz you around the island in air-conditioned luxury. They are more expensive than the Songthaews and the fare should be agreed in advance because often the meter is more for decoration than actual use.
A more flexible and cheaper way to get around the island is by hired Jeep or motorbike. If you choose to hire a motorbike you should be aware that it probably isn't insured and that Koh Samui has Thailand's worst road accident statistics. The Samui police will fine you for not wearing a helmet and you should, theoretically, also have an international driving license.
Are you interested?
If you're keen to discover the tropical waters and beaches of Koh Samui then click below to check your options now for:
Be sure to book up in plenty of time to avoid limited choice! The best diving opportunities are booked by repeat customers who book well in advance to ensure their reservation!
---
CUSTOMER TESTIMONIALS
... Dive The World were very helpful in organizing my scuba trip. They responded to my requests quite promptly and had loads of travel advice ... Derek Lanthier, Canada