>
Dive Sites
>
Koh Rok
Koh Rok Dive Guide
Thailand Diving Sites
...Good for: Fringing hard coral reef and turtles...
Koh Rok, 25 kilometres south of Koh Ha are 2 sister-islands - Koh Rok Nok and Koh Rok Nai - separated by a narrow channel about 15 metres deep. The islands lie within the protective boundaries of the Mu Koh Lanta National Marine Park.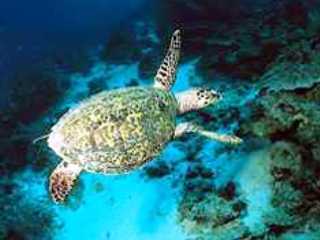 These islands have some of the prettiest beaches seen when diving in Thailand and are devoid of inhabitants. The diving here is on one of the most pristine coral reefs in Thailand.
The western side of the islands (from the moorings to the west tip) have a gently sloping reef, made by hard corals that grow on top each other. All the small reef fish can be found here along with nudibranchs, moray eels, octopus and many others. The reef top is a good bet for scuba divers to spot small blacktip reef sharks, especially when they are active at dusk and dawn. Down on the sand bottom, ranging from 20 to 35 metres, blue-spotted Kuhl's stingrays are common.
The east tip of Koh Rok has more soft corals with big Gorgonian sea fans, sponges and coral trees. Here is where turtles are common, not shy at all easy for you to get a close look when they are feeding. The island's tip are more exposed to current (mild strength) and so has the possibility for some pelagic fish such as cobias and mackerels.
Reef Basics:
Depth: 5 - 20m
Visibility: 10 - 30m
Currents: Easy
Surface Conditions: Calm
Water Temperature: 27 - 30°C
Experience Level: Easy
Number of dive sites: 4
Diving Season: November to April
Distance: ~110 km southeast of Phuket
Access: Thailand scuba diving liveaboards from Phuket
Recommended length of stay: 1 day

---
CUSTOMER TESTIMONIALS
... Communication was very good, I appreciated the prompt email replies and the suggestions/alternatives offered to me in order to meet my needs. Everything was as advertised, no negative surprises. My first experience with Dive The World was very good. I would use it again in the future ... Christos Savvides, Cyprus