>
Dive Sites
>
Krabi
Krabi Scuba Diving
Diving from Ao Nang Beach
...Good for: Small animals, beginners, snorkelling and non-diving activities
Not so good for: Drift dives and advanced divers...
This scenically spectacular region of southern Thailand consists of a group of 7 main islands dotted around Koh Poda - Koh Ha, Koh Si, Koh Yawabon, Koh Dor, Koh Talu, G.K. Island and Koh Yawasam. With over 200 species of fish and 80 species of coral catalogued, the local marine life that you'll see when you're diving in Krabi is both diverse and prolific. The region lies within the Hat Nopparat Thara - Mu Koh Phi Phi Marine National Park and the dive sites around the islands are a mere 30-40 minutes boat ride. This makes them ideal destinations for handy daytrips out of Ao Nang Beach.
Koh Ha is 500m south west of Koh Si and contains at least 60 species of corals and many of the gorgonian seafans. The east sie has mainly staghorn reef, whereas the south east setion features a wall to 18m with many coral whips and sea fans hosting a fascinating range of shrimps and crabs. This Ao Nang dive site often has large schools of barracuda, small groups of squid and cuttlefish, and early in the morning stingrays and leopard sharks are often found lazing in the sand.
With 2 large shallow coral-covered plateaus on either side of it, Koh Si competes with Koh Yawasam for the award of best snorkelling site in Krabi. The southern end of the island is particularly picturesque and frequently has good visibility. Huge schools of snappers and the occasional large grouper make a breathtaking sight for scuba divers when the visibility is up, and otherwise you can always look for seahorses, nudibranchs and scorpionfishes which make their homes on the rocks here.
The northern end of the island has a relatively steep wall to a depth of 20m covered in tubeastrea corals, barrel sponges, and sea whips. There is also a cavern here that is worth investigating. Koh Si is also a good place to briefly spot the shy black-tip reef shark, now quite rare in most regions of Thailand, including Krabi. Diver sightings are common but brief as the shark commonly avoids contact with humans.
Koh Yawabon is famed for the longest swim-through in the area, but has a large no light zone and can be subject to strong currents. Because of this, divers are reminded that penetrating overhead environments requires specialised training and equipment. With the majority of Krabi diving boats going to other islands, this site is a good choice as it is often swarming with large schools of unconcerned fish. Lobsters and large groupers are commonly observed here as well the occasional stingray.
During the afternoon the western side of Koh Dor often plays host to a group of the normally shy black-tip reef sharks. Whilst brief sightings of these sharks are possible on scuba, they are best observed by snorkelling in the lunch break. Koh Dor has a good mix of large porites species and diploastrea heliopora hard corals and soft corals, sea fans, sea whips and leather corals. Several large barrel sponges are also found around this site. It is the neaest site to Ao Nang, which makes it a popular spots with snorkellers too.
The large island of Koh Talu boasts 2 shallow swim-through tunnels that are suitable for most levels of divers and large barracuda often frequent the entrances. The main tunnel runs right through the island, and there is a smaller one at the northern en of the island. Mantis shrimps are sometimes found scuttling across the bottom as you move to deeper waters. The coral reef, made up of table, soft tree and mushroom corals, extends a long way south and it is even possible to swim from the western side of this island right across to the next site, G.K. Island. Seahorses and pipefish can be found in the south of the island. Elsewhere you will likely encounter lionfish, butterflyfish, triggerfish and pufferfish. The site has a maximum depth of 20m.
If you like soft corals and their attendant hosts of shrimps, crabs, and brittlestars, Krabi's G.K. Island will be paradise for you. Deceptively small on the surface, the underwater coral plateau to the south seems to go on forever. Sea whips and gorgonians abound and every rock is covered with a plethora of corals. Large schools of fusiliers move along the edges of the larger rock formations, whilst the occasional sea snake probes the cracks and crevices for its next meal.
Koh Yawasam, which is actually 2 small neighbouring islets, is blessed with large areas of shallow staghorn and table coral and flat areas of sand, but boasting deeper water with coral and sandy patches a short swim away, Yawasam could have been built with dive instruction in mind! The marine life here is as varied and numerous as any other Krabi dive site, including nudibranchs, angelfish and bamboo sharks. Koh Yawasam also is the easiest place to observe the red saddleback anemonefish, which are rare compared to the other anemonefishes found in our area.

Diving Season
Scuba diving in Krabi runs all year round from Ao Nang Beach, but the best conditions exist from November to April. Late May to October brings monsoon winds and surface swells, reducing visibility at the dive sites in Ao Nang by about 20%, but it is pretty rare that trips are cancelled due to bad weather.
Sea temperatures in the area remain reasonably constant from a high of 30°C in the dry season to a low of around 27°C in rainy season. The leopard shark is one of the signature creatures for fun divers in the Krabi region and can be spotted throughout the year.
October also brings heavy rains to the Andaman Sea. From May to August, the weather is better in the Gulf of Thailand, so you might consider diving in Koh Samui.

Reef Basics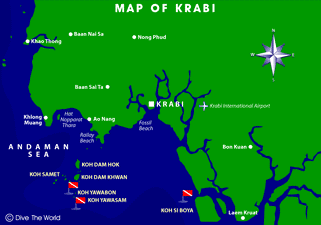 Depth: 5 - 25m
Visibility: 5 - 20m
Currents: Easy
Surface Conditions: Calm, but can be choppy in rainy season
Water Temperature: 27 - 31°C
Experience Level: Beginner
Number of dive sites: >10
Distance: ~5-10 km west of Ao Nang (¾ hour)
Access: Ao Nang day trips
Recommended length of stay: 2 - 3 days, or 1 week to dive all destinations that are accessible from here
• Krabi - Ao Nang tourist information