>
Dive Sites
>
Samui Island
Koh Samui Diving
The Best Sites in the Gulf of Thailand
...Good for: Small animals, beginner divers, value-for-money, snorkelling and non-diving activities
Not so good for: Wrecks and drift dives...
Samui has been welcoming visitors since the early 1970's and has developed into the most popular tourist destination on the east coast of Thailand. The Gulf of Thailand is somewhat sheltered from the major oceans in the region and that protection gives the gulf a number of high quality dive sites which can be visited all year round. Chumphon Pinnacle and Sail Rock are the 2 most famous sites and their popularity with more experienced scuba divers justifiably merits their place at the top of Koh Samui's dive daytrip locations.
Many pelagic fish such as whale sharks are frequent visitors to the area. There are towering pinnacles, huge rock formations, colourful soft and hard corals, and sloping reefs. Schools of snapper and barracuda abound, and the area is famed for its turtles and triggerfish.
Most of the sites in the region are close to the famous island of Koh Tao and you can dive these on daytrips out of Samui. Although most people would agree that Thailand's west coast is better for scuba diving, Koh Samui Island on the east coast still has access to some world class sites.
One popular site closer to Samui is Koh Yippon, located in the far north of the Angthong Marine National Park, a picturesque rocky island covered in tropical trees. Once you peer underwater, you will find plenty of beautiful hard and soft corals, sea anemones and purple barrel sponges, all easy to spot in shallow waters, so this location is excellent to combine snorkeling and scuba diving.
While snorkelers are exploring the exciting small caves and crevices in shallow water, divers can enjoy big schools of fusiliers, large snappers or have a glance under the rocks and corals to find Kuhl's stingrays. It's the best place in the Gulf of Thailand to find lionfish and cuttlefish.There are also some big schools of small yellow-tailed barracuda and lots of blue-ringed angelfish.
As the maximum depth here is about 18m, Koh Yippon is the perfect site for inexperienced divers or beginners. One of the biggest advantages of this site is its shelter during the north-east monsoon season, so even if the sea might be a bit rough, Koh Yippon still offers calm areas to enjoy an unforgettable day of scuba diving and snorkeling near Koh Samui.
Heading north west from Samui in the direction to the Angthong Marine Park, you will reach an island which, from a distance, resembles the shape of a sleeping dragon - Dragon Island (also known as Koh Wao). But it's not just the landscape above the surface that is a piece of natural art. In the shallow and protected bay there are lots of big stone coral boulders surrounded by many different kinds of reef fish. Diving along the reef to a maximum of 20 metres there is a good chance to see some big snappers, groupers, and a big school of yellow tailed barracuda is always around. There are many soft and hard corals, overhangs and some swim throughs.
If you are visiting Koh Samui with a friend or partner who is a non-diver, this place is fantastic to combine an easy day's scuba diving with a great snorkeling experience. At 8-14m deep, Dragon Island is an excellent place for novices and people who haven't dived for a while, but even experienced divers will enjoy a relaxing time here in its calm waters with mild currents.
Samui will always be one of Thailand's favourite tourist destinations. With some excellent hotels and resorts, great beaches, the spectacular Ang Thong National Marine Park, and a mix of nightlife and quiet retreats, the island makes a fine place for a dive vacation, especially during the summer months when Phuket and the Similans are in low season.

Dive Sites
Click on a twisty ('++' sign) to show more detailed information on each Koh Samui dive site:
++
Sail Rock
Sail Rock is a big granite pinnacle that breaks the sea's surface half way between Koh Phangan and Koh Samui. It is the best dive site in the area as there are no other rocks around so it acts as a congregation point for all the fish in the surrounding area.

The pinnacle drops down to 30 metres in the sand and is typically dived in a circular route around the rock, spiraling slowly shallower. If currents are strong however, divemasters will guide customers around the sheltered areas, avoiding hard finning in the currents. There are other outer rocks a little deeper that can be seen from the main pinnacle and are home to reef sharks.

On a clear day, with light filtering down into the crystal blue water, the granite boulder looks stunning. Enormous schools of trevally are all over the dive site and they energetically harass the smaller fish which bunch together and move as one for protection from these darting raids.

The always-friendly longfin batfish are also often present in great numbers. They may follow scuba divers and curiously peer into your mask, seemingly as interested in you as you are in them. They make wonderful photographic subjects. Whale sharks occasionally cruise by too, especially between February and October, as do other pelagic fish. Always keep an eye on the big blue!

Koh Samui's Sail Rock is best known for its chimney, a large swim-through that is entered at around 20 metres and can be exited in 2 places, first at around 10 metres or shallower at around 5 metres deep. The chimney's cavern-like area is a haven for all sorts of fish life like schools of glassfish that appear to block your exit, only to part at the last second to reveal the holes.

Hingebeak and boxer shrimps inhabit the coral wall. The latter can sometimes be seen cleaning a moray eel's teeth and, with patience, a lucky diver could get a free manicure if they leave their hand still for long enough. Scorpionfish are well camouflaged on Sail Rock's wall so care with buoyancy is required when exiting the chimney. The hole at 10 metres is quite tight so most divers carry on up to the 5 metre exit and are rewarded by a blanket of anemones on the outer side.
Dive The World Thailand Recommendations: Sail Rock.

Diving Season
You can visit the Koh Samui and Koh Tao diving spots year round, but the very best conditions exist from March to September, which is when the resort areas on the Andaman coast have their low season. During these months you might experience visibility in excess of 30m.
Whale sharks, one of the drawcards of the area, are most frequently spotted in March and April and again in September and October. Other sharks are best seen in the Gulf of Thailand in times of cooler water temperature such as October and December when you might experience seas around 27°C, although that is only a few degrees lower than the annual high of about 30°C.
October to November brings the Northeast monsoon winds and surface swells to the islands, reducing visibility by about 30%. It's pretty rare that any daily dive trips from Koh Samui are cancelled due to bad weather, but speedboat rides can be somewhat bouncy.
It can also be windy and wet in the Gulf from November to February so it may be better to go diving in Phuket, Phi Phi or the Similan Islands then.

Reef Basics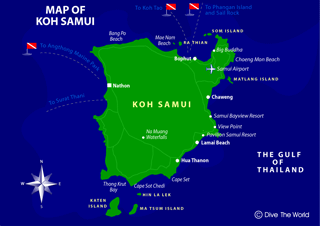 Depth: 5 - 30m
Visibility: 5 - 30m
Currents: Can be strong
Surface Conditions: Calm to moderate
Water Temperature: 27 - 29°C
Experience Level: Beginner - advanced
Number of dive sites: ~10
Access: Day trips from Koh Samui by speedboat
Recommended length of stay: 1 week
• Koh Samui tourist information