Dive Thailand Day Tours
Thai Scuba Daytrip Packages
Select a departure point: (daytrips only - excluding accommodation!)
Explore all the best scuba diving in Thailand - the Similans, Koh Bon, Koh Tachai and Richelieu Rock ... all with the added convenience of this near-by and tranquil beach resort area, located just north of Phuket, up the Andaman Sea coastline. These destinations are famous for chance encounters with whale sharks and manta rays, as well as dazzling underwater scenery and reefs with the best marine diversity in the country. The area is little devloped by Thai standards, with nothing much more than a string of beach resorts and a nearby national park. Due to the remote and offshore nature of dive sites, these day trips only run from October-April. More details about diving in Khao Lak.
Explore Krabi's dramatic and undeveloped coastline from the laid back atmosphere and charm of Ao Nang Beach. This is the ideal location for nature lovers, as the rugged cliff scenery and alluring beaches are breath-taking. There are plenty of tourist options here, although on a much smaller scale than Phuket. The local diving is ideal for beginners, and it's also possible to dive in the Phi Phi Islands, Shark Point and Kingcruiser Wreck as part of your package. More on diving in Krabi.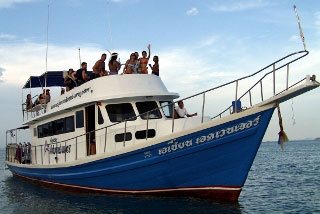 Dive in Phi Phi, a Mecca for European traveller/backpacker types. The islands have some spectacular scenery and it also has some lively nightlife, although you are not likely to encounter many Thai people here. There is some great local diving here too, with its walls covered in soft corals and macro life. You could also join trips to Anemone Reef, Kingcruiser and Phuket Shark Point from Phi Phi. This is the cheapest of our locations in the Andaman Sea for day trip diving because the sites are quite close to the shore.
Phuket has the greatest choice and variety of dive sites, all that you'd expect from Thailand's most developed and popular holiday destination. There are many tourist activities and attractions, as well as some great local reefs for diving, such as the Racha Islands, and Shark Point. It is also possible to dive at the Phi Phi Islands as part of your day trip package, and diving at the very distant Similan Islands is available from October-April. Patong Beach is the lively hub of tourism in Phuket, and it is full of bars, restaurants, shops etc. Kata Beach is a more peaceful option with a beautiful curved beach.
Discover the best sites in the Gulf of Thailand with day trips on Samui's fastest speedboat. Located in the Gulf of Thailand, this island is Thailand's second most developed for tourism. It's quite a trendy place to visit, with some upmarket bars and clubs in Chaweng, the main tourist centre. The atmosphere is a little more easy going than in Phuket, and the beautiful beach at Lamai makes it a great option to base yourself if you would prefer a more laid back environment than Chaweng. Sail Rock is the main drawcard in terms of diving, where you could get lucky and see a whale shark (especially in March and April, and September and October.), and it is widely regarded as the best dive site in the Gulf of Thailand. You could also dive at Koh Tao as part of your Koh Samui dive program.
Daily and affordable diving trips around Koh Tao. Also in the Gulf of Thailand, Koh Tao is something of a dive Mecca for backpackers and young travellers who come here for the convenience of the dive sites and the famously low prices. Life on the island is pretty much entirely geared towards divers, and you will find both the day trip diving and accommodation to be very affordable. There are more than 25 local dive sites, which include some advanced sites such as some wrecks and Chumphon Pinnacle, where you could encounter bigger fish as well as diving with whale sharks (highest possibility around September), as well as many beginner sites dotted around the coastline. There are also frequent trips to the more distant Sail Rock.
Check Your Options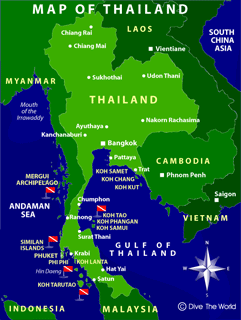 For certified divers, we offer daily scuba trips to all the best destinations in the Andaman Sea and Gulf of Thailand.
With so many dive sites and boats in Thailand, making the right choice can sometimes be confusing, not to mention time consuming.
Benefit from our experience. Don't limit yourself to 1 operator! Extend your options to include the widest, most flexible choices.
Simply tell us your:
Departure point
Destination
Number of Dives
... and we'll find the best diving day tours in Thailand for you.
Book all your day trips at 1 time to enjoy deep discounts and save time!
Get your scuba diving organised now and relax in the knowledge that you've chosen what suits you, at a price that's right.
Thailand Diving Day Tour Specifics
All day trip prices normally include:
Hotel-boat transfers (where required), lunch, drinks, dives, weights and weight-belts, tanks, divemaster, shared air-conditioned accommodation on overnight trips, and taxes. Your daytrip shortlist quote will include no 'hidden extras'.
Please note that marine park fees vary with destinations visited and the cost will be stated in the shortlist that we send you.
Full sets of diving equipment can also be rented.
We recommend that all our customers take out insurance to cover diving and travel activities, including trip cancellation. See our insurance programme for a competitive quote:
And if you require hotel accommodation while you're in Thailand you can get the best value rooms with hotelscombined.com, our affiliated hotel reservation specialists:

Frequently Asked Questions
Can I book my own private dive guide?
Sure you can. Local guides are provided on all the local day trip boats. However, these guides look after all the divers on the boat and some guests prefer more personal attention. We can arrange a private dive guide just for yourself or for you and your party. Many guests have a feeling of greater safety when diving with their own guide and they may be able to spot more interesting marine creatures that way too.
What type of tanks and valves are on the boats?
Nearly all dive boats in Thailand use 12 litre aluminium tanks with yoke or A-clamp international valves. If you use a DIN regulator, you should bring an adaptor, or you can rent (US$ 3 per day) or buy one here. 10 or 15 litre tanks are also available for rent in advance.
Can I request vegetarian food?
Not a problem but please do tell us your requirements at the time you make your booking, so that we can meet your request.
What about crew tipping?
Giving tips is entirely a matter of choice in Thailand. If your dive trip met or exceeded your expectations, you may consider to leave a tip of up to 10% of your programme price. Smaller tips would be welcome too!
---
CUSTOMER TESTIMONIALS
... The website had pretty much all the information I needed to make my selection, and the team were always very prompt with responses to my multitude of questions. Excellent communication - always very prompt replies to booking inquiries and emails. This helped to make the booking process very simple. I'd definitely use Dive The World again for future vacations and recommend them without reservation ... Candy Sally, South Africa