PADI Diving Courses in Thailand
Learn to Dive in Phuket, Koh Tao, Phi Phi, Samui or Krabi
Why is it that Thailand is such a popular place for dive courses? Can it be the gorgeous weather, fantastic beaches, professionally run diving outfits? Or is it just the clear warm waters and the colourful, tropical sea-life? Whatever the reason, Thailand is the top choice of many and could be the best bet for you too. Dive The World, the leading authority for diving in Thailand, can organise courses for you at a 5 Star Dive Centre offering a full range of PADI courses for Phuket, Koh Tao, Phi Phi Islands, Krabi and Samui.
From your first tentative lesson in Discover Scuba Diving to the mastery of all things PADI in the instructor course, you can do it all here and plenty more besides in the land of smiles ...
Search for your training programme:

PADI Dive Course List
• Price List
Get Qualified in Thailand!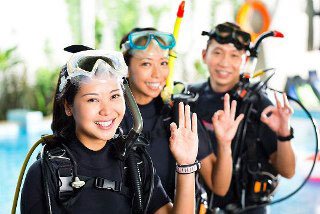 Are you interested in:
Earning your ticket to a lifetime of ultimate adventure?
Learning how to dive in a safe, fun environment with friendly professionals?
Going at your own speed and becoming a confident and competent diver?
Exploring planet Earth's last undiscovered frontier?
Revving up your skills to the next level?
Attaining leadership experience as a scuba professional?
Going Pro as a PADI Divemaster?
Then we can recommend the PADI course for you!
There are a lot of dive centres out there running dive courses and it is important that you have confidence in your choice. Not all companies offer the same level of quality or professionalism, so ...
Why book with Dive The World Thailand?
You will enjoy a high level of training, done at a superb facility. It features a swimming pool from 1.3m in the shallow end to 3m in the deep end, air-conditioned classrooms with DVD players and plasma TVs, changing rooms, equipment room, restaurant, bar and toilets.
The dive boats are 2 of the best in Phuket. They are are 26m long, capable of carrying up to 30 divers but still offering a lot of relaxation space on board, on the upper deck and the sun deck, plus 3 toilet/showers and also 2 deck showers. The dive platform offers easy water entries and exits. There are also shaded areas where meals and cold drinks are served. The boats carry comprehensive first aid kits, life jackets, fire extinguishers and emergency oxygen. GPS and radio are also part of the on board equipment.
All the crew are highly trained and have been working for several seasons now, offering a high level of professionalism throughout the day. The dive instructors are all PADI certified and have years of teaching experience.
The scuba equipment that you will use is in great condition and is serviced annually, as are the tanks and compressor.
You will be supplied with all the dive gear you will need during the course. You can also choose a book and DVD package or a multimedia DVD-ROM that covers what you need to know about basic scuba diving skills, terminology and safety procedures. This is for you to keep!
We do not require that you pay in advance and incur bank charges; simply pay for your private course on arrival.
Read 8 great reasons to book with Dive The World.
Simply decide on...
Which programme?
Private 1-on-1 or group instruction?
Phuket, Koh Tao, Phi Phi Islands, Koh Samui or Krabi?
Then choose your Thailand diving course below...
PADI Courses
For details of the courses and prices available in Thailand click on...
• Discover Scuba Diving    Introduction to scuba - non-license
• Scuba Diver    Pre-entry level - intermediate license
• Open Water Diver    Full scuba diving license
• Adventure Diver    Stepping stone to Advanced
• Advanced Open Water Diver    Licensed to dive to 30 m
• Emergency First Response    New medical programme
• Rescue Diver    Learn to help your dive buddy
• Divemaster    Change your life...Go Pro!
• Scuba Review    Refresher programme
For specialty course details and prices click on...
Parents: Kids can go diving too! Read more about our options available for your children to learn how to dive: PADI diving courses for children
Private or Group Instruction?
Private Instruction
[Only available in Phuket]
Your dives finish when YOU run low on air. This means with private 1-on-1 instruction your dives are much longer. Expect them to last about 45 minutes, 50% more than with group instruction.
There are also no other students to cause you hold-ups and slow you down, so you get to spend more time checking out the fish and less time waiting around and practising skills.
You can expect to spend 75% of your time underwater enjoying the reef, and 25% for demonstrating your scuba skills. So when you learn to dive in Phuket the easy way, it's with the most fun too.
Group Instruction
With group instruction the whole group ends the dives together, as soon as the first student runs low on air. This means your dives are much shorter than with private instruction.
Expect to spend 75% of your time underwater with your group learning skills, and 25% enjoying the reef and fish.
The Low Down
Private Instruction
Ultimate Instructor safety and attention
Dives last longer
More fun time on each dive
Learn faster - Open Water in only 3 days
Greater choice of sites
Flexible start and finish times
Top Quality
V
Group Instruction
Shared attention
Shorter dives
More waiting time
Learn slower
Pre-scheduled sites
Start 08:00 hrs, finish 18:00 hrs
Lowest Price
Thailand Dive Course Specifics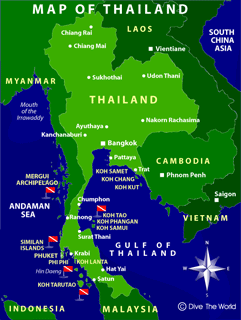 Phuket diving course prices INCLUDE student dive insurance. Also normally included are an experienced PADI instructor, use of scuba equipment, own copy of student study manual to keep, use of all the latest PADI training materials, certification costs, pool training in purpose-built 3 metre diving pool, breakfast, lunch and drinks on the boat, and hotel transfers every day of your course from the main tourist resorts of Patong, Karon, Kata, Kamala and Rawai.
Student programmes are available on Phuket Island, Koh Tao, Koh Phi Phi, Samui and Ao-Nang (in Krabi).
Languages available: English, Italian, French, Scandinavian, German, Spanish and Russian.
All courses can start every day, all year round.
Dive The World is not a member of PADI, SSI, CMAS, NAUI or any other scuba diving training organisation. We simply want to find the course provider that is right for you - our students. Most people know of the PADI brand name and we can help you locate the right PADI-affiliated dive center. If you prefer another training agency, just let us know.
We recommend that you take out insurance to cover diving and travel activities, including trip cancellation. See our insurance programme for a competitive quote:
If you require hotel accommodation for your course you can get the best value rooms with hotelscombined.com, our affiliated hotel reservation specialists:
Or receive your free shortlist of PADI course adventures:


Frequently Asked Questions
I booked a course with Dive The World, where do I go?
We use the top class facilities of Local Dive Thailand to perform our PADI diving courses. Local Dive Thailand can be found at 161/47 Moo 10, Chaofa West Road, Amphur Muang Chalong, Phuket. All transfers are provided during your course from suggested areas so you shouldn't need to worry about finding the centre, but in case of emergency, it's about 3 km up and on the main road from Chalong Circle.
Can I complete my dive course in the morning and catch the afternoon ferry from Phi Phi?
Our Open Water Diver course in Phuket is done with Private Instruction. This means you finish your dives when YOU run low on air, rather than when the first student runs low on air. This means with private instruction your dives are much longer. Expect them to last about 50% more than with group instruction. Furthermore, there are also no other students to slow you down, so you get to spend more time checking out the underwater world and less time waiting around. So when you learn to dive in Phuket, it's easier and with a lot more fun too.
Additionally, our Open Water Diver course includes 5 dives - 1 more than the regulatory standard of 4 dives. Most cheap course prices that you find involve shore dives, but there really is nothing to see from shore in Phuket. So all your dives on our course will be conducted from a boat at the best dive sites available in the Phuket area. Although boat dives are obviously more expensive to arrange than shore dives, we believe this provides much greater enjoyment for our students, who often come back for more!
But if you still genuinely prefer to take a cheaper course in Thailand, then we would recommend taking your course with us in Koh Tao or Koh Phi Phi. The dive sites there are much closer to port so we are able to offer high quality boat dives at a lower price.
Can I complete my dive course in the morning and catch the afternoon ferry from Phi Phi?
Yes you can. Please make sure that you inform your instructor or the dive centre of your intentions the day before, so that they can make the necessary arrangements for you.
Do I need to be able to swim to go diving?
Before completing the PADI Open Water Diver course, your instructor will have you demonstrate basic water skills to be sure you're comfortable in the water, including:
- Swim 200 metres/yards (or 300 metres/yards in mask, fins and snorkel) without stopping. There is no time limit for this, and you may use any swimming strokes you want.
- Float and tread water for 10 minutes, again using any methods you want.

It is a requirement that you are able to swim to complete the PADI Scuba Diver course, but there is no swim test.

It is not a requirement that you are able to swim to participate in the PADI Discover Scuba Diving program. The instructor can escort non-swimmers around during the dives.
What is PADI e-learning?
If you want to learn to scuba dive in Thailand or continue your dive education, with PADI e-learning you can get started immediately with the knowledge development portion of the course, and complete the fun in-water portion of the course in Thailand. PADI e-Learning lets you:
• Learn with a dynamic online instructional program.
• Access the material for 1 year, plus gain unlimited access to an online version of the course manual.
• Contact your local PADI dive center anytime you have a question about what you're learning.
• Get in the water quickly – applying what you've learned when you meet with your PADI Instructor.
Once you have booked your course with us, get started by simply registering for e-learning online, using the PADI dive center's store number.
I have never dived before. What are my options in Thailand?
There are 2 main options:
1. Discover Scuba Diving - this is an introduction program in which you will make 2 or 3 dives in the sea to a max. depth of 12m under the direct guidance of a qualified scuba professional. Normally it takes a full day boat trip out to the dive sites. This program is ideal if you want to find out what scuba diving is all about before committing to a dive licence.
2. Open Water Diver Course - this is the program that earns you a diving licence, valid for a lifetime and recognised worldwide. The course includes pool training, 4 or more dives in the sea, and theory. It can take anything from 2-4 days in Thailand, depending on whether you plan to do home study before the course begins. After completing the course, you will be certified to dive independently to a max. depth of 18m, anywhere in the world. This is the best option if you intend dive in the future as a hobby, or more.
---
CUSTOMER TESTIMONIALS
... After travelling all around Asia, I can honestly say that Sheldon and the Phuket staff are the best outfit I have worked with. Knowledgeable staff ensure that you have a pleasant experience without compromising your personal safety. And believe me, there are some very questionable companies in Asia ... Competitive prices and quality equipment make this shop one of the best in Thailand ... Tony Anthony, NYC, USA