Thailand Scuba Diving?
Phuket Diving & Similan Islands Liveaboards
Looking for the best value dive deals for Phuket, the Similans or elsewhere in Thailand? Then look no further. Since 2002, divers like you have been booking Thailand's most popular scuba diving packages with us at the Guaranteed Lowest Price, ensuring they always get the best value-for-money. And now our first-time customers can qualify for free diving insurance when they book with us!
We know all the dive sites. We know the reliable boats and operators. So remove the risk from your next Thailand diving adventure and use this website for a quick and easy comparison of all the best options, including liveaboard cruises, PADI courses and day trip packages:
All the Top Dive Destinations
To help you decide, we have compiled the internet's best source of Thailand dive site information. Read all about the marine life, diving conditions, and everything else you can expect at each destination right here: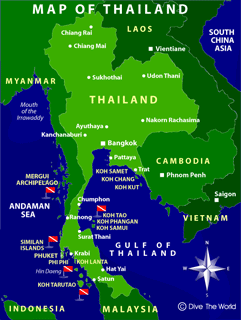 Use our map of Thailand on the left to locate the diving destinations that you are interested in.
Thailand holds the promise of exotic adventures in beautiful natural settings. Whether you are interested in an idyllic beach vacation, full moon parties on tropical islands, sea kayaking around incredible coastlines, elephant treks to remote hill tribes, learning to cook Thai-style or to fight Muay Thai, visiting the famous landmarks of this ancient kingdom, "the Land of Smiles" has it all. And below the waves the beauty and colour of the warm waters of the Indian Ocean really come alive too - right across the Andaman Sea and the Gulf of Thailand!
From beginners diving around Koh Tao, Phuket and the Phi Phi Islands, to the splendour of the world famous Similan Islands and Richelieu Rock, the seas are home to some of Asia's most colourful and beautiful creatures - huge manta rays, whale and leopard sharks, as well as turtles, seahorses, triggerfish, pipefish and frogfish. Thailand is the ideal destination for scuba divers who want a vacation that combines the most accessible of Asian cultures and natural, scenic beauty with some world class diving adventures. Just dive in to get the low down ...
A Treasure Trove of Thailand Dive Choices!
You've just entered a magical realm of underwater adventure:
  60 Phuket liveaboards
28 Daytrip boats
40 PADI diving courses
16 Scuba destinations
200 Dive sites
30 Diver-friendly resorts
Browse our easy-to-use website so you can compare prices, value, and features of all the destinations, Similan liveaboards and day boats. See for yourself, watch the underwater action in our diving video gallery.
Try our liveaboard search feature for all destinations in Thailand, including the Similans, Hin Daeng and Surin (in the right margin of this page). This is the easiest way to find your ideal departure date. See at a glance all the scheduled departures from Phuket; yellow highlights indicate a dive trip on special offer.
And if specials are what you want, you are in the best place for up-to-date special offers anywhere online. All discounted trips for scuba diving in Thailand and elsewhere, including early bird and last minute deals, are highlighted in yellow in our departures calendar or on the cruise departure schedules of each individual boat on our Dive The World's liveaboards website.
Personal Attention
Confused with all the options? Benefit from the independent experience and in-depth knowledge of our responsive dive reservation staff, based in Phuket, Thailand. We're independent agents so our opinions are free of any exaggerated marketing-speak.
When you book with Dive The World Thailand, you won't be used simply to fill the spaces on our boat. Instead, contact us and you'll have instant, expert explanations to all your questions that will help you quickly make the choice that's right for You! Because your satisfaction is our investment to see you and your buddies back again soon.
Our aim is to make your life easier and hassle-free by finding you the best value deal to match your budget - no matter whether it's backpacker's ultimate value Koh Tao and Phuket scuba diving course choices - or expense-be-damned luxury Similan Islands liveaboard cruises. What´s more, our new customers can now take advantage of our free dive insurance offer, and our repeat customers benefit from our loyalty benefits.
Insider Information
Sporting copious under-the-hood reviews of all the top diving destinations in Thailand and Burma, neatly organised in a simple-to-follow format, you'll soon discover what's hot and what's not. So don't just trust to luck when our objective advice can mean the difference between disappointment and delight for your next dive dream destination!
Now select your best match for:
• Thailand Liveaboard Diving
Kick back & cruise - Phuket liveaboard departures to the Similan Islands and beyond. These dive safaris are short and amazingly affordable.
• PADI Dive Courses
Private or group instruction with our professional scuba diving instructors in Thailand, one of the world's most popular training centres.
• Scuba Day Trips
Enjoy your fun day out to any of the top daytrip destinations available - diving Phuket, Khao Lak, Similans, Ao Nang - Krabi, Koh Tao, Samui & Phi Phi Islands.
• Diving and Resort Packages
Get all your holiday accommodation needs sorted in one easy step, whether you visit Phuket or any of your other favourite daytrip destinations.
Short of time? Contact us now with your Thailand dive travel questions:


---
CUSTOMER TESTIMONIALS
... An amazingly good setup ... Service you gave was brilliant ... We saved both time and money on our Similan liveaboard trip ... Could not have been more helpful ... Recommended Dive The World Thailand to many people as essential ... Shonagh Withey, Kent, UK